Estimated read time: 3-4 minutes
This archived news story is available only for your personal, non-commercial use. Information in the story may be outdated or superseded by additional information. Reading or replaying the story in its archived form does not constitute a republication of the story.
SALT LAKE CITY — A new song explains why one man decided he no longer dances to the Democratic song.
The YouTube video, uploaded Friday, tells the woeful story of a man who sees the Democratic party as having become "so doggone liberal" that he feels the need to switch parties.
"Your crazy rules and political games makes me wanna say so long," the songs says. "The Democrats lefted me way back then, now I'm playing another song."
Set to a bluegrass tune, the song laments the actions of Pres. Obama and calls for voters to "tell Obama so long."
"Obama, you make me wanna cuss. Obama, you put on quite a fuss," the bridge says. "Obama, this is a country that prays. Obama, we're tired of you leftist ways."
New anti-Romney ad: "My own coffin"
A pro-Pres. Obama political action committee has released a new ad that targets Mitt Romney's actions while at Bain Capital.
The ad features Mike Earnest, who worked at an Indiana Ampad firm that was acquired and closed by Bain.
"Out of the blue one day, we were told to build a 30-foot stage," Earnest says in the ad. "Gathered the guys, and we built that 30-foot stage, not knowing what it was for. Just days later, all three shifts were told to assemble in the warehouse."
Cory Booker once again appears at the scene of an accident
Newark, N.J. Mayor Cory Booker again appeared at the scene of an accident, this time minutes after it happened.
Booker tweeted that he was one of multiple people who helped stabilize the victim of an auto-pedestrian accident Friday in Essex County, the Associated Press reports.The Star-Ledger reports that an Essex County detective, the driver of the car and Booker all helped the victim until ambulances arrived.
Booker rushed into a burning home in April to save a woman, despite the protests of his security detail.
Rick Perry compares Obama to Nixon
Texas Gov. Rick Perry criticized Pres. Obama on Sunday for his use of executive privilege over documents related to the Fast and Furious program.
Perry said Obama's actions regarding the program were "Nixonian," on par with Nixon's actions during the Watergate scandal.
"I mean with Watergate, you had a second rate burglary and now you have a president who's using his executive privilege to keep that information from Congress," he continued. "If that's not Nixonian, then I don't know what is, Bob."
Obama used executive privilege last week to prevent documents related to the Fast and Furious program: a federal operation that allowed suspected gun smugglers to obtain U.S. weapons so the arms could be traced to Mexican drug cartels.
Provo artist unveils new anti-liberal painting
Provo artist Jon McNaughton has released the latest in a series of controversial anti-Obama paintings.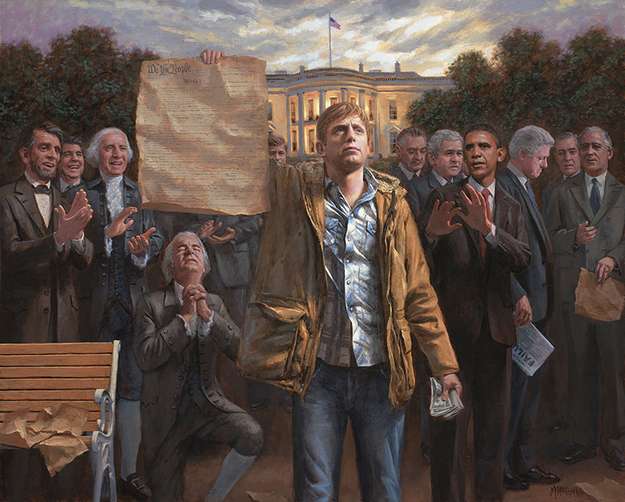 The painting, "The Empowered Man," depicts a white male holding the Constitution in one hand and cash in the other, as Pres. Obama looks on. Founding fathers look on with glee, while recent Democratic presidents despair in the background.
"I hope everyone will see themselves as the Empowered Man," McNaughton writes on his website. "It makes no difference whether you are a man or woman, how old you are, or the color of your skin. When we decide to no longer be silent and to speak out for individual liberty under the Constitution of the United States we will be empowered."
The painting follows the release of another in McNaughton's series: "Wake Up America," which depicts Obama standing in a shower of cash while workers stand chained around him.
×
Related links
Related stories