Estimated read time: 4-5 minutes
This archived news story is available only for your personal, non-commercial use. Information in the story may be outdated or superseded by additional information. Reading or replaying the story in its archived form does not constitute a republication of the story.
PRICE — The mother of a 13-year-old girl says she has filed a formal complaint against a juvenile court judge who told her he'd cut her daughter's sentence if she cut off the girl's ponytail in his courtroom.
"She definitely needed to be punished for what had happened," Valerie Bruno told the KSL. "But I never dreamt it would be that much of a punishment."
Bruno's daughter, Kaytlen Lopan, was referred to 7th District Juvenile Judge Scott Johansen's court in March for an allegation of assault. Lopan and a friend endeared themselves to a 3-year-old girl at McDonald's in Price and then used scissors to cut several inches of hair from the little girl's head, according to Price police.
"It was beautiful, it was long, it had natural curl, and now it's cut up to here," said the victim's mother, Mindy Moss, gesturing to her jawline.
---
She definitely needed to be punished for what had happened. But I never dreamt it would be that much of a punishment.
–- Valerie Bruno, mother
---
Lopan blamed the incident on her 11-year-old friend, but the friend told investigators the girls had decided to cut the toddler's hair and didn't have any scissors. They tried to borrow some from McDonald's employees, but when they were turned down, they walked across the street and bought scissors from a dollar store.
"After acquiring the scissors, they returned to McDonald's, where they both took a turn … cutting some of the little girl's hair off the back of her head," Price police officer Robb Radley wrote in his report.
At a May 28 hearing, Lopan entered admissions in the assault case, as well as another case stemming from eight months of phone calls she made to another teen in Colorado that included threats of rape and mutilation, according to an audio recording of the hearing provided to the KSL by Bruno.
Johansen called the girl's behavior "egregious." He ordered her to serve 30 days in detention, pay restitution to her victims and serve 276 hours of community service.
Then, he offered Bruno a deal.
"If she was my daughter, I wouldn't want her with the (youth) work crew," the judge said.
"I know, I thought of that," Bruno said.
"I'm going to give you this option: I will cut that by 150 hours if you want to cut her hair right now," Johansen said.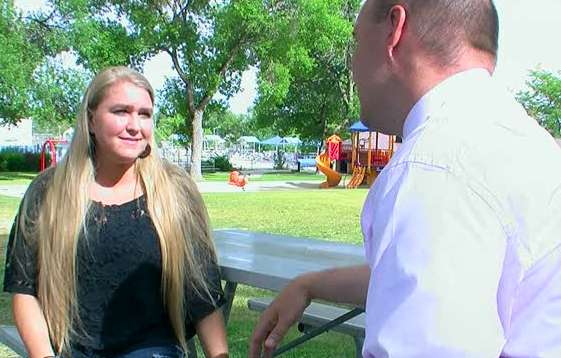 "Me, cut her hair?" Bruno asked.
"Right now," the judge said. "I'll go get a pair of scissors and we'll whack that ponytail off."
Moss, the victim's mother, was in the courtroom and fully supported the penalty. She even spoke up when she didn't believe Bruno had cut enough of Lopan's ponytail off.
"Satisfied? Is it short enough?" Johansen asked Moss.
"No," she replied. "My daughter's hair that had never been cut, that was down to (the middle of her back), was cut up to here."
"Take it off clear up to the rubberband," the judge told Bruno, who protested that the scissors he'd given her weren't up to the task.
"Take a little bit at a time," Johansen said.
Moss told the KSL she was "happy" with the sanction.
"Why shouldn't she get her hair cut?" she said. "The other little girl had to get her hair cut. It fits the crime."
---
Why shouldn't she get her hair cut? The other little girl had to get her hair cut. It fits the crime.
–- Mindy Moss, mother
---
Johansen had ordered Lopan's 11-year-old friend to have her hair cut as short as his. She was allowed to go to a salon to have it done, and then return to ensure that it met with the judge's approval.
"It was not really unattractive. They tried to make it decent, but there was really nothing left," Johansen is heard saying during Lopan's hearing.
Johansen was appointed to the bench in 1992 by then- Gov. Norm Bangerter after serving as the Emery County attorney for 13 years.
Nancy Volmer, spokeswoman for the Utah State Courts, said state law prohibits her from discussing any case involving minors under the age of 14, therefore she could not even confirm whether Lopan had been referred to juvenile court.
The judicial branch did, however, provide the KSL with a statement of sorts that included a number of Utah statutes that govern the juvenile courts and the judges who serve in them.
"The Utah Code states that juvenile court should use sanctions that will 'promote guidance and control' and prevent 'future unlawful conduct' and develop 'responsible citizenship,'" the statement read. "Judges are given discretion in coming up with sanctions for youth that will change their behavior in a positive way."
Colin Winchester, executive director of the Utah Judicial Conduct Commission, said the state Constitution bars him from saying whether Bruno had, in fact, filed a complaint against Johansen. A complaint only becomes public if disciplinary action is taken against a judge, he said.
"A quick resolution to a complaint can take four to six months," Winchester said. "It can be a lot longer than that in a hotly contested case."
Bruno said she wishes now that she hadn't taken Johansen up on his offer of a reduced sentence for her daughter, and that she'd consulted an attorney before taking her daughter into his courtroom.
"I guess I should have went into the courtroom knowing my rights, because I felt very intimidated," she said. "An eye for an eye, that's not how you teach kids right from wrong."
Email:gliesik@ksl.com
×
Photos
Most recent Utah stories