Estimated read time: 4-5 minutes
This archived news story is available only for your personal, non-commercial use. Information in the story may be outdated or superseded by additional information. Reading or replaying the story in its archived form does not constitute a republication of the story.
SALT LAKE CITY — William Duehlmeir, with Intermountain Medical Center's trauma program, knows the importance of getting an injured patient to the hospital as fast as possible.
"Speed matters. Seconds count," he said. "The first 60 minutes is critical."
Typically, the fastest way to get a patient to a hospital in Utah is by medical helicopter. Now, Utah has three of the most sophisticated medical helicopters in the world.
Wednesday, Intermountain Medical Center officially unveiled two of its organization's three new medical helicopters recently added to its signature Life Flight service. All of them are Agusta Grand 109s.
---
There's really not an option that's available that's not on this aircraft. If you were to draw (a helicopter), you couldn't add anything these don't already have.
–Rob Anderson, Life Flight pilot
---
"They're fantastic," said Life Flight pilot Rob Anderson. "There's really not an option that's available that's not on this aircraft. If you were to draw (a helicopter), you couldn't add anything these don't already have."
The new aircraft are specifically designed for high altitude flying. The helicopters were originally made for rescues in the Swiss Alps.
In 1978, Intermountain Healthcare debuted its Life Flight program. In 1993, two K2 helicopters were added to its fleet. In 2004, they added two Bell 407 helicopters.
The new Agusta Grand helicopters are 50 mph faster than the Bells, Anderson said, can carry 2,000 more pounds of people and equipment, and the twin-engine aircraft can fly on just one engine if the other goes out.
The new helicopters include the latest safety technology, including a "collision avoidance system" to avoid mountain and midair collisions, auto-pilot and the latest navigational tools including "Highway in the Sky" and other instruments that help a pilot in low or no visibility conditions.
"The technology in this aircraft is just off the scale," said Life Flight director of operations Bill Butts.
In 2003, Life Flight suffered the only two fatal crashes in its history, both within a five-month period. The helicopters involved in those incidents were K2s. One of the fatal crashes involved a mechanical failure, the other was due to foggy conditions.
"This is much improved technology that will help us in flying in inclement weather," Intermountain spokesman Jess Gomez said of the new helicopters. He said the decision to fly is ultimately left up to the team of pilots.
Utah Agusta Grand's first patient
The first Agusta Grand helicopter debuted at Intermountain Healthcare's St. George facility in June of 2011. Two more aircraft arrived in Salt Lake City in April and, after pilots were trained, were put into service in late May.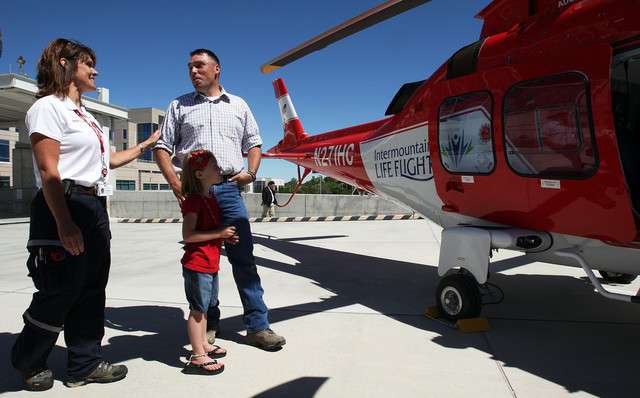 The first patient to be transported using the new helicopter was Mike Tillack. On June 4, Tillack was target shooting near Manti when a round ricocheted and fragments lodged in his head, fracturing his skull.
He was still conscious, but blood was streaming from his head, he said.
At Sanpete Valley Hospital in Mount Pleasant, the decision was made to get Tillack to Utah Valley Regional Medical Center in Provo. Staff decided to use Life Flight.
"It was the best call Mount Pleasant could make that day," he said Wednesday. "It was a 27-minute flight instead of a two-hour ride from Manti. The helicopters were amazing. I was worried about a two-hour ride on an ambulance."
During an event Wednesday to introduce the new helicopters, Tillack thanked the Life Flight and Intermountain staff and said the helicopter ride played a big role in his recovery.
The goal is to keep five helicopters in Intermountain's fleet, Butts said, with each of its four bases — Provo, Murray, St. George and Ogden — getting a helicopter and a fifth to be rotated in and out as maintenance is needed.
The new helicopters cost about $6.5 million each. The K2 helicopters will be kept in the fleet for now and will hopefully be phased out by 2013 in favor of more Agusta Grands. The Bell helicopters have essentially been retired and will be sold, Butts said.
"These helicopters give us an incredible advantage to transporting patients quickly, safely and efficiently," said IMC administrator/CEO David Grauer.
What it's like aboard the new chopper
During a demonstration Wednesday, a KSL News reporter and photographer were given a short ride on one of the new helicopters. The new retractable landing gear made for a smoother ride than the older helicopters. At one point, the pilot announced the helicopter was traveling 140 mph, thought it was hardly noticeable. The top speed of the new helicopter is 193 mph.
Tillack concurred that when he was taken to the hospital, the ride was very smooth.
Praise was also given Wednesday to the pilots and crews of Life Flight. Dr. Charles Sorenson said the most advanced tools and instruments in the world are no good unless there are skilled people who know how to use them.
Intermountain hopes to have hoists installed on the helicopters by next year for mountain rescues. The K2s are still able to currently conduct mountain rescues.
Since 1978, Life Flight has transported more than 62,000 patients, logging 9.6 million miles. Currently, 10 to 15 patients are transported on average each day, including children.
"We hope no one ever has to ride in one of these babies. If you do, we'll be there quickly and efficiently," Duehlmeir said.
Contributing: Nadine Wimmer
×
Photos
Related links