This archived news story is available only for your personal, non-commercial use. Information in the story may be outdated or superseded by additional information. Reading or replaying the story in its archived form does not constitute a republication of the story.
SALT LAKE CITY — Silvia Salguero, a student at the University of Utah, says she's "one of those desperate dreamers."
Friday, her dreams of completing college, finding meaningful work and perhaps even becoming a nurse moved a step closer to reality following the Obama administration's announcement of a policy change to halt deportations of young illegal immigrants brought to the United States as children.
"I've been waiting for this type of opportunity," Salguero said, fighting back tears. "I'm very pleased because I'm a mother. I want a future for my children."
---
The best way to say it is, 'Hip, hip, hurrah! This is great.'
–Archie Archuleta, La Raza
---
Salguero was brought to the United States from Mexico as a child.
Local advocates for immigrants and "dreamers" heralded the new policy change.
"The best way to say it is, 'Hip, hip, hurrah! This is great,'" said an ebullient Archie Archuleta, president of the Utah Coalition La Raza's board of directors.
While some will criticize the policy shift as election year politics, Archuleta said, "So what."
His sentiment was echoed by Latino community advocate Tony Yapias, who said critics — particularly members of Congress — have had ample opportunity to work on comprehensive immigration reform and have done very little.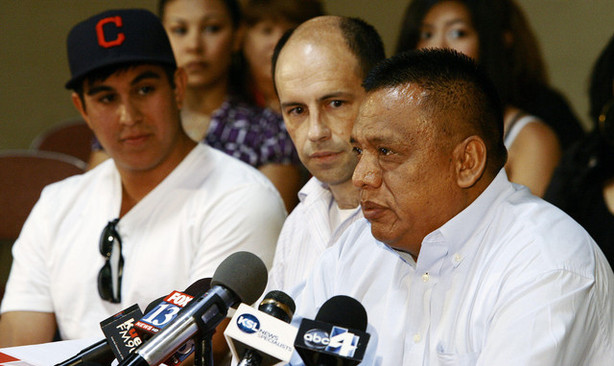 "The blame should go to themselves," Yapias said.
Rep. Chris Herrod, R-Provo, an advocate of legal immigration, said politics were clearly involved.
"I think we knew it was coming. It is an election year," he said.
Herrod opposes the move because he said immigration reform needs to come through the legislative branch of government.
"I don't think it's the right solution. It rewards people who did things wrong and in many ways punishes people who do things right," he said.
The executive order may even delay immigration reform in Congress, Herrod said. "There may be less urgency to solve the problem."
The policy change, announced early Friday, would apply to people up to 30 years old who came to the United States before the age of 16. They must have been present in the United States for five years as of June 15, 2012, maintained continuous residence and not been convicted of a single serious crime or multiple minor crimes. They must also be in school, have graduated or have a GED or have been honorably discharged from the U.S. military.
Deferred action will be available to those in proceedings as well as those who apply affirmatively.
Salt Lake immigration attorney Mark Alvarez said that even young people who have active orders of deportation would qualify under the policy change.
Alvarez cautioned that the order will not become effective immediately. But the change acknowledges that the deferrals that ICE has granted piecemeal in recent months are just policy. "What works for the few, works for the many," he said.
The policy shift, announced by Department of Homeland Security officials, will allow people who meet the requirements to apply for work permits. The initial deferral of deportation will be for two years.
Utah Attorney General Mark Shurtleff said he supports the change because it will enable U.S. Immigrations and Customs Enforcement to focus its resources on criminal immigrants.
Many undocumented children want to make the most of their educations and serve their country and communities, he said.
"Why not have a whole new group of kids to be our soldiers, scientists, nurses and teachers? These are kids who grew up with our kids, who played with them on Junior Jazz teams. Who would say that is wrong? That's so American. It's a wonderful thing," Shurtleff said.
Salguero, who turns 30 in July, barely qualifies for the age limit prescribed under the policy. "Even if I wasn't able to qualify, I'd keep fighting because it means so much," she said.
The mother of three will be a junior this fall at the university.
"Hopefully after this, I'll be able to complete my dream," she said. "It's a miracle. It's just hard to believe."
Contributing: John Daley
×
Photos
Related Stories