Estimated read time: 3-4 minutes
This archived news story is available only for your personal, non-commercial use. Information in the story may be outdated or superseded by additional information. Reading or replaying the story in its archived form does not constitute a republication of the story.
DRAPER — While costs for higher education are increasing, a private foundation is making it possible for some prison inmates to earn college credits. Don Wright, founder of PrisonED, spent years as a volunteer at the Draper prison and realized that some of those who are incarcerated there are eager earn a degree.
Though study hall comes with barren, gray walls, a locked door and barbed wire fences, some students are still completing college courses behind bars.
While state funding was cut in 2007, Wright saw a need and with an anonymous donor created PrisonEd Foundation, a non-profit. Publisher McGraw-Hill has donated textbooks and professors from several universities make and grade tests, with UVU leading the cooperative effort.
"I saw the devastation of these inmates who…this was their way of improving themselves and doing something productive and it was no longer available," Wright said. "There are so many of them who say 'Let me take this time to change my life, to become a different person,' and they have enough insight that they say 'Education can do that for me.'"
Wright created a course focusing on people, like Nelson Mandela, who have risen above incarceration and influenced many for good. The PrisonEd Foundation offers economics, business math and personal finances. "It's touching to see them say, 'Please give me some kind of opportunity to improve my life so when I get out, I can be a productive member of society.'"
---
There are so many of them who say 'Let me take this time to change my life, to become a different person,' and they have enough insight that they say 'Education can do that for me.'
–Don Wright
---
Wright believes in educating prisoners. Some, he says, need the basics. "20 percent of inmates across the country are totally illiterate," he said. "And another 20 percent are functionally illiterate. There is good data that the single most effective deterrent to recidivism is a prison education program. Our choice is: do we want them to be able to have the best shot when they get back in, to be good neighbors, to be able to take care of their families, who contribute to society."
Right now, course offerings are limited but it's a start. "At the end of the first semester, there were 30 who completed the 3 courses. We do ask the inmates to contribute what they can in deferring expenses."
Nationwide, the average recidivism rate is 40 percent but can be higher. Educating prisoners cuts percentages remarkably. A study in Texas showed that with an associate's degree 13% return to prison, with a bachelor's degree, 8 percent and with a master's, none return.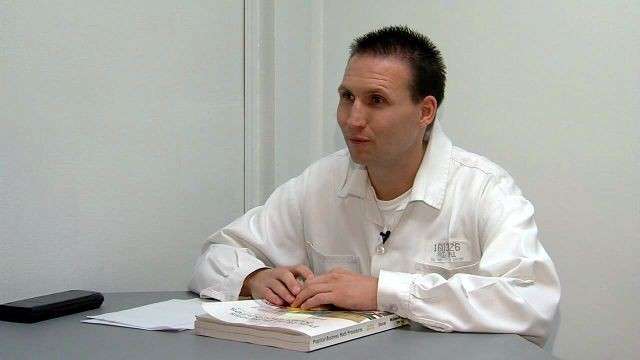 Paul Pace and Don Millard committed serious crimes - including drugs, robbery, sex abuse or conspiracy to murder. When they are eventually released, they believe their studies will be the reason they don't offend again and return to prison. Pace just completed his final exam in the personal finance course.
"I just love how empowering education is," Pace said It's given me confidence in myself and hope for a better future even though I've made the mistakes I'm made."
Don Millard is now studying economics. "We're kind of fighting an uphill battle now as inmates," Millard said. "We have records now and not all employers will look at us unless we are, how should we say, overly qualified. It's just nice to be able to see the end in sight and know that we're making some good strides towards bettering ourselves."
Steve Gehrke, Public Information Officer at the Department of Corrections, says prison administrators are supportive of programs that will stop the revolving door for some inmates.
"Any program like this that comes in and furthers any cognitive ability or critical thinking processes, even basic finance, personal finance and things like that for inmates is absolutely vital for them to come out with those abilities," Gehrje said. "This is a great program. We're just trying to make sure that it proves its self-worth, and that people really do succeed from it."
PrisonEd Foundation offers several courses now only to inmates housed in the education block at the Utah State Prison in Draper. Wright says most inmates have jobs and make about 40 cents an hour. They contribute what they can to the program.
×
Photos
Related stories
Most recent Utah stories