Estimated read time: 4-5 minutes
This archived news story is available only for your personal, non-commercial use. Information in the story may be outdated or superseded by additional information. Reading or replaying the story in its archived form does not constitute a republication of the story.
DUCK CREEK, Kane County — A popular lake in Southern Utah may soon be gone, and with it the economic vitality brought here by visitors.
Navajo Lake in Kane County is losing about a foot of water a month and now sits at about 10 feet deep in its deepest areas. But it's not the lack of rain and winter snow that is causing the rise of brown dirt around the lake.
Blame the 50-foot wide breach.
The breach happened last year, when the water was high after a wet winter, Iron County Commissioner Alma Adams said.
"The dike was never built high enough," he said. "It's actually 10 feet below the high water mark, so last year when we had the very high water, the dam was completely submerged so it caused a lot of weakening and super saturation."
The lake is about 24 miles east of Cedar City at 9,000-foot elevation. It normally averages a depth of 12 feet and covers more than 600 acres, an enticing recreation spot for boating, fishing and swimming.
Surrounded by the Dixie National Forest, the lake is ringed by campgrounds, a privately owned lodge and about 30 summer homes along the southwest side of the lake.
---
We think there's a real good chance the lake will be pretty much dried up this fall.
–Richard Hepworth, DWR
---
But the breach in the dike, built in 1930, is taking a toll.
"We think there's a real good chance the lake will be pretty much dried up this fall," Richard Hepworth, of the Division of Wildlife Resources, said. And that will hurt a local economy already stung by a key road closure.
"Ordinarily, you'd see people out here," Sonny Reisig, manager of the Navajo Lake Lodge, said. "You'd see people out there bicycling and vacationing and camping and fishing. It's a ghost town here. There's nobody."
Reisig and his family have spent more than 20 years running the lodge. "It's a special lake to a lot of people," he said, adding that as the lake shrinks, he believes people will go elsewhere.
Navajo Lake is among the most popular lakes in southern Utah, after Fish Lake, said Utah Rep. Evan Vickers, R-Cedar City. From July through September last year, 6,000 fishermen came to the lake, an average of 65 a day. Sixty-five percent of them came from out of state and stayed an average of four days a trip.
"Many, many people come from Las Vegas, and they love Navajo Lake because it's a high elevation and it's very cool in the summer," Adams said. If those people know that it's not available some of them will probably stay home or they'll go to other places, maybe outside of Iron County."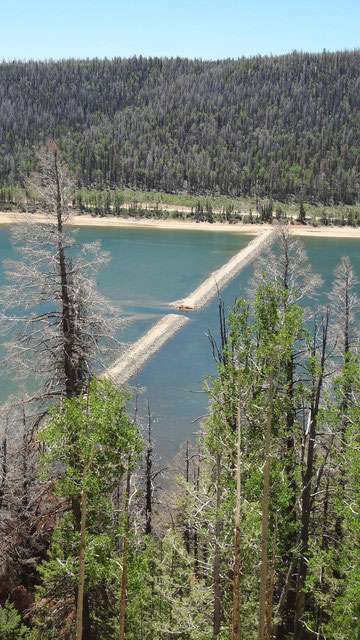 A company will drill test holes along the top of the dike to determine if it can be repaired or whether a new one needs to be built. Until that is figured out, officials are trying to do what they can to minimize the impact of the breach.
"(We're) looking at getting a temporary fix, short-term fix, to get the breach plugged, so we can quit losing water," Adams said. "But everybody pretty much agrees that new dike will have to be built."
Temporarily fixing the dike will cost between $50,000 and $100,000, he said. Fixing it or replacing it would cost about $2 million. Adams said the funding would come from state and federal sources.
The majority of people who come to Navajo Lake, do so by going through Iron County. If the visitors stop coming, Adams said it would have major economic impact. "I can't put a dollar figure on it, but it will be significant," he said.
Construction on a new dike would not start until 2015. But Reisig said something needs to be done fast, because his lodge can't wait for a new dike.
"Three years is too late," he said. "From my point of view, 30 days is too late."
The breach isn't the only problem for the people living near the lake and Duck Creek. State Route 14, which the majority of people use to get there, is open only certain hours of the day due to cleanup of a massive landslide.
Maria Twitchell, executive director of Cedar City-Brian Head Tourism and Convention Bureau, said that's hurting those running area gas stations and convenience stores.
"I think we could be seeing, at least in the Navajo Lake/Duck Creek area, total economic devastation," she said.
×
Photos
Most recent Utah stories