Estimated read time: 4-5 minutes
This archived news story is available only for your personal, non-commercial use. Information in the story may be outdated or superseded by additional information. Reading or replaying the story in its archived form does not constitute a republication of the story.
WASHINGTON TERRACE, Weber — Community members met Monday at the Pleasant Valley Branch for a panel on same-gender families and to discuss whether it's right to pull a book that deals with an alternative family structure from school library bookshelves.
The meeting, hosted by the OUTreach Resource Center, came a week after a Davis School District decision to pull "In Our Mothers' House" from its elementary school shelves. The book is still be available to students, but will be kept behind the checkout counter and will require a parent's permission slip to be checked out.
The book, by Patricia Polacco, tells the story of two women and their children. Davis School District spokesman Christopher Williams said the decision to remove the book from shelves came after a mother of a kindergartner who checked out the book objected to its subject matter. After a school committee decided to move the book to the third- to sixth-grade section of the library, the mother returned with 24 other parents to petition a review of the book. The decision was then made to store the book behind the counter and require parental consent.
"That way parents are in the driver seat," Williams said. "They can allow the student to read the book if they choose to."
But some parents see the decision as an overstep for a book that promotes tolerance of non-traditional families. Some said the caveat of a permission slip does not undue the fears of censorship.
---
I just can't believe that they're still trying to ban books. I thought we were passed all that.
–Crystal Smith said.
---
"I just can't believe that they're still trying to ban books," Crystal Smith said. "I thought we were passed all that."
Smith said she trusts the discretion of a school librarian to decide if material is appropriate for an elementary-age student. From what she has heard about the book, she doesn't see anything wrong.
"We've known a family or two with those circumstances and I just act like it's a non-issue," she said. "If there's a question, they'll ask and I'll answer honestly."
Monday's panel included three same-gender couples who shared their experiences raising children in Utah's predominantly conservative community. Jamila Tharp and Michelle Hasting appeared with their children, and read from "In Our Mothers' House" to begin the panel.
"This family here looks a lot like our family," Tharp said, holding up a copy of the book.
After the reading, panel members commented on the normalcy of the story and Eric Amsel, chair of the Psychology Department at Weber State University, suggested that maybe the normalcy is what offends people.
"It was a story that makes normal the abnormal and maybe that's the problem," he said. "It normalizes gay life."
Amsel referred to state law, which makes it illegal for a public school curriculum to advocate a gay lifestyle. He said books like "In Our Mothers' House" do not classify as advocacy but instead defend gay lifestyles.
"It's defensive, not offensive and that is what's offensive to some," he said.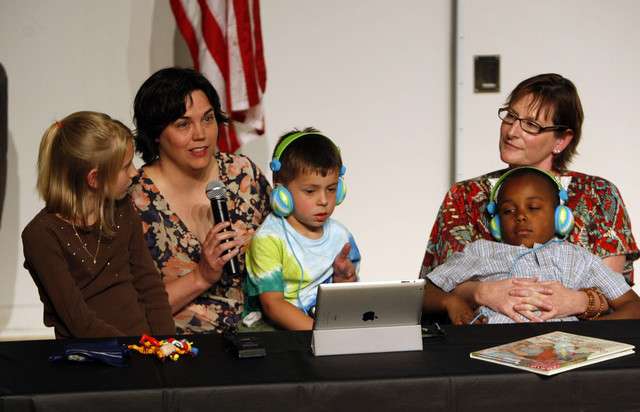 Hasting said the decision to remove the book from shelves leaves her concerned for students from both traditional and non-traditional families. She said it sends the message to children of a same-gender couple that their family is something that should be hidden and it blocks children of a heterosexual couple form learning about diversity.
"Imagine telling our children 'OK, go off to school now but don't talk about your family'," she said. "I Just think it's a loss for everybody."
Amsel said that both sides of the debate were motivated by a concern for their children and suggested that concern could potentially be used to bridge the gap and create a dialogue.
"We're here because we're worried about our kids," he said. "There's a foundation for some commonality there."
Kaye Gensel, a mother who lives in Logan, wasn't familiar with the specific content of "In Our Mothers' House" but said that whatever standard used to judge the age-appropriateness of its content should be applied to any book with corresponding heterosexual subject matter.
"I don't think it's fair to pin point," she said. "If parents are going to object to any kind of sexual content in the library it shouldn't matter what kind of sexual relationship it is."
Williams said only five of the district's 59 elementary schools carry a copy of "In Our Mothers' House." He said the specific copy the parent objected to was purchased in 2010 and checked out three times.
Contributing: Mike Anderson
×
Photos
Related links
Related stories
Most recent Utah stories