Estimated read time: Less than a minute
This archived news story is available only for your personal, non-commercial use. Information in the story may be outdated or superseded by additional information. Reading or replaying the story in its archived form does not constitute a republication of the story.
RENTON, Wash. — A mother duck and her three ducklings tied up traffic on Interstate 405 in Renton, Washington over the weekend.
The whole incident was captured on Department of Transportation cameras.
A Washington State Patrol trooper first stopped lanes of traffic to protect the three ducks.
They ended up walking along the road next to the barrier.
The trooper eventually drove away.
That's when motorists decided to help.
One man pulled over, jumped out of his car, and pulled out a piece of clothing.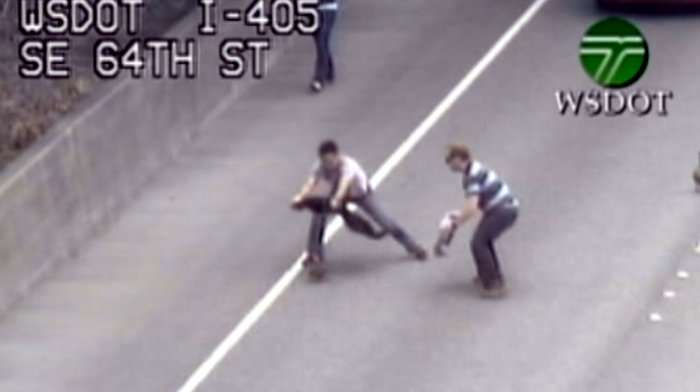 He managed to catch two of the ducklings and appeared to put them in his car.
He then attempted to catch the mother and another duckling.
They ran across the freeway with cars still moving by.
A second and third person stopped to help.
Two people chased the ducks across the freeway, in and out of traffic.
Eventually, someone got a shirt over the last duckling and the youngsters were released into the woods beside the road.
The mother duck then joined the babies.
Traffic was backed up while the drama unfolded.
×
Photos
Most recent Features stories