Estimated read time: 3-4 minutes
This archived news story is available only for your personal, non-commercial use. Information in the story may be outdated or superseded by additional information. Reading or replaying the story in its archived form does not constitute a republication of the story.
PRESTON, Idaho — The ability to ride a bike is something many take for granted, but not the Smith siblings.
Dominic, 8, and Paisley, 6, have not been able to ride bikes with their older brother, Seth, for two years. Seth has Fragile X syndrome and autism, which prevents him from enjoying some of the activities that are rights of passage for most children.
Saddened by their brother's inability to participate in one of their favorite pastimes, Dominic and Paisley sprung into action. They first asked their mother, Laci Smith, if they could sell their toys to raise money for a bike for Seth that would allow him to ride again. Most of the bikes that Seth would have been able to use cost more than $1,000, and the two were excited to get started.
"I told them they didn't need to sell their toys, but they wanted to do something," Laci said. "The lemonade stand was Paisley's idea."
A lemonade stand, to earn a bike for their brother. Fifty cents a cup meant it would take a lot of lemonade to buy a bike, and Laci only expected friends and family to show up to the event. But the Preston, Idaho, community, and even some Utahns, were ready to unite behind the children's cause.
---
I told them they didn't need to sell their toys, but they wanted to do something.
–Laci Smith
---
"The response was just overwhelming," Laci said. "People came from Cache Valley, and we had people come from as far as Brigham City.They would tell the kids how what they were doing touched them: that they would put their brothers needs above their wants."
In all, the kids sold thirteen gallons of lemonade on June 2, enough to deliver some good news to their older brother, who was overwhelmed by what his siblings had done for him.
"He said, 'Wow, for me?'" Laci said. "You could tell he was kind of getting teary eyed, and I was shocked he understood it that much, but he did. And that's what made me really emotional too: that he understood that his brother and sister cared about him that much.
The more than 1600 cups of lemonade the siblings sold earned enough to pay for something even better than a bike: a $400 conversion axle kit that converts any bike to a tricycle.
"Seth wanted a regular bike," Laci said. "He said the other bikes were funny looking. He wanted to look like a normal child riding a bike with his brother — he wants to be as normal as possible."
"The only thing was, he said it has to be green."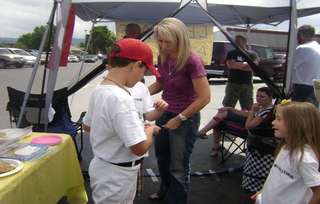 Laci ordered the conversion kit immediately, and soon, Seth will be riding his green bike with his brother and sister. And for Dominic, it's just one more way to show the world that his brother is really just like him.
Dominic is the only Smith child who was born without Fragile X syndrome, which he said puts him in some difficult situations. Leading up to the lemonade stand, he made a YouTube video to share his story with the world.
"Sometimes I feel alone because my friends don't understand what it's like," he said, explaining his siblings' limitations. "People stare at him. Sometimes they whisper. I get frustrated … one kid called my brother the 'R' word in front of me."
But his siblings are no different than anyone else, he said. They just can't help what their bodies do, sometimes. And he will be there for them, whether to stand up to the bullies or to serve lemonade for hours to earn a bike for his brother.
"They are normal to me," he said. "I (love) them very much … My parents said I'm special, too. I was sent to my family to protect my siblings. Even if you think they are different from me, I don't."
×
Photos
Related links
Most recent Lifestyle stories