Estimated read time: 4-5 minutes
This archived news story is available only for your personal, non-commercial use. Information in the story may be outdated or superseded by additional information. Reading or replaying the story in its archived form does not constitute a republication of the story.
SALT LAKE CITY —Mitt Romney returned to Utah Friday for the first time since becoming the presumptive GOP presidential nominee, raising money at big-ticket events including a gourmet dinner that cost at least $50,000 to attend.
Sen. Orrin Hatch greets Romney
Utah Sen. Orrin Hatch met the presumptive Republican presidential nominee outside TAC Air at the Salt Lake City International Airport. They strolled down the tarmac chatting and laughing. Neither took questions from local media gathered at the terminal.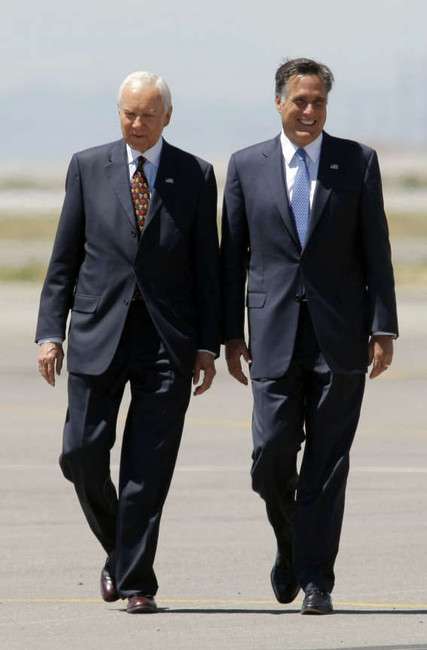 "It's a photo-op. It's a media event. These are two established politicians endorsing each other hoping that will translate into votes," said University of Utah political science professor Tim Chambless.
More so for Hatch than Romney, who often brings up the former Salt Lake Olympic leader in his campaign speeches.
"We don't need a fake debate. We have Mitt," said Hatch campaign manager Dave Hansen.
The comment was in reference to the senator's GOP primary election opponent Dan Liljenquist, who held a "debate" Thursday without Hatch.
Sylvia Hunter, of Sandy, was among about 15 spectators who turned out to catch a glimpse of Romney. She jumped up and down and waved to him as the Suburban he was riding in passed. She said Romney waved back.
"I'm just all for him," said Hunter, 61, adding she has contributed to the Romney campaign.
Hunter, though, won't be attending a $2,500-per-person reception for Romney at the Grand America hotel on Friday evening.
"I could probably do what I did here (wave) on a teacher's salary," she said.
A fundraiser at the Grand America
At a $2,500-a-plate reception at the Grand America Hotel, Romney told an enthusiastic audience of about 150 people that the nation's debt under President Barack Obama is "immoral," promising his to-do list in the White House will be "jobs, jobs and jobs."
"I am absolutely convinced that if we take a different course than the one we're on, we're going to have a bright and prosperous future," Romney said. "If I'm president of the United States, we're not going to have trillion-dollars deficits. I will get us on track to finally have a balanced budget."
Related:
His upbeat speech, which lasted about 20 minutes and was often interrupted by applause, included another jab at Obama. Referring to a statement made earlier Friday and later clarified by the president that the private sector was "doing fine" Romney said, "Oh, really...it's time for a president who understands what's happening to the American people."
The crowd included Sen. Orrin Hatch, who said in his introduction of Romney that many Americans don't feel Obama's "up to the job. But we know who's up to the job, we in Utah more than any other place." Hatch said Romney "is going to be the next president of the United States."
Also attending the Grand America reception were Gov. Gary Herbert, 4th Congressional District nominee Mia Love, developer and longtime Romney friend Kem Gardner and Fraser Bullock, who served as Romney's No. 2 during the 2002 Winter Olympics.
The campaign did not disclose how much money Romney raised while in Utah, although it was expected to be well over $1 million. The Grand America event also included the opportunity to attend a $10,000-a-person VIP reception that included a photo with the candidate.
Democrats stage protest against Romney
Across the street from the Grand America, several dozen Democrats waved bright yellow signs reading, "Romney Economics: It Didn't Work Then. It Won't Work Now" and urged drivers on Main Street to honk in support.
Wayne Holland, the former head of the Utah Democratic Party and now a liaison to President Barack Obama's campaign in Colorado and Nevada, said Democrats are organizing similar protests outside of Romney events across the country.
Karen Russell, a teacher from Clearfield, said she showed up outside the fundraiser because she "personally would like Romney to know there are Democrats here in Utah. Not everybody supports his platform. Some of us want Obama to win."
A private fundraising event in Bountiful
Later, Romney was headed to a private home in Bountiful for a special dinner with more than 100 donors, each paying at least $50,000 and as much as $78,500 to the Romney Victory fund, a general-election effort that also provides cash to the national GOP as well as some state parties.
Diners were treated to a seven-course meal that included filet mignon. At the event, which was closed to the media, Romney spoke from beneath a tent erected in the backyard of the home near the Bountiful LDS temple.
---
We are very excited about he opportunity of seeing and meeting Mitt Romney in person. But what we're even more excited about is the prospect of Mitt Romney being our next president.
–Lynn Keller, dinner attendee
---
One of the attendees, Lynn Keller, said, "We are very excited about he opportunity of seeing and meeting Mitt Romney in person. But what we're even more excited about is the prospect of Mitt Romney being our next president."
Utah has always been supportive of Romney, giving him a whopping 90 percent of the vote in the 2008 Republican primary against the eventual nominee four years ago, Arizona Sen. John McCain.
The state has also been a key source of funding for Romney, who was brought in to turn around the troubled 2002 Olympics in Salt Lake City and is a Mormon like the majority of Utahns.
Romney was expected to spend the night at the Millcreek home of his son, Josh, before heading back out on the campaign trail.
Contributing: Andrew Wittenberg, Richard Piatt and Andrew Adams
×
Photos
Most recent Utah stories