Estimated read time: 2-3 minutes
This archived news story is available only for your personal, non-commercial use. Information in the story may be outdated or superseded by additional information. Reading or replaying the story in its archived form does not constitute a republication of the story.
OGDEN — SWAT teams from all over the Wasatch Front are taking advantage of a rare opportunity to train in an eleven-story building. It's an old student housing tower at Weber State University.
Eight different agencies get to give their SWAT teams free reign the old Promontory Tower, to smash, break, and even cut open doors.
"The university decided that they were going to tear down Promontory Tower," explained Jack Rickards, with Weber State University Law Enforcement Academy.
The end of the line for the old dorms turned into an opportunity for SWAT teams, from Cache County to South Salt Lake.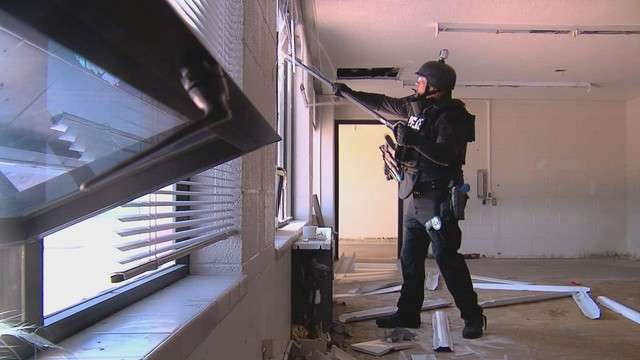 "If this were an occupied building, you have 12 levels that officers have to go through," Rickards said.
It's not often SWAT officers get to train in tall buildings like this, and many of the tactics aren't as easy as they look. Much of what they do stays the same in a new scenario, but how they approach it can change.
"They're dealing with a lot of materials — and a great deal more materials than you have to deal with in a home, for instance," Rickards said.
With about 20 rooms per level, things like clearing a floor can take a lot more work.
"A lot of times with the training events that we have an opportunity to do, we have to simulate, if you will, some of the techniques that we utilize either to make entry or to force those things," said Layton Police Sgt. James Petre.
But since the dorms will be torn down anyway, the SWAT teams get to make as big of a mess as they need to. Agencies like Layton police say it's a chance they couldn't pass up.
"We were able to get in on this in a week's notice, and we usually do about a month out for training," Petre said. "So as soon as we heard about the opportunity we jumped right on it."
The teams still have a few more days left of that training. Most of their tactics are sensitive, so they wouldn't let KSL News cameras in to see a lot of what they practiced Thursday. They don't want the bad guys to know what they do.
As for the tower, once it's torn down it will be replaced with more updated student housing.
×
Photos
Most recent Utah stories