Estimated read time: 3-4 minutes
This archived news story is available only for your personal, non-commercial use. Information in the story may be outdated or superseded by additional information. Reading or replaying the story in its archived form does not constitute a republication of the story.
SALT LAKE CITY — It took over 8,000 games (8,020 to be exact) for the New York Mets to finally get their first no-hitter and of course every Mets fan was celebrating, but there was one that celebrated better than any other.
On Saturday, the Mets Johan Santana used a missed call and a great catch to no-hit the St. Louis Cardinals and while the controversy and drama should have been enough for a great story, those two were just the appetizer to the greatest moment of the entire event.
After Santana struck out David Freese to end the game, Mets players ran out to the mound and swarmed Santana, but they weren't alone. Joining them was Rafael Diaz, a die- hard Mets fan donning his pin-striped Gary Carter jersey.
Diaz joined the mob of players in celebrating Santana's feat before security noticed one of these things was unlike the others and pulled him out of the pack.
Diaz was arrested, but I'm betting a lot of Mets fans would make that trade any day.
Flip of joy
It could have been the worst celebration in sports history since Bill Gramatica hurt his knee celebrating a made field goal.
After being selected 13th overall in Major League Baseball's Amateur Draft by the Chicago White Sox, 18- year-old outfielder Courtney Hawkins performed his "trademark" back flip in the MLB Networks Studios in a shirt and tie and with some shiny dress shoes on.
Yes, he landed it, but I'm betting the entire White Sox front office was holding its collective breath.
Sharapova stumbles
No no, tennis star Maria Sharapova won her latest French Open match against Klara Zakopalova; it was an actual awkward tumble she took during the match.
Instead of sliding on the clay like most players do, Sharapova tried to just stop after making a cross court forehand, but her ankle got caught on the clay and down she went.
Yeah, I know it happens to everyone, but it's not just the fall. Lucky for her, her shot hit the net and trickled over for a point.
"That was my first fall of the clay season, which is the biggest shocker," Sharapova said while laughing about the whole thing in her post-game press conference. "I usually have a few before the French Open."
It seems like all the good looking people get all the breaks.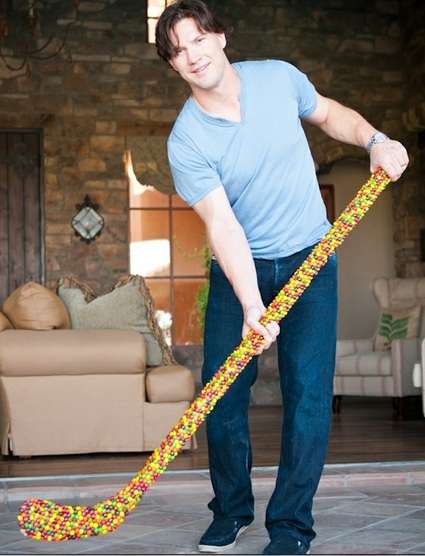 Hockey + Skittles=?Any guesses? Does the picture give it away?
Shane Doan, the physical captain of the Phoenix Coyotes, obviously has a soft spot for candy, specifically Skittles.
Mars Inc., which makes Skittles, must have heard about Doan's other passion (hockey presumably his first) and made him a hockey stick out of Skittles- a full size hockey stick out of the rainbow candies.
I wouldn't complain if I got one, but what do you do with it? Hang it on your wall? Put it in a trophy case? Snack on it while watching a movie?
So many options.
Awkward Introduction
After Michelle Beadle left for NBC Sports, ESPN has been looking for a replacement host for their popular midday show, SportsNation.
The Sports Network has tabbed Charissa Thompson, who actually sort of looks like Beadle, as Colin Cowherd's new co-host.
And to introduce her, ESPN produced a humorous video featuring comedian Rob Riggle, who is hosting this year's ESPY Award Show.
I'm not gonna give it away, but it's pretty funny.
×
Most recent Sports stories