Estimated read time: 4-5 minutes
This archived news story is available only for your personal, non-commercial use. Information in the story may be outdated or superseded by additional information. Reading or replaying the story in its archived form does not constitute a republication of the story.
SALT LAKE CITY — As tears rolled down her face, 10-year-old Abigail Tapia pleaded for help for her mother, who could be deported to Mexico in less than two weeks.
"Please help so my mom can't leave," she said, gulping back tears at a press conference late Monday afternoon near Temple Square.
The girl's mother, Barbara Tapia Avelar, is one of three sisters who could be deported on June 15 for overstaying their tourist visas — by nearly two decades. The sisters called on the Obama administration Monday to exercise prosecutorial discretion to halt their scheduled deportations. And they held a press conference to raise community awareness about their plight.
Tapia Avelar, Silvia Juarez Avelar and Laura Rangel Avelar came to the United States on tourist visas with their parents in 1993 when they were children. The family stayed, making a life in Utah. Each of the young women graduated from Kearns High School, have jobs and no criminal records, according to a Deseret News check of state court records. Each has children who are U.S. citizens.
The women say federal immigration officials have told them that their parents had a deportation hearing in 1997 and their cases remained in the system.
---
Tapia Avelar said the agents came into their home at 5 a.m. She was still in her pajamas when the agents arrested her in front of her children. Their womens' parents also were detained and deported two days later.
---
On Dec. 7, 2010, the sisters were detained by ICE agents. Tapia Avelar said the agents came into their home at 5 a.m. She was still in her pajamas when the agents arrested her in front of her children. Their parents also were detained and deported two days later. The women said they do not know why federal agents decided to act on the old case.
The sisters were placed under the Immigration Customs Enforcement's intensive supervision appearance program, which has meant that the sisters have been required to check in with ICE agents once a month since the ICE action 18 months ago. They are next scheduled to appear on June 13, during which time they expect to receive final deportation orders.
The women, who range in age from 26 to 34, want the immigration court to conduct another review their cases. The women have six children between them, the oldest 10-year-old Abigail. The fathers are not a part of the deportation order.
If someone would just look at our file, they would know they were good people, good citizens," Tapia Avelar said.
The sisters say they believe their circumstances would qualify them for prosecutorial discretion. They have children who are American citizens. They are employed and pay taxes. They are members of The Church of Jesus Christ of Latter-day Saints.
"That's all we ask for, a judge to hear our case," Tapia Avelar said.
Regional ICE spokeswoman Virginia Kice said in a statement that the sisters' cases "have "undergone review at multiple levels of our nation's legal system and the courts have uniformly held they have no legal basis to remain in the United States."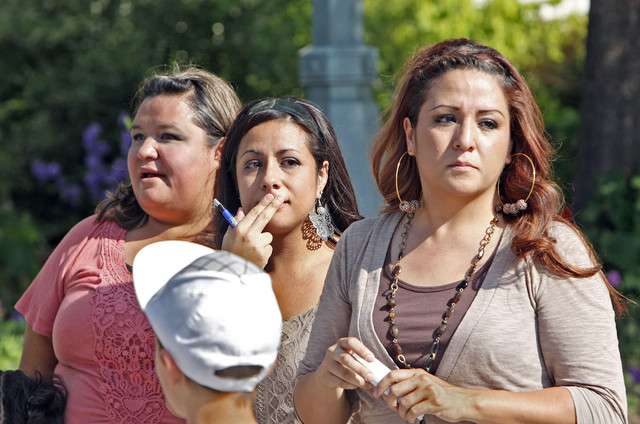 In 1997, the Board of Immigration Appeals dismissed the sisters' legal appeals and the women became subject to a final order of deportation, Kice said. The women were taken into custody by ICE Fugitive Operations officers based upon the final removal order.
Tapia Avelar said she believes the sisters should have a separate review of their cases because they were children when the case went before the immigration appeals board. "This isn't our fault. We were brought here when we're very young," she said.
The sisters consider the United States their home. "It's another world to us," Tapia Avelar said of Mexico. "I don't remember much about Mexico. Salt Lake is our home town."
David Terrazas, a spokesman for advocacy organization Salt Lake Dream Team, is encouraging calls to ICE Director John Morton to urge him to stop the deportation of the three women.
Members of the organization also circulated letters urging officials to halt their deportation, that they hope supporters will sign and submit to ICE officials.
Tapia Avelar said an attorney is also working on their behalf to attempt to ask the government to intervene.
A memo issued by the Obama administration in June 2011 informed ICE officials of their prosecutorial discretion with respect to investigations, arrests, detention, parole, initiation of removal proceedings and the execution of final orders.
Officials may take into consideration individuals with serious health conditions, people with serious mental or physical disabilities, pregnant or nursing women, victims of domestic violence and long-time lawful permanent residents, among others factors.
Kice said in a statement that "ICE exercises prosecutorial discretion on an individual basis, based on totality of the circumstance in each case."
"Through smart and effective immigration enforcement, this administration remains committed to prioritizing immigration enforcement resources to target criminal aliens and individuals who put public safety at risk, as well as those who threaten border security or the integrity of the immigration system," she said in a statement.
Tapia Avelar said she and her sisters are law-abiding. The ICE agents who took them into custody "treated us like we were a trophy" because they had not violated any laws, she said.
"It's been a nightmare. We can't sleep at night wondering what is going to happen to us."
×
Photos
Related stories
Most recent Utah stories