Estimated read time: 2-3 minutes
This archived news story is available only for your personal, non-commercial use. Information in the story may be outdated or superseded by additional information. Reading or replaying the story in its archived form does not constitute a republication of the story.
COTTONWOOD HEIGHTS — Hot summer days used to have kids running through the sprinklers or zipping across a slip and slide. But that's so passe' for today's kids. More and more cities across the country, including here in Utah, are investing in Splash Pads, today's high tech sprinklers.
"Sometimes when the water goes off, the frog goes bananas and shoots water," said five-year-old Hallie Hanson, who is what you might call a "splash padder." She comes to play most every warm day.
Parents like Splash Pads for a number of reasons. "They should put in more, I think. It'd get people outdoors," said Ryan Ritchi.
Michelle Keefer said "they have the park here they can play on once they've cooled off over here so it's a great combination."
City leaders think so too. Cottonwood Heights Mayor Kelvyn Cullimore said Mountview Park took $2.5 million dollars to build. The Splash Pad cost roughly $400,000. That's much less expensive than a city pool, which can cost millions of dollars to build, and require ongoing maintenance and staff, including life guards. Splash Pads are also a good option for small kids who aren't good swimmers yet.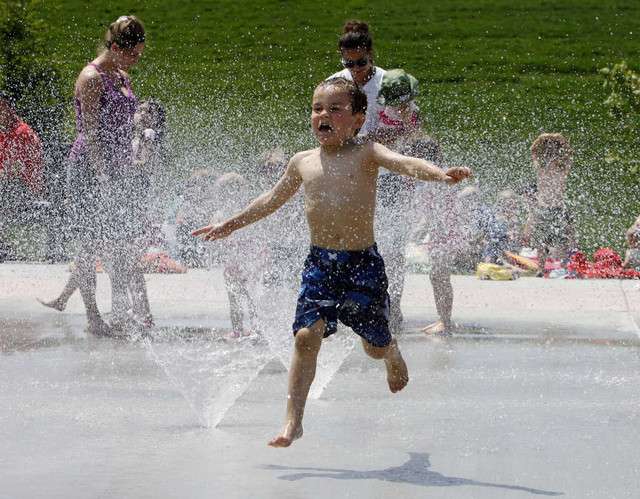 "When you go to the pool, you're worried about your kids drowning, getting in the deep end, it's really stressful for a mom so we come to a splash pad and they can just run," said Michelle Powell.
Cities have found fewer safety concerns with splash pads, compared to swimming pools. Still some parents are concerned with the slippery surface around the wet areas. However, Powell suggests educating your kids and keeping a close watch on them.
"It can get a little bit slippery. They have little water shoes you can buy at Walmart for like $5. If you put those on your kids, they've got the traction on the bottom, let them run, have fun and it's not as slippery," she said.
Splash pads are not replacing the summertime pool, they're just a cheaper alternative for cities and residents. You can find Splash Pads along the Wasatch Front from Northern Utah, Salt Lake City, Utah County, and of course this newest one right here in Cottonwood Heights.
×
Photos
Related stories
Most recent Utah stories