Estimated read time: 3-4 minutes
This archived news story is available only for your personal, non-commercial use. Information in the story may be outdated or superseded by additional information. Reading or replaying the story in its archived form does not constitute a republication of the story.
SALT LAKE CITY — Former Gov. Jon Huntsman Jr. has endorsed West Valley City Mayor Mike Winder for Salt Lake County Mayor.
"Mike can lay claim to that which most in politics lack, a real track record of leadership and accomplishments," Huntsman said Tuesday in a release.
While governor, Huntsman appointed Winder to two terms on the State Board of History.
Winder will face off June 26 against Mark Crockett in a GOP primary, the winner of which will face state Sen. Ben McAdams, D-Salt Lake, in a general election.
Michelle Obama maintains favorability among Americans
A new poll has found that first lady Michelle Obama's popularity remains high among Americans.
Obama's favorability, at 66 percent, is unchanged from two years ago and is consistent with her favorability over the course of Pres. Barack Obama's presidency, according to the latest Gallup poll.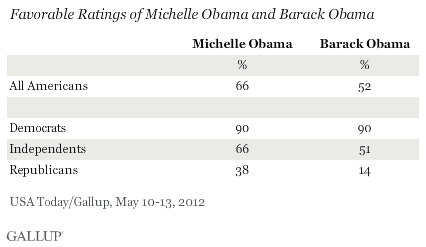 The president is viewed favorably by 52 percent of Americans.
Both the president and the first lady are viewed equally positively, at 90 percent, by Democrats. The first lady has a higher favorability ranking than the president among Republicans and independents.
Fox News releases anti-Obama ad
Fox News Channel aired a four-minute ad Wednesday attacking Pres. Barack Obama.
The ad aired on Fox and Friends after an introduction from the show's hosts. It was said to have been a weeks-long project, created by one of the show's associate producers.
"Let's talk a little bit about what the campaign slogan used to be for President Obama when he was a candidate. Remember it was 'hope and change,'" co-host Gretchen Carlson said. "So we decided to take a look back at the president's first term to see if it lived up to 'hope and change.'"
The ad featured a collection of news clippings seemingly meant to demonstrate the hardship the American middle class has faced in the years since Obama was elected.
After facing criticism for the ad, which was promoted by the morning show and not one of the channel's opinion-show hosts, the channel's executives quickly had the ad removed from the channel's website.
It was later added to the Fox Nation website, which tweeted out the "Must-see video." The tweet was later deleted, and the post was removed.
Parent company News Corp. prohibits the use of company resources to aid political candidates. Representatives of the company were unavailable for comment.
A congressman's remarks on African Americans, Hispanics
Rep. Joe Walsh, R-Ill., made controversial remarks last week about the aims of the Democratic party.
"The Democratic Party promises groups of people everything," Walsh said during a Schaumburg, Ill., speech. "They want the Hispanic vote, they want Hispanics to be dependent on government, just like they got African Americans dependent on government. That's their game."
The speech was [CREDO SuperPAC.](<http://www.youtube.com/watch?v=- kaHcWxRDSE&feature=player_embedded' atrget=_blank>caught on video and quickly promoted by the anti-tea party group <a href=>)
Walsh also said that civil rights activist Jesse Jackson "would be out of work if (African Americans) weren't dependent on government."
×
Related links
Related stories
Most recent Utah stories