Estimated read time: 3-4 minutes
This archived news story is available only for your personal, non-commercial use. Information in the story may be outdated or superseded by additional information. Reading or replaying the story in its archived form does not constitute a republication of the story.
SALT LAKE CITY — Presidential candidates are under a lot of scrutiny for everything they do leading up to the election. Every statement, appearance and thought by a campaign is judged and mulled over by the media and general public. Unfortunately, even a decision not made by a candidate can have a negative effect on a campaign.
Recently, the Romney campaign released a new iPhone app called "With Mitt" that allows users to take a picture with one of 14 campaign slogans such as "The America We Love" and "Obama Isn't Working." App users are encouraged to share their pictures on social media websites. And one slogan is certainly getting attention on social media.
The slogan reads "A Better Amercia," misspelling a key part of the phrase. Unless Romney gained developer skills, the mistake is not his. However, that hasn't stopped people from [taking humorous pictures](http://www.funnyordie.com/slideshows/ec05e67d4c/mitt
romney-s-amercia-the-best-uses-of-mitt-s-spelling-fail? playlist=featured_pictures_and_words#slide8) with Romney's slogan mistake.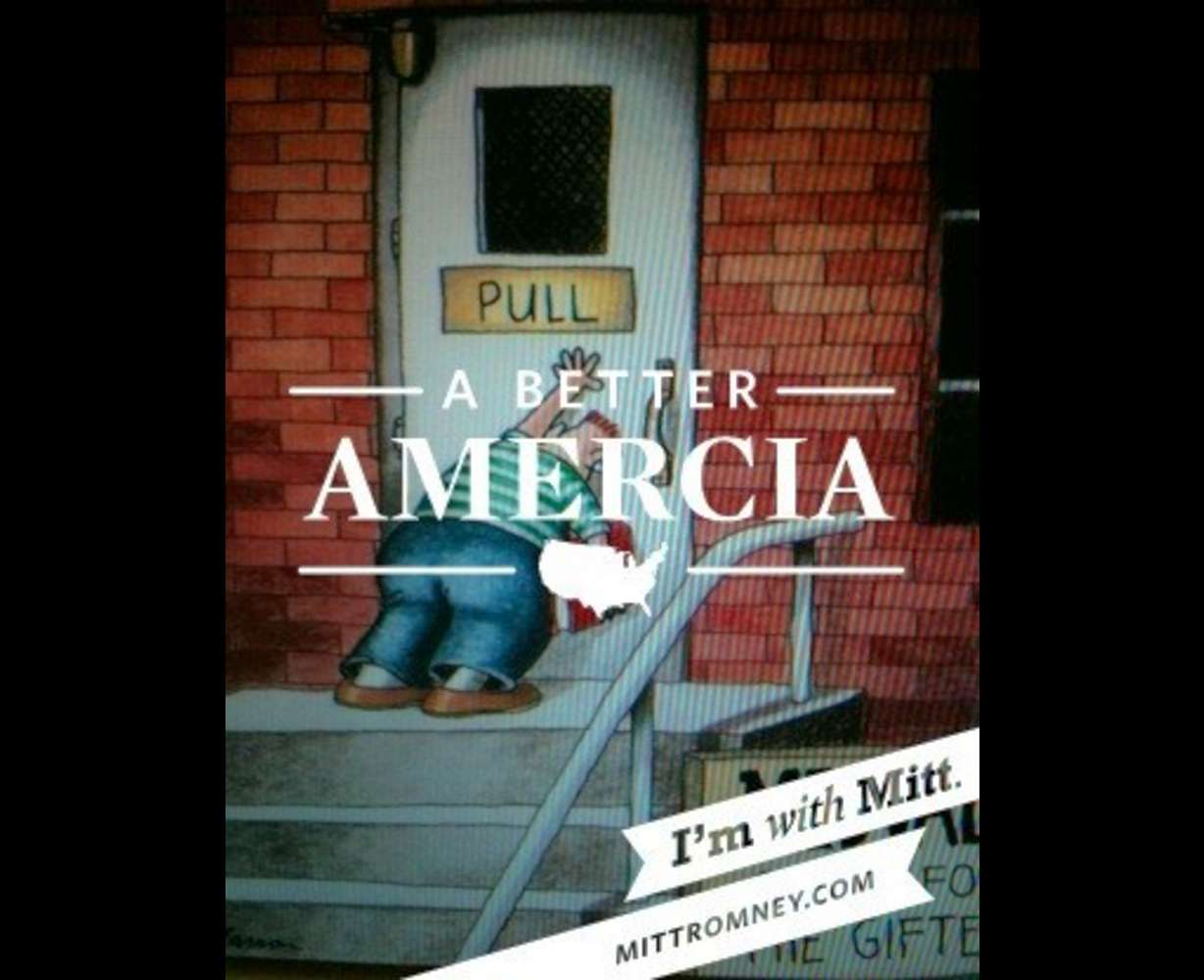 The Romney campaign has updated the app as of Wednesday afternoon, saying there were "bug fixes."
Obama congratulates Romney
With a win in the Texas primary Tuesday night, Mitt Romney went from the presumptive Republican nominee to the de facto nominee, securing the necessary 1,144 delegates needed. As Republican candidates slowly dropped from the race, Romney became the inevitable nominee despite having less than the necessary delegates needed to become the nominee.
As a cordial sign leading up to what is expected to be a hard-fought battle, President Barack Obama called Mitt Romney Wednesday morning to congratulate him on securing the Republican nomination.
"At approximately 11:30 a.m. ET this morning, the president called Governor Romney to congratulate him on securing the Republican nomination," Obama campaign press secretary Ben LaBolt said. "President Obama said that he looked forward to an important and healthy debate about America's future, and wished Governor Romney and his family well throughout the upcoming campaign."
Amid the constant bickering and fighting in politics, at least the two candidates could push the issues aside for a friendly conversation, even if it was for a brief moment.
Barney Frank's Trayvon Martin comment
Speaking at the University of Massachusetts Dartmouth commencement on Sunday, Massachusetts Congressman Barney Frank made a comment to civil rights leader Hubie Jones who received a hooded academic robe. Franks said, "you now have a hoodie you can wear and no one will shoot at you."
The comment was a reference to the controversial Florida issue where Trayvon Martin was shot and killed by a member of the neighborhood watch. The comment was not received well by the crowd, who gave a nervous laughter and hesitant groans.
Frank has later apologized for the comment, saying he made the joke to make light of hoodies being a negative article of clothing.
Obama's mistake on "Polish death camp"
Honoring 13 Medal of Freedom recipients Tuesday, President Barack Obama made a comment about Jan Karski, a resistance fighter against the Nazi in World War II, who died in 2000. Obama said Karski "served as a courier for the Polish resistance during the darkest days of World War II. Before one trip across enemy lines, resistance fighters told him that Jews were being murdered on a massive scale and smuggled him into the Warsaw Ghetto and a Polish death camp to see for himself."
The reference to "Polish death camp" drew criticism from Poles who said the reference should have been a "German death camp in Nazi-occupied Poland." Polish Foreign Prime Minister Radek Sikorski took to Twitter to demand an apology from Obama, saying it was an "outrageous error."
Sikorski added: "It's a pity that such a dignified ceremony was overshadowed by ignorance and incompetence."
Members of Obama's administration have since apologized for the statement.
×
Related links
Related stories
Most recent Politics stories