This archived news story is available only for your personal, non-commercial use. Information in the story may be outdated or superseded by additional information. Reading or replaying the story in its archived form does not constitute a republication of the story.
STRAWBERRY RESERVOIR, Wasatch County — Strawberry Reservoir lures thousands of people for its trout fishing, and the Utah Division of Wildlife Resources wants to give fishermen a great catch on the line in the years to come.
So the DWR has stocked the reservoir with half a million cutthroat trout.
These fish are all young trout, measuring 8 inches long. "They survive well. They grow well, and people can easily catch them," Strawberry Fisheries biologist Alan Ward said.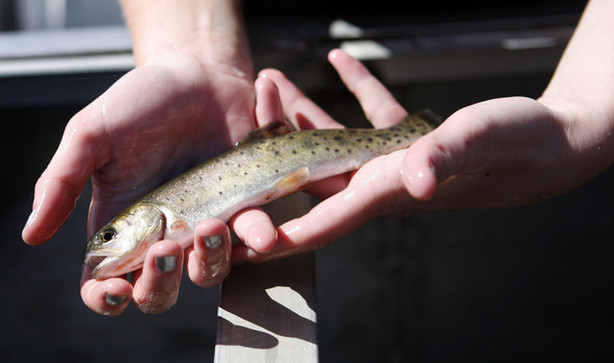 Approximately 250,000 8-inch cutthroat trout will be stocked in Strawberry Reservoir over the next couple of days. That's in addition to the 250,000 that were stocked two weeks ago.
"These guys will put on about an inch a month over the summer, so you can imagine by the end of the summer it will be 8 to 12 (inches) and next year they'll be up around 15, 16 inches," Ward said.
Biologists will take the fish onto the reservoir in barges and release them in the middle of the lake. The idea is to put several thousand fish into several different coves around the reservoir. That way they have the best chance of survival rather than dumping a half million in one spot.
"We want to spread them around," Ward said. "We want to get them out there utilizing all of the habitats thriving well. Hopefully they survive not being eaten."
The cutthroat is the only native trout species in Utah. It also helps manage the fish habitat, by keeping the predatory Chubb in check.
Event:
Strawberry Rainbow Rush fishing contest
Dates: May 26 - October 15, 2012
Rules:300 rainbow trout with tags will be released into Strawberry Reservoir; catch one and win a prize. Grand prize: $25,000
Visit the Strawberry Bay Marina & Lodge Facebook page for more details.
Last week, an angler caught a 27-inch cutthroat that weighed in at 8 pounds. "We've got really good conditions for the fish going in right now," Ward said. "It's good, cool temperatures going in the water, so it's really good for these fish right now."
The DWR will hold its annual cutthroat trout viewing event from 9 a.m. to noon at the U.S. Forest Service visitor center. The visitor center is just off U.S. Highway 40 on the northwest side of the reservoir.
The DWR is also holding a fishing contest. As part of the Strawberry Rainbow Rush, about 300 rainbow trout were recently tagged. Many prizes are available, including $25,000 that will go to the angler who catches the rainbow with the lucky tag.
The contest runs from May 26 to Oct. 15. Updates will be on posted on the "Strawberry Lake in Utah" Facebook page.
Contributing: Viviane Vo-Duc
---
×
Photos
Related Links