Estimated read time: 2-3 minutes
This archived news story is available only for your personal, non-commercial use. Information in the story may be outdated or superseded by additional information. Reading or replaying the story in its archived form does not constitute a republication of the story.
SALT LAKE CITY — In 1942, Frances Darger, then 17, got a part-time job playing with a new music group. Years later, it's really amounted to something.
That's because the music group was the Utah Symphony, and after 69 years of service Darger is the longest-tenured member of the orchestra. By one accounting, she's the longest-tenured member of any orchestra anywhere.
Darger is retiring this year and recently sat down with KSL News to discuss her career.
She said she was born into music. Her mother was a singer who made sure her five daughters sang and played instruments. Then when Frances was 9 years old, her mom struck a deal with a friend to trade voice lessons for violin lessons.
During her first year of college, Darger won her seat with the fledgling Utah Symphony.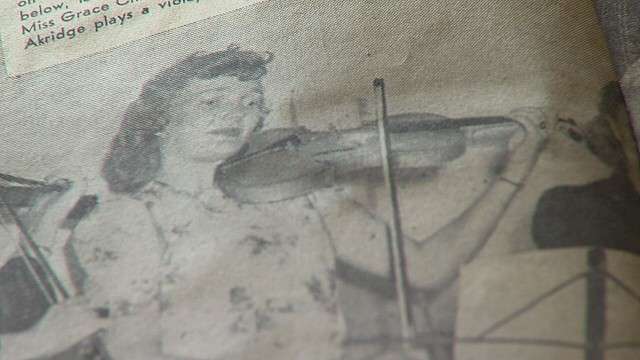 "Oh yes, I was thrilled. I was thrilled," she said. The symphony was then a part-time community orchestra with an 18-week season.
"It was a struggling orchestra," said violinist Elizabeth Burton, daughter of Darger's violin teacher. "(The musicians) were on the streets trying to sell tickets."
Darger's day job was on the society desk of the now- defunct Salt Lake Telegram. She says it might have been on assignment for the newspaper that she first saw the man who would change the orchestra's fortunes.
In 1947 Darger covered the announcement of a new music director, Maurice Abravanel. "And, of course, being a great little girl from Salt Lake, I was fascinated to see this worldclass man come in with this big fat cigar," she said.
Abravanel transformed the orchestra into a world-renowned ensemble. He won recording contracts, brought in prestigious guest artists, and lobbied for what would eventually become Abravanel Hall.
"He brought in soloists to die for. He did programs to die for. It was a thrilling experience," Darger recalled. And he took the symphony around the world.
Leafing through scrapbooks, Darger beamed while talking about their performance at the base of the Acropolis of Athens in 1966 on their first tour. "That whole tour, you were just kind of in a dream world," she said.
---
I loved it. I loved all that pretty music. It's more fun to play it than to just sit in the audience.
–Frances Darger, retiring violinist
---
It was also on that tour at an airport in Germany that her violin was run over by a bus. Luckily, violin maker Peter Prier was traveling with the orchestra and had a spare instrument.
Last fall, a British writer and commentator compiled a roster of the longest-serving orchestra musicians. With her 69 years of service, Darger was at the top of the list.
She stayed, she says, for one simple reason: the music. "I just loved it. I loved it. I loved all that pretty music," she said. "It's more fun to play it than to just sit in the audience."
This season, five other symphony members have retired or will retire. Each has decades of service, but none has performed quite as long as Frances Darger, who officially retires after the Deer Valley Music Festival this summer.
"It's just been a wonderful, wonderful ride," she said.
Email: prosen@ksl.com
×
Photos
Most recent Utah stories