Estimated read time: 3-4 minutes
This archived news story is available only for your personal, non-commercial use. Information in the story may be outdated or superseded by additional information. Reading or replaying the story in its archived form does not constitute a republication of the story.
PROVO — BYU Head Coach Bronco Mendenhall still remembers the day he met Ezekiel Ansah.
"He came into my office and talked about the chance to play football," he recalls. "I described it and I said I don't know you and I don't trust you and I don't even know if you can make it through a workout."
Ansah still showed up for winter conditioning in January 2010.
"I knew it was difficult," Ansah remembers. "It was really hard when I came here. I didn't know what I was doing."
His performance didn't give Coach Mendenhall any reason to doubt his first impression but Ziggy, as his teammates call him, kept coming to workouts.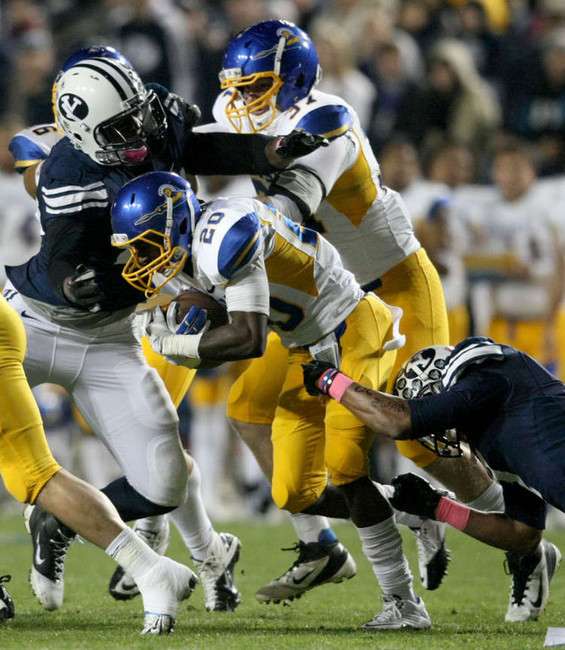 "I never thought he would even make it to fall camp and he did and then we helped him put his stuff on and the rest is kind of history."
The history begins 7,000 miles from Provo in Accra, Ghana. Ansah joined The Church of Jesus Christ of Latter-day Saints while going to school and received an academic scholarship to BYU. Academics were important but he also loved athletics and wanted to compete at the college level but not in the sport you would think. He wanted to play in the NBA. He tried out twice for the BYU basketball team but was unsuccessful. He found a place on the track team when he was introduced to the game of football. He had never even watched a football game, let alone played the sport when he came to Provo.
But in late 2009 he met with Coach Mendenhall and began an unlikely journey to become a college football player.
Ziggy has not only persevered through the tough times but he is now thriving as a key member of the BYU defense. His intelligence has allowed this 6-6, 270 pound athlete to rapidly learn how to play the game of football.
"He has picked up just the knowledge of the game faster than anyone that I have ever been around," says outside linebacker coach and former BYU star Kelly Poppinga.
"I think a lot of people saw the potential in me," Ansah says. "They, like just basically told me that it was hard but I should keep doing it and its gonna pay off so it was just good advice from my teammates and mostly the coaches that has made me stick to it."
The coaching staff and his teammates are glad he did.
---
(Ziggy) has picked up just the knowledge of the game faster than anyone that I have ever been around.
–Former BYU star Kelly Poppinga
---
Now a senior, he is being cross-trained at two different positions, outside linebacker and defensive end. His play on the field turned heads this spring and he is expected to have a breakout season this fall.
"He is talented and he now understands the game," says Mendenhall. "He's now playing two positions when two years ago he didn't know how to put on his equipment."
He is loved by teammates who rave about his potential.
"Animal. He's a beast!" says fellow linebacker Spencer Hadley. "I believe he is going to have a great year this year, break out year I expect to see him in the league."
Wait a minute. Did Spencer say he thinks Ansah can play in the NFL?
"I think so," he says.
BYU coaches agree with Hadley's assessment.
"I look at him and he for sure has the body type and the speed to be an outside backer in the NFL but he has to go out and show it this season which I think he is going to have a great opportunity to do," says Poppinga.
"He's not even on scholarship. It could be a tremendous story," says Mendenhall. "I don't want the prediction or the headline to be, Ziggy Ansah: NFL player, but if he continues to do what he's done the past two years and does that this year that wouldn't be out of the question which would be a remarkable story."
Becoming a rotation player with a team like BYU after picking up the game just two years ago is already a remarkable story. The Cougars hope the story gets even better this fall.
×
Photos
Most recent Sports stories