Estimated read time: 4-5 minutes
This archived news story is available only for your personal, non-commercial use. Information in the story may be outdated or superseded by additional information. Reading or replaying the story in its archived form does not constitute a republication of the story.
SALT LAKE CITY — For Todd Kirby, one of his highest priorities is to be an effective parent.
While he's taken many courses to improve his performance in the workplace, "I've never really taken any classes on how how to be a better parent. To be honest with you, that's what's most important to me."
Kirby, a father of two from Springville, attended Utah first lady Jeanette Herbert's inaugural Parenting Conference and Expo Friday at the Salt Palace Convention Center.
The conference, Uplift Utah Families, which runs through Saturday, includes keynote speeches by parenting and relationship experts as well as breakout sessions ranging from blended families to tips to helping children get their homework done.
A common theme of many presentations was the importance of parents being a constant presence in their children's lives.
Advice from a relationship counselor
Relationship expert Matt Townsend told attendees that his family gathers nightly for a family prayer.
"It's really a great thing because it gets us together for a few minutes so we can fight," joked Townsend, founder and president of the Townsend Relationship Center, a relationship coaching organization. His clients include a number of Fortune 100 companies.
The ritual brings the family together for a moment of peace and to share one another's company, he said.
"Be present with your family," Townsend said. "Turn everything else off and be in the moment when you can."
Advice from a judge
Absent constant parental guidance, children will seek validation and sense of belonging elsewhere, said 3rd District Juvenile Court Judge Andrew Valdez.
---
While it is natural for adolescents and teens to identify with certain groups, children need adults to teach and reinforce values such as respect, trustworthiness, fairness, citizenship and responsibility, (Judge Andrew Valdez) said.
---
While it is natural for adolescents and teens to identify with certain groups, children need adults to teach and reinforce values such as respect, trustworthiness, fairness, citizenship and responsibility, he said.
"These are all learned behaviors. Kids aren't born with these values," he said.
Valdez said he is seeing a growing number of cases in his court in which parents are "losing control of their children at a very, very young age."
He shared the story of a 12-year-old boy who appeared before him because he had been picked up by police for breaking into cars. Valdez asked the boy whether he had any tattoos. The boy lifted his shirt to reveal that the number 13 had been tattooed on his chest, indicative of his affiliation with the Surenos 13 gang.
"The parents were in shock. They had no idea he had this tattoo," the judge said.
Unfortunately, many parents are unaware of their child's gang involvement until the child is before the court on a delinquency matter.
"Then they (parents) want Judge Valdez to straighten them out," he said.
Parents need to start enforcing limits when their children are young and consistently reinforce their values, he said.
"The main thing you do is stick with them, stick with them," he said.
Advice from educators, parenting experts
Cathy Endicott of Utah Parents as Teachers, a mother of six children and a conference presenter on school readiness, said research shows that meaningful parental interaction is a key component to children's intellectual, emotional, motor and cognitive development.
While some may tout the value of showing babies flashcards or "educational DVDs," interacting with a parent while they are cooking, singing to a child or simple play are better options because "that's where brain development is happening," she said.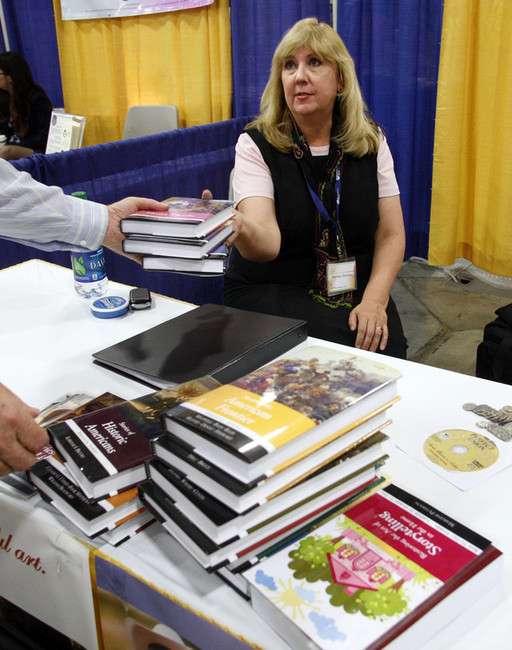 Marlene Peterson, founder and president of Libraries of Hope, which specializes in restoring the art of storytelling in the home and the republishing of children's classic literature, urged parents to share age-appropriate, uplifting stories for their children to reference when they weather difficult times.
When Peterson's son left for a military deployment, Peterson buoyed her distraught granddaughter Kayleigh with a story about another little girl whose father had gone off to war. "Everywhere she went, she told people, 'My dad is a soldier,'" Peterson told her granddaughter.
After a long, tearful goodbye with her father, Kayleigh went home and made a book about saying goodbye, which included a drawing of the two of them weeping as they bid farewell.
Taking a page from her grandmother's story, Kayleigh, too, would tell people, "My daddy's a soldier."
"They were always warm and gracious to her when she said that," Peterson said. "Pretty soon, she didn't have to say it any more."
Kirby, whose children are 3 and 7, said he was grateful to have a few more resources in his parenting toolbox, as well as some validation for his parenting practices.
As a father, it is important to Kirby to be a good provider to his children, he said. "Not just physically or financially but emotionally. Am I providing all the things to let my children succeed?"
×
Photos
Most recent Utah stories