Estimated read time: 4-5 minutes
This archived news story is available only for your personal, non-commercial use. Information in the story may be outdated or superseded by additional information. Reading or replaying the story in its archived form does not constitute a republication of the story.
SALT LAKE CITY — A typical day in the life of Pamela Atkinson could include checking in on a homeless man living along the Jordan River, followed by a meeting with Gov. Gary Herbert, followed by a meeting on a university campus, followed by a telephone call to a member of Congress.
Friends and colleagues say Atkinson moves through the different realms seamlessly, whether she is testifying before the Utah Legislature on issues affecting education or people living in poverty or visiting a single mother who has moved out of a temporary homeless shelter into permanent, supportive housing.
For Matt Minkevitch, executive director of The Road Home, Atkinson has been "an essential mentor."
"I consider it a rare privilege to know Pamela. Now that I say that, maybe it's not so rare. Everyone on the streets knows her. Everyone in the Legislature knows her. They know her in the halls of Congress. They know her in the corporate world," he said.
For her many contributions in many circles in the state, Atkinson was honored by the Salt Lake chapter of the BYU Management Society as its 2012 "Distinguished Utahn" at a dinner Thursday at Little America.
---
Pamela Atkinson's humanitarian service is legendary. She leads by example. She is the personification of the scriptural admonition to 'love thy neighbor as thyself.'
–Gov. Gary Herbert
---
Previous honorees, recognized as examples of the society's mission of "growing moral and ethical leadership around the world," include former Utah Gov. Mike Leavitt, R.C. Willey Co. CEO William "Bill" Child and banker and philanthropist Spencer F. Eccles.
The BYU Management Society, founded in 1977, is a worldwide organization with more than 70 chapters in 22 countries. Merrill J. Bateman, then dean of the Marriott School of Business at Brigham Young University, is its founder.
Herbert, who relies on Atkinson's advice on a number of issues, said: "Pamela Atkinson's humanitarian service is legendary. She leads by example. She is the personification of the scriptural admonition to 'love thy neighbor as thyself.' Our state is a better place because Pamela calls Utah home."
Atkinson is, perhaps, best known as a longtime advocate and volunteer outreach worker for the homeless.
She also served on the Utah State Board of Education, the Utah State Board of Regents and the board of the Utah College of Applied Technology.
Salt Lake attorney David Jordan, who served on the Board of Regents with Atkinson for several years, said Atkinson championed financial aid for students and cautioned against tuition increases.
"She was always sensitive to and vigilant on behalf of people who were underrepresented in higher education, those who were at risk and those who hadn't had the same opportunity to participate in higher education," Jordan said.
Atkinson, who described the recognition as a "huge honor," said she was particularly pleased that the awards dinner will help support the society's practice of awarding hundreds of college scholarships.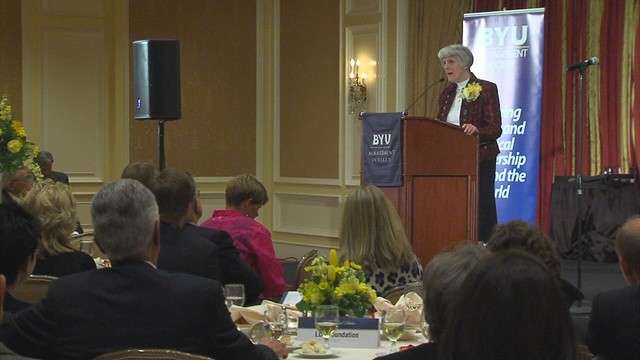 "To me, education is a path out of poverty. It was for me. Education opens so many more possibilities in their lives. When I see people trying to get their GED or high school diploma after so many years of being out of the educational format, I'm so proud of them for understanding it's what they need. They know, at the end, they will have a much higher quality of life," she said.
Atkinson said she will accept the award on behalf of the people with whom she collaborates to solve problems.
"I have had great opportunities to work on a lot of different teams with people who all have same goals, to enhance the quality of life of refugees, the homeless and people living in poverty.
"There aren't any egos involved. People don't mind who gets credit."
Atkinson, who is retired from Intermountain Healthcare as vice president for mission services, was instrumental in initiating the Lincoln Family Health Center, the IHC Neighborhood Clinic at the Sorenson Multicultural Center and the Rose Park Family Health Center.
Ed Snoddy of Volunteers of America's outreach services has known Atkinson since 1995. He describes Atkinson as the model of consistency and caring.
"She's always trying to lift up those in need. She's a crusader who never gives up. She's very tenacious when she's working for the most vulnerable, the most difficult to get placed or get services for," Snoddy said.
Perhaps that is because Atkinson grew up in poverty in England. Her mother raised her and four siblings in a home that had no indoor plumbing. Atkinson was educated as a nurse but later moved into an administrative position, Snoddy said.
Minkevitch said Atkinson's award from BYU Management Society award "is a testament to how grounded she is in her values, her sense of purpose, who she is and what she's attempting to achieve."
While every encounter with Atkinson is "a joy and a pleasure, it's incredibly purposeful. There's always a list of what needs to be done next."
×
Photos
Most recent Utah stories