Estimated read time: 3-4 minutes
This archived news story is available only for your personal, non-commercial use. Information in the story may be outdated or superseded by additional information. Reading or replaying the story in its archived form does not constitute a republication of the story.
KIMBALL JUNCTION — With both sides gearing up for a long and contentious fight over the SkiLink, a top executive with Canyons Resort said the controversial proposal to build a gondola-style chair lift between Summit County's Canyons and Solitude is not part of any attempt to merge the two.
"I've heard that rumor before and I can tell you we have not had those conversations with them," said Mike Goar, managing director of Canyons Resort. "I can't say if it would never happen, but I can say that's not something we've talked with them about or expressed any interest in."
"No, we are not selling," Solitude President and General Manager Dave Deseelhorst wrote in an email.
Federal legislation, now making its way through Congress, would force the U.S. Forest Service to sell 30 acres along a proposed SkiLink path to Canada-based Talisker, which owns Canyons.
Critics have raised questions about the potential for a Canyons-Solitude merger or takeover, or for the project to become part of a new bid for a future Olympic games Utah is exploring.
"I have my suspicions," said Alexis Kelner, co-founder of watchdog group Save Our Canyons. "I'll bet you five bucks that it will come up."
Goar said there's no link between SkiLink and any future Olympics effort.
"No, there has not been any discussion about that," Goar said.
Meantime, the fight over the project is gaining steam. The Salt Lake Chamber hosted an event with powerful business figures last week and endorsed the SkiLink proposal, as long as it protects the environment and includes robust local input. The group portrayed the project as critical to future economic development.
"We just don't want to see our canyons locked up and the key thrown away," said Sandy Mayor Tom Dolan.
"The interconnect concept will be a game changer," said Sen. Wayne Niederhauser, R-Sandy.
Others worry about the creeping urbanization of the Wasatch canyons.
"You don't want the city going up those canyons," said Gale Dick, Save Our Canyons president.
Officials with Salt Lake City, which manages large parts of the watershed in Wasatch, have been speaking out for months about the project's potential impact on water quality and the overall quality of life for hundreds of thousands of residents living in the valley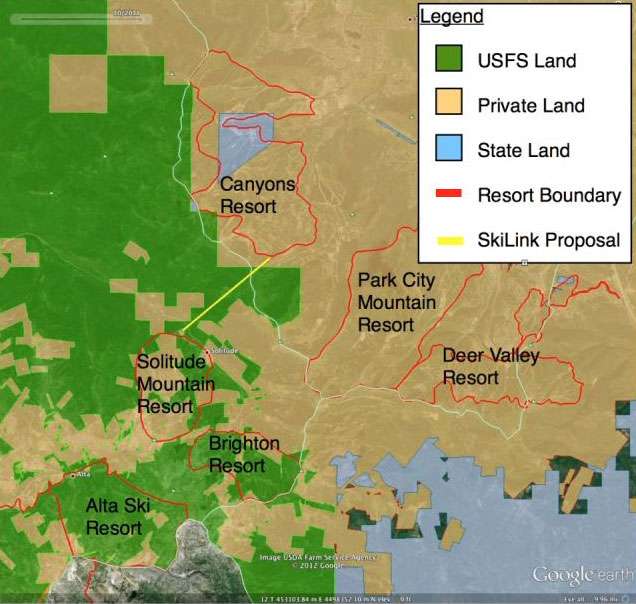 "When it's lost, if we're not careful, we won't be able to retrieve it," Salt Lake City Mayor Ralph Becker said.
A look of a map of the area shows that in many ways the fight is not about skiing, but about real estate development.
In Big Cottonwood Canyon, large parcels of public land sit right next to large parcels of private land, often in a bit of a checkerboard fashion.
The SkiLink proposal would be mostly on public land if the project wins approval. But critics worry the lift will lead to new roads and drive development of much of the private land. They believe it would have a negative impact on the watershed and all the water that's supplied by the canyon.
Salt Lake City recently plotted out a number of Wasatch canyon ski lift expansions in the works. They counted nine proposals, in various stages, outside existing ski area boundaries, from Canyons, Park City, Solitude, Alta and Snowbird.
City officials believe the community needs to come up with a comprehensive new plan to deal with that.
Goar said Canyons has no development plans for property near the proposed SkiLink itself.
×
Photos
Related stories
Most recent Utah stories