Estimated read time: 3-4 minutes
This archived news story is available only for your personal, non-commercial use. Information in the story may be outdated or superseded by additional information. Reading or replaying the story in its archived form does not constitute a republication of the story.
MILLCREEK — It's a favorite recreation destination for many Salt Lake-area residents, offering cross-country skiing in the winter and mountain biking or hiking in the spring and summer.
But that popularity of is causing traffic headaches in Mill Creek Canyon in the foothills of Salt Lake County, especially on odd-numbered days when dogs are allowed to run off leash on the trails, attracting more area residents.
"It's madness," said Joey Malcolm, who regularly hikes the trails of Mill Creek Canyon with his dog Misha. "It's very hard to find a parking place, very hard."
The canyon has a narrow road and parking is limited at the trailheads. Parking management is one solution, a shuttle another possible option. But Salt Lake County officials are also seeking public input on how best to manage the enjoyment of this natural resource.
A Salt Lake County transportation study shows nearly 5,000 cars head up the road on a busy summer Saturday and 2,500 a day midweek.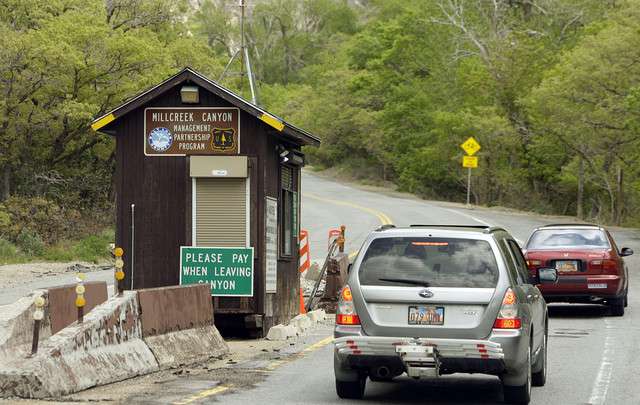 Survey results revealed that half of canyon visitors stayed an hour or two during the winter, and one-third of respondents said they stayed about that long during the summer. More than on-third of canyon users did not carpool.
While most said they found the parking easy and quick, 11 percent said they had to wait for a vehicle to leave before finding an available parking space.
"It is a year-round canyon," Salt Lake County transportation engineer Andrea Pullos said. "Locals use it. They overuse it in a lot of respects, because they're parking on the road where it's not the best idea ecologically. There's just a lot of use in this canyon."
Parking is problematic on popular days in the Church Fork area, which includes a picnic area and a trailhead, and is not far from Millcreek Inn. Malcom said parking is scarce and "the Church Fork area gets the worst of it."
#poll
In the summer, the Big Water trailhead at the top of the canyon fills to capacity early in the morning, but the county, the Forest Service and UTA are working ideas to manage the traffic and canyon use.
"Anywhere from an app to tell you there's no parking up at Big Water, so that you come up with an alternate solution, maybe you're going to take a different trail," Pollus said. The smartphone app would also allow remote payment.
Or they may use message boards at the mouth of the canyon that give parking information.
"I think that would be a great idea, because a lot of times you don't know until you drive all the way up there, adding to the congestion," canyon regular Patrick Harwood said.
A shuttle on busy days is another idea popular with canyon regulars, as is a separate bike path, or a bike lane. "The bike path would be wonderful and reduce the risk of being hit by a car," Michelle Harwood, also a frequent visitor, said.
None of these solutions has been acted on and county officials said funding could play a role in which options the county select. More suggestions are sought.
The county is accepting public comment through May 11 at millcreektransportation.com/comment-here/.
Results of public comments and study will be presented in July.
×
Photos
Related links
Most recent Utah stories