Estimated read time: 7-8 minutes
This archived news story is available only for your personal, non-commercial use. Information in the story may be outdated or superseded by additional information. Reading or replaying the story in its archived form does not constitute a republication of the story.
LOGAN — Former Utah State football players Robert Turbin and Michael Smith were selected by teams in the National Football League Draft Saturday. Turbin was selected by the Seattle Seahawks with the 11th pick of the fourth round and the 106th overall pick, while Smith was drafted by the Tampa Bay Buccaneers with the fifth pick of the seventh round and the 212th overall selection.
"It felt good to get the call. I'm happy get drafted and excited to be a Seahawk," Turbin said.
Turbin was home in Fremont, Calif., watching with his family when he got the call from the Seahawks organization. Turbin will reunite with former Aggie teammate Bobby Wagner, who was drafted by the Seahawks in the second round Friday night.
"It is going to be a blast. Bobby and I are good friends," Turbin said. "It is going to be good to be teammates again."
Smith also was with his family, in his hometown of Tucson, Ariz., when the Buccaneers called him with the good news.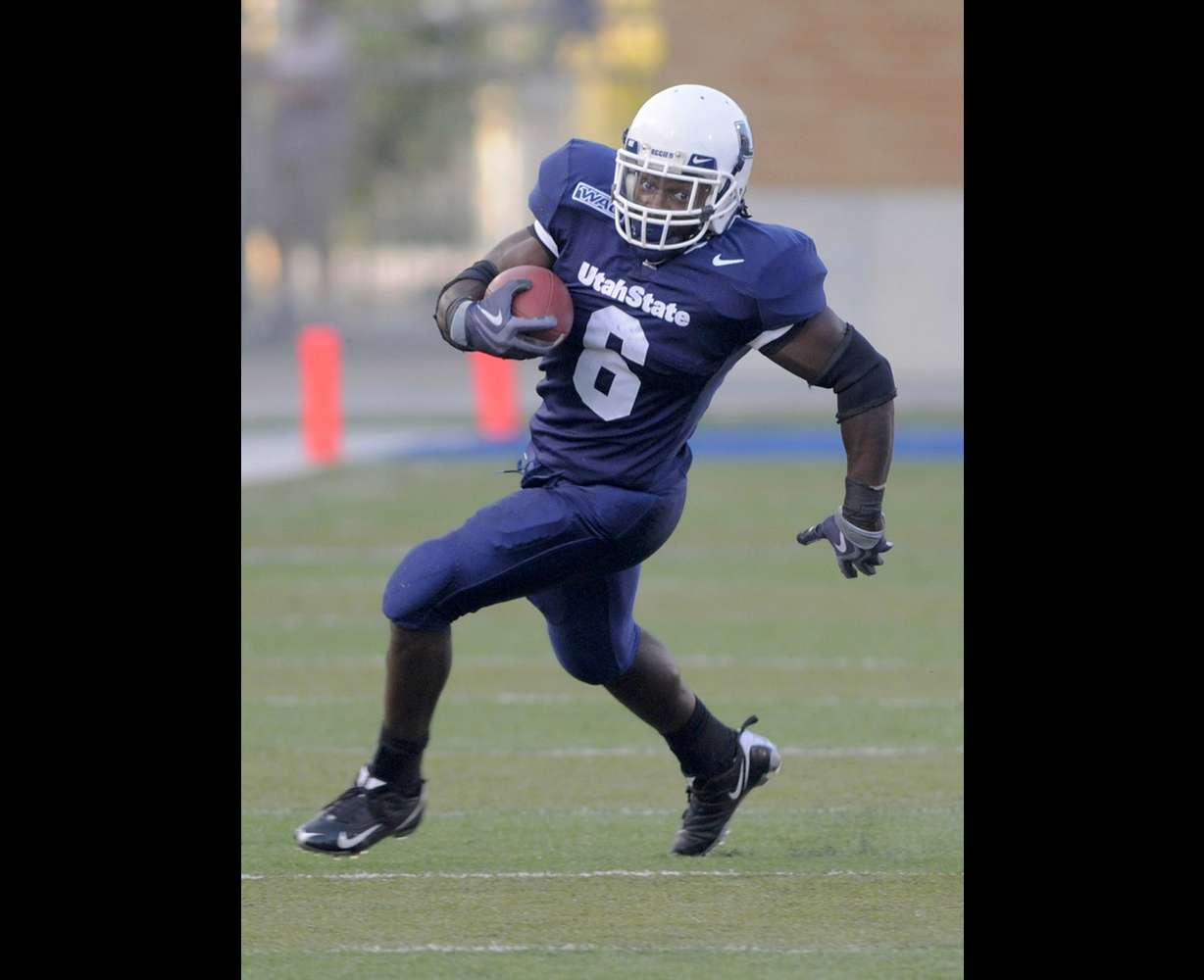 "It is a great opportunity. I am glad to be a Buccaneer. I went out to visit them earlier in the month. They said they loved me. They got a new coaching staff, and I am very excited to play for them," Smith said.
Part of Smith's watch party included his fianceé, former USU women's basketball student-athlete Alice Coddington, as the couple just got engaged earlier this week.
"She is a special always to be me with her athletic ability and all that. She is a great woman, pure with her honesty. I love her," Smith said.
The drafted Aggie trio marks the first time that three USU players were selected in the same draft since 1984 when Patrick Allen (4/100), Aaron Smith (6/159), Theodis Windham (12/329) and Andy Parket (5/127). Overall, it is just the 15th time in the Aggies' history that three or more players were picked in the same draft.
"It means a lot," Turbin said about the significance of having three USU players selected in the same NFL draft. "It shows that Utah State is rising as we should and as was planned. There will be more good players to come out in years to come."
Turbin and Smith are also the first pair of USU teammates at the same position to get drafted since 1984 when DBs Allen and Windman were drafted. It also marks the first time two Aggie running backs were selected in same draft since 1976, when Louie Giammona and Ron Holmes were both drafted out of the USU offensive backfield.
"They are going to represent us very well," USU head coach Gary Andersen said. "To have Michael get drafted does not surprise me a bit with the sheer athleticism and the speed that he has. He is going to do a very good job. It is going to be very hard for people to hold him off once he gets into camp. To have three kids drafted is fantastic. Most importantly, they are three fantastic kids, great leaders, just great ambassadors to Utah State football as a whole and are all graduates here in the next couple of weeks. A special time for those kids."
With Turbin and Smith's selections Saturday, Utah State has now had 114 former players selected in the NFL Draft.
In addition to Wagner and Turbin, the Seahawks also drafted another player from the Western Athletic Conference in Idaho LB Korey Toomer in the seventh round. Overall, there were 11 WAC players drafted in the three- day, seven-round draft, with USU's three selections right behind Nevada's conference-leading four picks, while Hawaii, Idaho, Fresno State and New Mexico State with one each.
ABOUT ROBERT TURBIN
Turbin, a native of Fremont, Calif. (Irvington HS), was named the WAC Offensive Player of the Year. He rushed for 1,517 yards during his junior season of 2011, becoming just the third Aggie running back with 1,500 yards, finishing No. 3 on the list behind record-holder Demario Brown (1999) with 1,536 yards and Louie Giammona (1974) with 1,534 yards. The 1,517 rushing yards is No. 15 on the WAC's single-season rushing list.
In his final game as an Aggie, Turbin rushed for 101 yards in USU's loss to Ohio in the Famous Idaho Potato Bowl. The 101 yards was Turbin's eighth 100-yard outing of the season and 16th of his career, ranking among the top 10 active running backs in the country.
On the year, Turbin scored a USU record 19 rushing TDs, adding four receiving scores for 23 total TDs and 138 total points on the season, also USU single-season records. The 138 total points is No. 7 on the WAC single- season scoring list, just behind Marshall Faulk's 140 points in 1991 at San Diego State.
Beginning his career in 2007, Turbin saw action in one game before suffering a foot injury and redshirting the season. He played in 12 games in both 2008 and 2009, before suffering a knee injury in the offseason, missing the 2010 season, before returning to form in 2010. Ending his USU career with 3,315 rushing yards, Turbin holds the No. 5 spot on USU's career rushing list and No. 19 on the WAC's career rushing list. Turbin tied the USU career rushing TD record with 40 scores, matching Abu Wilson (1992, 94-96), and the 40 career rushing TDs ranks No. 10 on the WAC's career rushing score list.
For his career, Turbin also set USU records with 51 total TDs and 308 career points scored, ranking tied for No. 6 on the WAC's career total TD list and No. 13 on the league's career scoring list.
In addition to being the WAC's Offensive Player of the Year, Turbin also earned first-team all-WAC honors this season, and also earned all-WAC accolades from several different national publications. Turbin was on the preseason watch list for the Doak Walker Award, honoring the nation's best running back.
ABOUT MICHAEL SMITH
Smith, a native of Tucson, Ariz., (Sunnyside HS/Eastern Arizona JC) collected his second MVP award in his last two games played, as he earned offensive most valuable player honors in leading the North to a 24-19 win over the South in the inaugural Players All-Star Classic Feb. 4.
In that game, Smith rushed for 124 yards on 12 carries (10.3 ypc), including an 80-yard TD scamper. He also returned four kickoffs for 105 yards (26.3 ypr). Smith's 80-yard touchdown run in the third quarter gave the North at 17-16 lead.
He was also USU's MVP in the Aggies' 24-23 loss to Ohio in the Famous Idaho Potato Bowl Dec. 17, 2011. He ran for a career-high, a USU bowl record and the third-best Famous Idaho Potato Bowl rushing outing with 157 yards, scoring both of Utah State's rushing TDs.
It was Smith's third multi-TD outing of the season and fourth of his career, as well as setting a career-high for the second-straight game, topping the 100-yard mark for the third time in his career. Smith's 63-yard TD run was the longest allowed by the Ohio defense of the 2011 season and was also Smith's second longest TD run of the season behind a 77-yarder in the San Jose State game. It was Smith's fourth TD run of 46 or more yards this season and his seventh explosive (20+yards) of the year.
Smith finished the 2011 season second on the team with eight rushing TDs, and was also second on the team with 870 yards on 114 carries. He finished seventh in WAC in rushing (66.92 ypg).
He ranked third in the Football Bowl Subdivision and was first in the WAC in rushing yards per carry (7.63 ypc), the second-most in USU history and most since 1960. Smith set a new USU record for career yards per carry (7.14 ypc).
Off the field, Smith was an Academic all-WAC selection in 2011 and was also a Joe E. and Elma Whitesides Scholar- Athlete.
Fans can follow the Aggie football program at twitter.com/USUFootball or on the USU football blog at usufootball.wordpress.com. Aggie fans can also follow the Utah State athletic program at twitter.com/USUAthletics or on Facebook at Utah State University Athletics.
Doug Hoffman is the assistant athletic director for Utah State University Athletic Media Relations.
×
Related stories
Most recent Sports stories