Estimated read time: 2-3 minutes
This archived news story is available only for your personal, non-commercial use. Information in the story may be outdated or superseded by additional information. Reading or replaying the story in its archived form does not constitute a republication of the story.
DRAPER — Police officers in Draper are looking for the man who they say broke into a restaurant, took cash, and frightened the owner. He got away with some cash, but not before he was caught on surveillance cameras.
Business was back to normal Wednesday night at Pit Master BBQ House, 12400 S. 300 East. Pulled pork, beef brisket and every sauce you can imagine was on the menu for the usual dinner crowd.
But last weekend, owner Justin Manikowski had an unexpected visitor to his Draper establishment. He found out the next morning, April 21.
"Saturday morning, one of my guys called me and said, 'We got robbed!' And I thought he was kidding at first, because we're always pranksters around here," Manikowski said.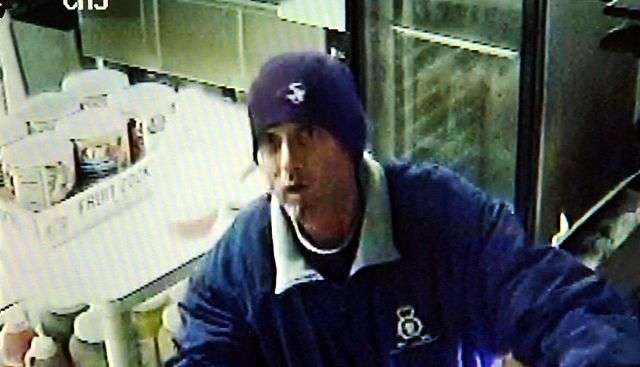 #burg_pic
Around 11:45 Friday night, surveillance video caught a man making his way first to the cash register after breaking in. Instead of looking for a late barbecue dinner, he picked up some greens: $160 in cash.
"We left (the cash register) open, basically so if something like this does happen we're not losing out on our equipment, which is more expensive than $160." Manikowski said.
He believes the burglar got in after using a rock to smash this glass window. After taking the money from the till, the man crawled through the kitchen and went back to the office looking for more loot.
Manikowski recalled watching the surveillance video, hoping the suspect would show his face. "We're just sitting there looking at the tape, saying, 'Look up! Look up!'" he said. "And finally, he turns the light on for us and looks directly into the camera."
The burglar didn't find much else inside the office, other than an extra paper towel dispenser — which Manikowski said the thief may have thought was a small safe.
While it may not have been the crime of the century, Manikowski hopes being caught on candid camera makes a difference.
"(We) got a crystal clear shot of him, so hopefully we can catch this guy," Manikowski said.
If you recognized the burglar, or have any information relating to the crime, you're encouraged to contact the Draper Police Department at 801-840-4000.
×
Photos
Most recent Utah stories