This archived news story is available only for your personal, non-commercial use. Information in the story may be outdated or superseded by additional information. Reading or replaying the story in its archived form does not constitute a republication of the story.
ARCHES NATIONAL PARK — You might call it a sort of "neighborhood watch" program for four national parks and monuments in southeastern Utah. You too could be a "guardian angel" of archaeology, but you have to be willing to invest the time — and the shoe leather.
While her appearance resembles that of any hiker in Arches National Park, Joette Langianese, executive director of Friends of Arches & Canyonlands National Parks, has a special mission.
"In the long run, our goal is to preserve and protect the national parks," she told KSL News in a recent interview.
Langianese inspects rock art from a distance, takes careful notes and photos, and records what's happening to this special place over time. "Any kind of vandalism, natural destruction to sites," she explained.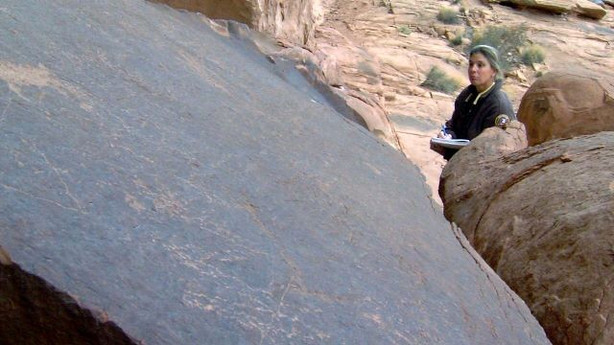 It's a pilot program run by Friends of Arches & Canyonlands "to preserve these cultural resources for future generations to enjoy," Langianese explained.
The theory is, if visitation to a site is increasing, or if graffiti and other kinds of damage are setting in, volunteers can alert the National Park Service. Officials can respond with increased patrols and, in some cases, they can even undo the damage.
"We all know graffiti breeds more graffiti," said Karen Henker, lead interpreter at Arches National Park. "So, if there are measures that we can take to clean a site professionally, we can do that in order to discourage future damage."
Yes, in essence the volunteers are doing park ranger work. But rangers are spread a bit thin at Arches — 26 full-time positions to cover 76,000 acres, with now more than 1 million visitors each year.
Join Friends of Arches & Canyonlands
Kickoff event
Date: Saturday, March 10
Time: 4 p.m. to 7 p.m.
Location: Arches Visitors Center, Arches National Park
Additional information: Event will feature guest speaker Charles Wilkinson and is free to the public.
"Even if we had twice the staff, we don't have enough people to get out and visit all of these sites as often as we'd like to," said Paul Henderson, assistant superintendent at Arches and Canyonlands national parks.
"They do the best that they can," Langianese said. "We know that funding's getting tight right now."
Over the next few weeks, Friends of Arches & Canyonlands is launching a major effort to get more volunteers involved. But they expect people to make a major commitment. The site monitoring work requires significant training and a willingness to take regular hikes to those special places.
"There's some really passionate folks in this area that really love their parks, and this is finally giving them an opportunity to take action," Henker said.
The four national parks and monuments Friends of Arches & Canyonlands watches over are Canyonlands, Arches, Natural Bridges and Hovenweep. A training session is coming up soon, and there's a kickoff event this Saturday afternoon, March 10, in Arches National Park.
×
Photos
Related Links
Related Stories