Estimated read time: 3-4 minutes
This archived news story is available only for your personal, non-commercial use. Information in the story may be outdated or superseded by additional information. Reading or replaying the story in its archived form does not constitute a republication of the story.
SALT LAKE CITY -- Google is looking to expand its analytics beyond what it can gather on its own terms.
The company has announced the Screenwise program, a service that offers monetary compensation to select users to opt-in to install a black box on their home network, which is intended to measure the household's use of the internet.
Google has currently only offered the program to members of Knowledge Networks, a data collection company that pays its users small amounts to participate in surveys conducted by other companies. Members of Knowledge Networks were invited to participate in a survey that would determine their eligibility for the program. An anonymous source from the group uploaded images from the received email, which describe the payment methods as well as general information regarding the program.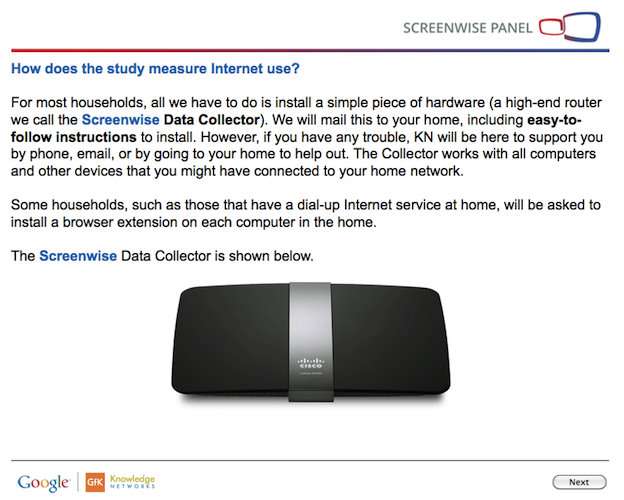 According to the screenshot, users who opt-in to the black box option, called the Screenwise Data Collector, will receive $100 up front, and $20 for each subsequent month for up to 12 months in which they continue to use the hardware. Participants receive the box in the mail and are provided basic instructions for how to install the device in their home network. The black box then acts as a WiFi hot spot that collects and monitors data and traffic from connected devices.
An additional, lighter version of the program was started on Tuesday night, called the Screenwise data collection program, which allowed interested persons to add a "browser extension that will share with Google the sites you visit and how you use them." Google is offering users of the extension a $5 Amazon gift card for signing up, and another $5 gift card every three months that they continue to participate in the program.
Legal agreements are all presented in very clear language to users who opt-in to the program, as well. According to the Study Agreements presented within the survey, Google will "share with KN [Knowledge Network] data that reflects Panelist activity level. This includes Panelist and household identifiers, along with browsing start time, duration and mode."
The agreements go on to say that data collected will be personally identifiable, although there will be some exceptions. For example, users who surf the web via private or incognito browsing will be tracked, but that data will not be personally identifiable. Google will "attempt" to clear information of any information relating to a personal identity before sharing it, but does not guarantee such protection.
Google is already known as one of the top providers of analytical data on the web. Speculation abounds as to what kinds of new information this program could yield to Google, and its affiliates. It is possible, for example, that Google could gather information about what items you leave in your online shopping cart to retail sites like Amazon and Overstock. Concerning, too, is the possibility of the data collection program monitoring conversations through social media websites such as Facebook and Twitter.
The absence of a guarantee stating that personal information will be kept confidential is a bit unsettling, but as this remains an opt-in service, users are advised to proceed in the program at their own risk.
×