Estimated read time: 7-8 minutes
This archived news story is available only for your personal, non-commercial use. Information in the story may be outdated or superseded by additional information. Reading or replaying the story in its archived form does not constitute a republication of the story.
SALT LAKE CITY -- Fake IDs have been around as long as there have been minimum ages for drinking, requirements to get into concerts and borders. One way or another, a determined person is going to gain access to whatever he was being kept from. This seems to be happening more and more, as evidenced by media coverage of illegal immigration and fraudulent ID factories.
Why should you care and who does it hurt? Ask anyone who has been the victim of identity fraud or arrested for crimes they never committed because their relative has been using their information. Fake IDs seem innocent to some, but they can lead to such charges as forgery, false information and identity fraud. There are also smaller charges, such as attempting to use such an ID to gain access to an establishment that serves alcohol.
With color printers getting better and cheaper, along with the ever-expanding information on the Internet giving you how-tos on making fraudulent IDs, it appears anyone can make them. Of course, explaining to your mom why you have a laminator in your room may be tough. But not as tough as those magazines under your bed. State and federal governments have attempted to combat forged IDs by making more sophisticated identification cards. This unfortunately is a continuing battle, as people find ways around them.
Related:
Anyone's a victimI took a report from a gentleman in California who had received a letter advising him that he failed to report and pay taxes on a job he had in Utah for three years. This was curious to him, as he had never left California. He also, as a CPA in California, had never needed a second job working at a motel in Utah. I understood the sarcasm, but apparently the IRS did not. Someone had made a fraudulent Social Security card for an individual and that individual had used it to gain employment.
After going through the hoops of documenting that the CPA was never in Utah, nor had he ever applied and obtained employment for minimum wage, I completed my report and he obtained a copy of it to provide to the IRS. However, his troubles were far from over. Be aware that he had never lost his Social Security number or had any breach of information. The person making the card just picked the right number sequence to completely mess up Mr. CPA's life.
---
As a woman sat in the back of the patrol car, mortified, neighbors driving by, she saw the booking photo finally pop up on the officer's screen. It was not her, but her troubled relative.
---
A housewife called in awhile ago with a different story. Her relative, who had similar physical characteristics, was using her information and a stolen ID. Anytime this relative would get arrested, she would use the housewife's information and ID. After numerous arrests, the housewife's information was listed on the jail website, and she had a stack of warrants and fines that she had no knowledge of. The relative then changed back to her maiden name, so when she was checked by police, no warrants would show.
Unfortunately for the housewife, she got stopped for going a little too fast in a school zone. Initially the officer was going to warn her until the information came back that she had several thousand dollars in warrants. As she sat in the back of the patrol car, mortified, neighbors driving by, she saw the booking photo finally pop up on the officer's screen. It was not her, but her troubled relative. The officer did some further checking and released the housewife. The housewife had to go to BCI and get certified copies proving she was not the relative and also to make sure the information was changed with the jail. Unfortunately, the housewife's name will always be an alias to the relative.
An elderly retired gentleman was befriended by a man a little younger than him. The retired gentleman was a little too trusting and way too lonely. This friend started slow, acting as a protector and "watching out" for the retired man. The friend would visit all the time and because the retired man did not get a lot of visitors, he immediately gave the friend full trust. The friend was able to obtain all of the retired man's financial information, Social Security card, birth certificate and other important documents. The retired man became totally reliant on this friend. The friend would open up accounts, purchase vehicles, make withdrawals and eventually soaked every bit of money from the retired man.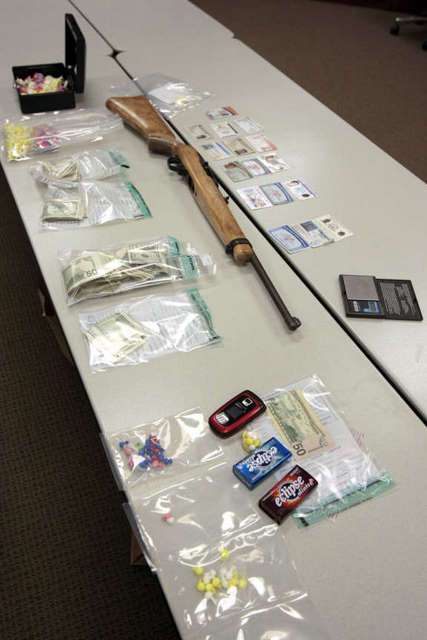 It wasn't until relatives began getting failure-to-pay notices from the retirement home that they were aware of the problems. By this time it was too late. The retired man had nothing left, he moved into a relative's home and had no money to pay for medication or assistance through the rest of his golden years. Who was the person who befriended him? No one knows. He had fraudulent IDs for himself and now new information from an unsuspecting retiree.
I have run into many people with fraudulent IDs, and almost all of them were not handing them to me. Instead they were being arrested for something else and during a search the ID was found. The few I did get handed, I could spot problems. I did have an advantage. I have a computer and a dispatcher to help me check records and figure out who this person actually is. I start asking them about their history, especially if they have been arrested in the past. They should remember those events.
I have also mastered the stare that your parents give you when they know you're lying. Don't get me wrong, I and other officers have missed some. Either we didn't have enough to detain the person or they had all the information we asked and we couldn't disprove who they said they were. There are some awesome liars out there. Just look at Wall Street! Enron's a sure bet ... pfffffft.
What to look for
How can you spot a fake ID? Does it look like it was made in a basement? Is it flimsy? Does the ID say Barack Obama but the kid presenting it is a redhead with freckles? The printing should be sharp and crisp. There should be no bleeding or smudging. The photo should be clear and not look like it was printed off separately. The foil or holograms should actually work and not always show no matter how you turn the card. Most cards should have "microprinting," and this will be legible.
On Social Security cards, the card should be cut cleanly with two of the sides showing the "tearaways," just like the one you received in the mail. The card should not look like it was cut with scissors or a sharp stone. The signature line has micro-printing, along with various other places, depending on the card. In all cards there are multi-pattern designs in the backgrounds. Most forged cards do not have this but rather just have a solid color. Your best bet for reference is to ask your local police department for books on this subject matter. We usually receive ones we can provide to the public.
---
Forged ID factories or producers will have the same characteristics as a drug house. People will continually be coming and going.
---
Forged ID factories or producers will have the same characteristics as a drug house. People will continually be coming and going. The largest client base of forged IDs seems to be the illegal immigrant market. The next would be kids looking to drink prior to turning 21, and then farther down the line are kids wanting to vote early and spies trying to create a new identity.
Our state does do a good job of locating these places and shutting them down. But like I said, it doesn't take much to start one up, and a lot of the buyers have no idea what a quality product looks like anyway and are getting fleeced in the process.
You may or may not remember all of this, and that's OK. Go with your gut. If you feel the identification is not legitimate, then follow your company's policy regarding this. Notify a manager. Most people with a forged ID will give up after a few probing questions. Be professional and never assume based on appearance of the person that the card is fraudulent.
Identity thieves and forgers come in all shapes and sizes. If you're the employer, security guard or liquor store employee, you have complete control of the situation. If the person is giving you trouble, tell them you would rather have the police sort it out. That should scare off the phonies.
This is some general information on what to look for when looking at an ID card. There are more thorough trainings and media you can review to become knowledgeable on the many IDs out there. If you have specifics, feel free to ask.
×
Related stories
Most recent Utah stories