Estimated read time: 3-4 minutes
This archived news story is available only for your personal, non-commercial use. Information in the story may be outdated or superseded by additional information. Reading or replaying the story in its archived form does not constitute a republication of the story.
PROVO — Students at Brigham Young University don't have to go beardless anymore.
At least not if they get creative, which is what BYU student Lorne Sleem has done with a new website that allows people to purchase T-shirts with large images of beards on them. The beards come in a variety of styles, ranging from the classic — the Darwin — to the modern — the Vendetta.
Sleem, a 23-year-old art director in the university's advertising program, said he wanted to give BYU students a way to express varied personalities in a way that would not get them in trouble with the school's honor code.
The shirts are available in 14 different styles and in a variety of colors, although Sleem showcases the blue and white shirts to appeal to BYU students. He said he chose the designs to reflect the varied interests of students at BYU -- from Darwin to Disney. There is a Klingon design for Star Trek fans and a Keisel look-alike for admirers of the Steelers' defensive end.
---
Kids here do a lot of quirky, fun stuff.
–Lorne Sleem
---
"We can't experiment with our beard's full potential, and I think that's a fun thing to do, just trying out different styles," Sleem said. "Just because we can't grow a beard, we can still wear them and show to each other, and say, 'Oh, this is what beard I would wear if I could.'"
BYU's honor code states plainly: "Men are expected to be clean-shaven; beards are not acceptable."
If medical reasons prevent a student from shaving regularly, he can obtain a note from a doctor at the school's health center allowing him to grow a beard. Students who are approved to grow beards are issued a new student ID card, commonly referred to among the student body as a "beard card."
Sleem said he does not have a problem with the honor code; rather, he wants to embrace its quirks and do something fun with it.
"I think the honor code is great," he said. "I don't have a problem with being clean-shaven. But I think it's a unique thing to BYU. People hear about it and think, 'What is this place?'"
It is a place where students often stand out for looking different — especially for having a beard. Sleem said he got strange looks when he had permission to have a beard while participating in filming for a movie about the Old Testament.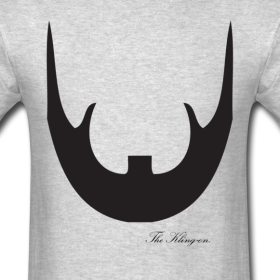 "I thought it was funny how many people would look at me — there was a lot of interest in looks; there were whispers," he said. "And you know some kids just can't grow a beard. So this is for those kids, as well, that will never be able to grow a beard."
Sleem's ultimate hope is that his shirts will become a quirky piece of BYU memorabilia, one that tells a unique story of its own.
"You get T-shirts everywhere here — there is always something going on," he said. I know this shirt's not free, but it's reasonably priced and it's something fun. It's something that starts a conversation."
Eventually, Sleem hopes his shirts will grow popular enough that a grassroots movement will take them to the BYU bookstore, similar to the Jimmer movement in 2011. He said student support at BYU for a new idea is always strong, as long as the idea is good enough.
And he thinks this idea may just be good enough to go big.
"Kids here do a lot of quirky, fun stuff," he said. "It really suits the personalities of students here. I think they'll appreciate the idea — at least that's what I hope. Viva la barba."
×
Related links
Most recent Utah stories