Estimated read time: 3-4 minutes
This archived news story is available only for your personal, non-commercial use. Information in the story may be outdated or superseded by additional information. Reading or replaying the story in its archived form does not constitute a republication of the story.
SALT LAKE CITY -- With Utah's unemployment rate around 6.4 percent, it is more important than ever to proactively build a network of professionals who can aid you in searching for a job.
Whether you are unemployed and seeking new employment or you are happy in your current job but know you'll want to move onward and upward down the road, LinkedIn can become one of your strongest allies.
Here are some tips that will help you start to build your network and aid you in making an impact during your next job interview.
Create and complete your LinkedIn profile. Creating a LinkedIn profile is free and user-friendly. Once you create a username and password LinkedIn will walk you through an online wizard process that will allow you to populate as much information as possible.
#poll
Be sure to be detailed and dedicate a minimum of two hours to creating your profile. Once you have successfully completed as much information as possible there will be a status bar showing your profile is 100 percent complete.
Schedule regular updates for your profile to let your peers know you are involved in your business and industry. Several tools exist that are free of charge and will allow you to schedule updates for a later date. This will allow you to make multiple comments in one session instead of having to do so on a reoccurring basis. Tweet Deck is a program that not only allows scheduled updates for Twitter but LinkedIn as well.
Connect to as many peers as possible. By every connection you have in LinkedIn you are one tier away from them, but you are also able to see all of their connections at the second tier. Thus the more connections you have the larger your network is and the further your reach goes. Try and dedicate at least one hour a day to LinkedIn in making new connections for the first several months. Set a goal to get to know every person in your profession that lives in your area. This will help all of your peers know who you are, and when you walk into a room they will all want to meet the networking guru from LinkedIn.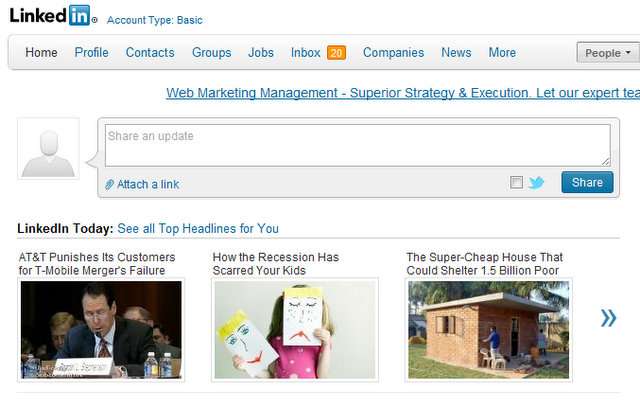 Join all of the groups that relate to your profession and be actively engaged in those groups. Groups are designed to help you network more in your chosen profession, learn about job opportunities, discuss best practices, and local promotional events. When starting to build your network, groups are a great place to start by building relationships and establishing credibility.
Volunteer. After you have established a network and are actively engaged in several groups you will hear of many volunteer opportunities. By volunteering, your actions will show that you are a leader in your industry and have a desire to give back to others.
Be sure to refer to your LinkedIn profile as much as possible. If you belong to other social media sites be sure to reference your LinkedIn page. Put a link to your profile on your email default signature, and in networking events ask if you can connect to people on LinkedIn. When using LinkedIn and following these six basic steps, you can become engaged in the community, set yourself as a leader amongst peers, and you'll have a network of professionals to refer to in times of employment needs.
Now that you've learned about why LinkedIn works, it would be my pleasure to add you to my professional network, please send me a request.
Jared serves on the local Salt Lake Society for Human Resource Management chapter as an officer as well as board member. In 2010 he started a networking group for local HR professionals on LinkedIn called Salt Lake City Human Resource Professionals.
×
Related links
Related stories
Most recent Utah stories