Estimated read time: 5-6 minutes
This archived news story is available only for your personal, non-commercial use. Information in the story may be outdated or superseded by additional information. Reading or replaying the story in its archived form does not constitute a republication of the story.
SALT LAKE CITY -- Sports fans love to debate if a coach, player or a team is overrated or underrated. Putting the pieces of that kind of argument together is actually fairly complicated. First you need to know what the actual value of the coach, player or team is. Then you need know what the average public perceived value is.
It makes for great sports banter because if you disagree you can choose to either argue the misevaluation of the performance or the misevaluation of the perception. But that's why it's so fun.
After his seventh season at the helm of BYU football, Bronco Mendenhall is surprisingly controversial among BYU fans. Is he underrated or overrated? Undervalued or overvalued?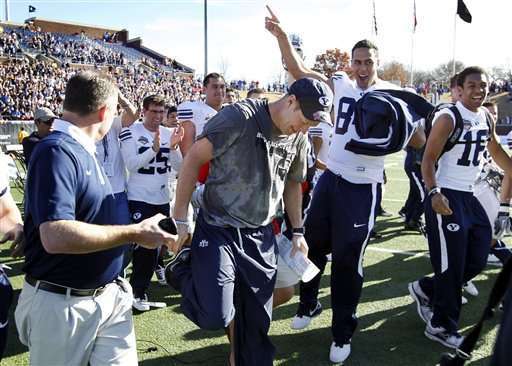 BYU's athletic department put out a press release this week touting the season-ending ranking of the 2011 team, noting that BYU has now been ranked in the Top 25 five of the past six seasons.
In the release BYU said only Boise State, LSU, Ohio State, Oregon, Oklahoma, TCU, USC, West Virginia, Wisconsin and Virginia Tech joined their football team's consistent rankings. This list manages to simultaneously capture the success and struggle of BYU football.
Some BYU fans look at that list and think, "Look at the programs we're ranked with. Those are the best programs in the country, and BYU has been in the Top 25 at the end of the year as often as they have."
Others look at this list and see two BCS bowls, four BCS bowls, five BCS bowls, three BCS bowls, four BCS bowls, two BCS bowls, three BCS bowls, two BCS bowls, two BCS bowls and four BCS bowls. And that's just in the last six years. Then there's BYU. Zero.
In addition to codifying football's caste system, since 1999 the BCS system has also sadly set itself up as the only criterion of a successful season for some. In their view, the only kind of great season ends with winning a BCS bowl, and Bronco has not yet even coached in one.
The fact that Bronco and BYU have yet to reach a BCS game is compounded by jealousy over Boise State's, TCU's and Utah's success. Even with their success within the system, the rules on their own still add to the frustration. The BCS has slotted Virginia Tech into four BCS games despite having comparable rankings to BYU over the same period.
Cougar Tracks:
Do the BCS rules make Frank Beamer that much of a better coach than Bronco?
Of course there's a good chance the BCS will be completely rebuilt in 2014, and football fans will be looking for new ways to define untouchable success.
The first step of establishing overrating and underrating is to try and find the right value. A big problem in finding this is the human tendency to assign credit to players and coaches for things they have no control over. Coaches and quarterbacks often get more credit and blame than they deserve.
Some kid on the other team misses two 30-yard field goals, and suddenly you're a coaching genius. Meanwhile, another kid beats you with a 50-yarder and fans start arguing it's time you packed your desk because you'll never win.
Those are just hypothetical situations, of course. But what coaching happened in either one to turn the coach into a genius and the other into a goat?
At the same time, a win is a win and a loss is a loss. If the kicker makes the kick, the amazing magic wand of greatness gets waved over the winner. One perfect season seems to buy about 10 years of good will, while getting close on the field doesn't really end up getting close to the same kind of flaw-covering forgiveness. But that's how sports work everywhere.
#poll
During his end-of-year interview with beat reporters, Bronco said, "We're winning a lot of football games, more than almost anyone in the country. Our peers, the coaches, believe we're one of the best teams in the country. At some point that is going be acknowledged at a higher level than it is now."
Coacheshotseat.com ranks every college coach from the most- to least-fire-able. Bronco is appropriately ranked as the 24th-least fire-able coach in the country, leaving 95 coaches in less-tenable career positions. That sounds about right to me.
Looking at the last seven years, I think it's fair to say Mendenhall is a Top 25 coach of a Top 25 team. He gets a lot of bonus points in my book for dealing with the honor code, the missions that nearly double his roster turnover, less pay that other Top 25 coaches, and in general an extra layer of expectations tied to the unique character of the school.
If that's the accurate value of Bronco, I think he may be slightly underrated by the public. The amount of heat on Bronco just seems higher than it should be compared to other coaches close to his ranking. That doesn't mean I think Bronco is perfect. I understand the concern that BYU can't settle for impressive, but not undefeated.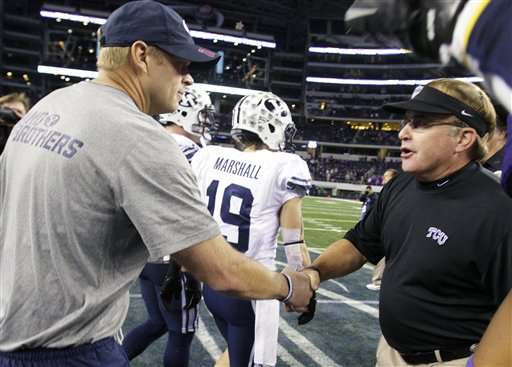 Fans look across the street, see BCS bowls and can't help but think, "Why can't we do that?" I think fans also have the irrational fear that coaches don't see and don't care about the flaws they see, and demanding a move is no guarantee for success.
Oregon managed to go from being frustrated with good (Mike Bellotti) to great (Chip Kelly), but in an effort to do the same New Mexico went from being frustrated with good (Rocky Long) to beyond abysmal (Mike Locksley).
If one of these years gets the right breaks, and just another good year in the Top 25 turns into the kind of year that the magic, flaw-covering wand of greatness waves over Bronco, I think fans will sound somewhat ridiculous if they have to say, "Coach, we knew you got your team ranked 12, 14, 15, 21 and 25, but we never thought you'd make top 10."
Greg Welch, a contributor on CougarBoard.com, has followed BYU sports from six different states and currently cheers from Iowa. Professionally, he works at an ad agency and can be found at @ArtDirectorBYU on Twitter.
×
Related stories
Most recent BYU Cougars stories