Estimated read time: 3-4 minutes
This archived news story is available only for your personal, non-commercial use. Information in the story may be outdated or superseded by additional information. Reading or replaying the story in its archived form does not constitute a republication of the story.
SALT LAKE CITY -- In my recent article Hottest Apple rumors for 2012, I wrote that near field communication "is available in some credit cards, but not in smart phones." This statement was inaccurate and I regret my error. A couple of less-than- civil comments pointed out this oversight, and this article is the correction.
Near field communication, or NFC for short, is a technology used for short-range, low-speed data communication. NFC is a kind of extension of radio frequency identification (RFID) and is used in smartphones for various kinds of one-way and two-way information exchange.
Some uses of NFC include scanning unpowered objects like stickers and posters that contain "tags." You can use NFC to store text on your phone, including Internet addresses. Recent Android phones, such as the Galaxy Nexus, also include the ability to share YouTube videos, Google maps, Web pages, contacts and Android apps using Android Beam technology.
One of the most anticipated ways of using NFC is for contactless payments in stores. Google Wallet is available on NFC- enabled Android phones on Sprint's mobile network, including handsets such as the Sprint Nexus S 4G. Google Wallet allows you to use your phone to make payments without a physical credit or debit card. Google Wallet works with a Citi MasterCard or a Google prepaid card. You can use Goggle Wallet anywhere MasterCard PayPass is available.
Apple options
NFC is not supported in the iPhone yet, though some people speculate it may be on the way. If you want something similar on your iPhone, there are several apps which use QR codes to accomplish some of the same information exchanges you can do with NFC. You scan the QR code using the phone's built-in camera. This is commonly used to scan codes for Web addresses.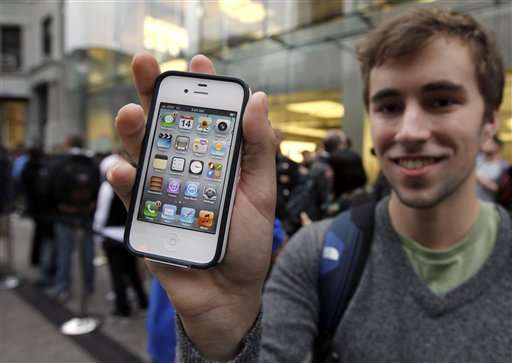 Apple has a habit of waiting until a new technology is already in wide use before creating its solution. It lets other companies work out the problems of creating a new technology, then comes up with an elegant and simple approach to do the same thing.
If Apple adopts a technology like NFC, one of the effects is that it tends to popularize the technology and increase its adoption. Doing a search for stores that accept Google Wallet made several Utah locations come up. If Apple where to put NFC payments in the iPhone, I am sure it would make contactless payments even more popular. We may then see even more stores invest in accepting contactless payments.
It should be noted that some BlackBerry and Nokia phones also have NFC abilities. These brands have decreased in popularity in the U.S. over the past few years as the iPhone and Android-powered phones have grown in popularity.
Editorializing
As a so-called Apple "fanboy," I have spent almost six years following Apple news closely. During that span I spent a considerably smaller portion of my time studying Google and other Apple competitors. It is impossible to be an expert on all aspects of the technology industry, so I have decided to focus on Apple.
I do not hate Google or any technology company. I give my opinion without trying to be dogmatic. I invite all corrections and constructive criticism. Just because someone likes a company doesn't mean they are blind to their failings.
Apple authority Patrick Cassell is a blogger living in Utah. Read his views on many things related to Apple at iTechCrossroads.com.
×
Related links
Related stories
Most recent Utah stories