This archived news story is available only for your personal, non-commercial use. Information in the story may be outdated or superseded by additional information. Reading or replaying the story in its archived form does not constitute a republication of the story.
SALT LAKE CITY -- There's no place like home.
At least, that's what the Jazz (0-2) are hoping as it faces the Philadelphia 76ers (1-1) tonight at Energy Solutions Arena in the home opener.
The Jazz, with a win, will be able to avoid its worst start to a season since going 0-4 to start the '79-'80 campaign when Ron Boone, Adrian Dantley and "Pistol" Pete were hoopin' it up at the Salt Palace.
In times past, the Jazz has been tough at home, however, after the D-Will trade and Sloan's abrupt retirement last season, the team lost 12 of its last 16 at the ESA.
The Jazz is looking for its first win of the season after losing its first two contests by 20 or more points. The team has struggled both offensively and defensively in its first two games, allowing opponents to shoot 48 percent while only shooting 39 percent.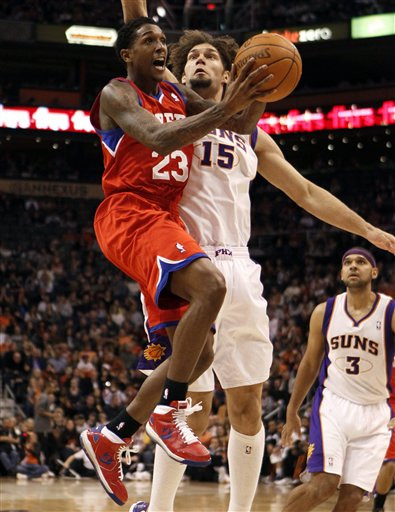 "We lost track of what we were doing. We lost focus," Jazz player Paul Millsap told reporters after the team's loss to the Nuggets on Wednesday. "I mean, it's still early in the season. We're not going to make excuses about it. They came out and worked harder than us."
Jazz coach Tyrone Corbin wasn't pleased with his team's effort in the loss.
"It's going to be a long season. It's going to be a quick season," said the second-year Jazz coach. "It's going to be a lot of games really fast and we've got to figure things out quickly. The effort we got today wasn't satisfactory. So, we're going to have a discussion about it."
For the Jazz, the opponent is right to snap the streak, at least historically. The Jazz has dominated matchups with the 76ers, having won the last six meetings and are 33-8 in the last 41 games, but the Jazz has struggled with poor shooting and effort in its first two games.
The 76ers are rolling after blowing out the Suns in Phoenix. Philadelphia opened the second half with a 19-0 run to bury the Suns and at one point led by as many as 34.
After the Phoenix win, 76er Andre Igoudala said his team's ability to get defensive stops and create mismatches led to its success.
"I felt like we knew we could get stops," he said. "Offensively, I knew that with all the mismatching and I got a play call that was working for us. We exploited it a couple of times, and from there everybody kept getting open shots and just kept picking them apart."
For the Jazz, a win keeps the team out of the history books, and gives a much-needed victory before heading off to San Antonio to face the Spurs on Saturday night.
And if Utah can get a victory tonight, maybe just maybe, there will be no place like home for the Jazz.
Jarrod M. Hiatt lives in Utah. He graduated from Weber State University with a degree in journalism. His email is jarrodhiatt@gmail.com.
×
Related Stories