Estimated read time: 4-5 minutes
This archived news story is available only for your personal, non-commercial use. Information in the story may be outdated or superseded by additional information. Reading or replaying the story in its archived form does not constitute a republication of the story.
FORT WORTH, Texas -- I'm pretty excited for this year's bowl game. It is a good match up of two pretty similar teams. In fact, the excitement outweighs my disappointment of this being the last football game of this season.
I think this game will be a dandy. The two teams have many similarities, such as pretty balanced offensive attacks and both teams play pretty solid defense. The point spread opened with BYU a 3.5-point favorite, but that has dropped to a 1.5-point favorite. It should be good.
Here's the scoop on Tulsa.
I'm thinking many of you remember a good QB for BYU named Max Hall. He played for three years at BYU and was pretty doggone good. I mention that because Tulsa's QB is also a three-year player and is pretty much Max Hall-good. He is completing 64.1 percent of his passes and has thrown 25 TD passes to 12 interceptions. His name is GJ Kinne and is the main reason for the first objective.
Scott's Thoughts:
OBJECTIVE # 1
BYU has to make it difficult for Kinne to throw the ball. I know that Tulsa wants to run the ball first and they are good at it, but an experienced quarterback helps pick up first downs and keeps drives alive. Kinne is also the third leading rusher for Tulsa with 513 yards. He is the cog that BYU must limit. Tulsa runs the spread zone read option play a lot which gives Kinne opportunity to run and he is effective scrambling when pass protection breaks down (think of a 6-foot 2-inch, 225-pound Riley Nelson). The reason he concerns me is mainly on third down conversions. The QB is the guy that BYU has to control in order to get the defense off the field. If BYU makes life uncomfortable for Kinne, the other weapons for Tulsa will be less effective.
OBJECTIVE #2
Don't get me wrong, Tulsa has lots of good offensive people. They ran for 365 yards against Oklahoma State and 380 yards against Marshall. They have two running backs that have run for 884 and 843 yards this season. They have an experienced offensive line that returns all five starters from last year. They rushed the ball over 40 times in seven games this year. They do also have two receivers that have 61 and 50 receptions this year for over 14 yards a catch.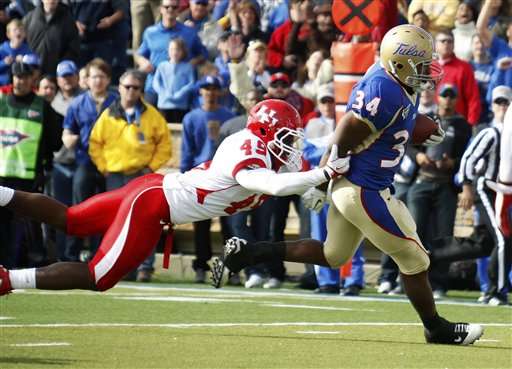 They are balanced in their attack and talented in the pass game but they like to make the run work first. So, BYU needs to limit first down success against the run. If Tulsa is put in longer second and third down situations, they become easier to defend. By stopping first down success, BYU will put Tulsa in tough third down situations improving the ability to stop drives. BYU has been a good run stopper on first down in the second half of this season.
The first two objectives deal with defense, so here comes the offenses challenge.
OBJECTIVE #3
In comparing Tulsa and BYU, the team offensive numbers are close; Tulsa runs a little more than BYU, but they pass for nearly identical yardage. The biggest difference between these two teams is on defense. I like Tulsa's front four because they play hard and are quite active, but they give up 13 yards more a game to the rush.
The passing yardage is a bigger difference. Tulsa gives up 91 yards more a game through the air than BYU does. If I was to pick a weakness for Tulsa, it would be in their pass defense. This is where BYU needs to take advantage. The third objective is that BYU needs to keep drives alive with the Riley Nelson magic that we saw in the Hawaii game. Nelson threw for over 300 (363) yards in a game for the first time since Max Hall was playing. BYU is a balanced offense and will need to run on third and short for first downs, but the pass game will be critical for the team's success.
Let me again throw in a caveat or two. Turnovers will always be predictors if one team gets points and the other doesn't. Special teams need to need to be steady (I wish we could forget TCU). There is no statistical advantage for either team on special teams; that should be a push in this game.
I like how this BYU team is able to get ready to play on game day, even if there are other factors affecting them. They are a lot of game day guys that inspire teammates to give their all. In an even contest, I like BYU.
QUICK HITS
Tulsa played in five consecutive New Year's Day bowl games from 1942-1946.
Tulsa knows about independence. They were an independent from 1986-1996 when they were invited to join the WAC 16 team conference.
Tulsa is the smallest enrollment FBS school in the nation with 3090 undergraduates. Many high schools have more than that.
You won't see this again. In 1925, Tulsa wooed the mighty USC coach Gus Henderson to leave the Trojans and coach the Tulsa Golden Hurricane.
×
Related stories