This archived news story is available only for your personal, non-commercial use. Information in the story may be outdated or superseded by additional information. Reading or replaying the story in its archived form does not constitute a republication of the story.
PROVO -- It would be nothing short of a mistake to brush off BYU's game Tuesday against a lower-ranked division two team as a mere speed bump on the university's path to their historical game on Thursday.
The BYU Cougars tried to use the Cal State San Marcos game on Tuesday (a BYU win of 79-51) as a launching pad toward BYU's first-ever West Coast Conference game on Thursday against St. Mary's.
BYU's Brandon Davies said the game was about more than just adding another "W" to the season record.
"Everyone is interested to see how we're going to be playing," Davies said. "We have a great opportunity to go out there and show them."
Davies did not waste anytime on Tuesday's game, using every second as a training opportunity for other more aggressive games. He walked into the locker room at halftime with a double-double.
"His effort has been terrific all year long," BYU head coach Dave Rose said of Davies. "He still is affected by makes. When he makes a few baskets early in the game, it really changes his confidence level and his energy level, so he came in at half time with a double double. Not very often that you have a player come in at halftime with a double-double, 10 points and 10 rebounds."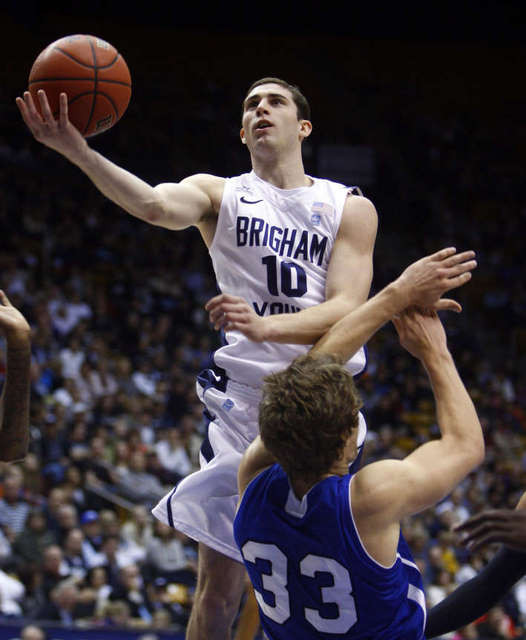 Unlike Davies, many of the players struggled ball-handling that included shooting accuracy in the first half.
"(They're) really an attacking team when you watch them play," Rose said. "We probably should have gone out there and pressured — pressured passes, pressured dribbles. We let them melt the clock and then guard the last 16 seconds (on the shot clock). What it did was really slow the game down. So every time we got an opportunity with the ball, we were a little ahead of ourselves, a little in a hurry trying to make a play."
BYU came out of the locker room at halftime with a deepened desire to not merely lead on the scoreboard but to hold possession of the game through increased pressure and pace.
As the BYU Cougars executed their halftime plan, they lead against the San Marco Cougars increasingly deepened. Players such as point guard Matt Carlino added some grease to help lead to BYU's smooth 28-point win.
In the second half, Carlino went off on a scoring spurt — echoing Ansdon Winder's scoring spurt a few game prior — putting a majority of his total points, 19, for the game up in a matter of minutes.
"We just needed to pick up the energy," Carlino said. "We give a lot of respect to that team, but there's no reason they should be in the game with us for that long."
×
Related Stories