Estimated read time: 4-5 minutes
This archived news story is available only for your personal, non-commercial use. Information in the story may be outdated or superseded by additional information. Reading or replaying the story in its archived form does not constitute a republication of the story.
SALT LAKE CITY — When you walk into Golden Braid Books, you immediately realize that there is much more to the place than just reading material. With products and books that focus on promoting "conscious living," the store is as much an experience for the senses and spirit as it is a bookstore.
Interestingly, the business has remained vibrant and profitable despite the economic downturn, while other book-centric retailers have met difficult challenges and have fought to stay afloat.
Now, Jill and Joel LaSalle — who bought the Golden Braid and the adjacent Oasis Café about 10 years ago — have decided to invest rather substantially, to keep their small, independent bookstore prosperous for years to come.
The couple recently completed a major "re-envisioning" of their business, located at 151 S. 500 East, in downtown Salt Lake City, spending approximately $225,000 to renovate the entire experience offered to patrons of their establishment.
---
The Golden Braid also features in-house psychics for daily readings, with new spaces added for those readings.
---
"We really needed to update the store," Jill explained. "It was looking a little ragged, and so we decided to just bring in more … offer more of (what's) out there."
Some creative approaches were used in the overhaul, including the integration of books with relevant products displayed in thematic nooks throughout the store.
It is also one of the first stores in Utah to install "mood lighting." RaLights full spectrum lighting is typically used as light therapy for those with seasonal or mood disorders, but in this case, they are used to set a healthful tone in the store, LaSalle said.
Helping with relaxation, learning and healing, the lighting provides a general sense of well-being and boosts mood, productivity, energy, immunity, while reducing stress or depression, she added.
LaSalle said they have spent the past decade working to create an environment that serves its diverse clientele in numerous ways.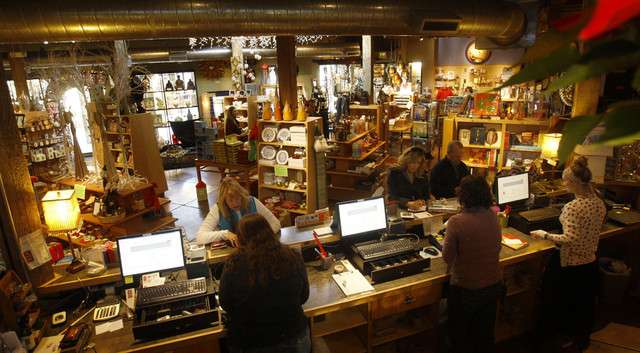 It's "an environment that people feel better in, that they are comforted by," she said. "The store used to be books on one side and product on the other side. Now, we've integrated it so that the books relate to the products in each section."
The Golden Braid also features in-house psychics for daily readings, with new spaces added for those readings. In addition to traditional reading materials and audiobooks, the store offers a variety of eclectic products, including scarves, bags, malas, statues and other unique artist works, as well as items like humorous fridge magnets, aprons and bumper stickers.
According to Joel LaSalle, the hefty investment in renovation is already paying off — literally.
"This will be the biggest December we've ever had," he said. "Sales are up around 26 percent."
He said the major impact came from the decision to totally redevelop the space and add $100,000 of inventory and products so that customers have more to choose from. "People have more reasons to come here, and we attract a wider spectrum of customers," he said.
The expansion is "opening up our market," Joel LaSalle said, adding that the idea gives the existing customer base more choices, while reaching out to a larger audience and creating a new concept for bookstores.
They have nearly doubled the number of employees to accommodate the expansion. He commented that the decision to change their model was prompted by the shift in the industry and constant requests from customers asking for more offerings.
"Seventy percent of our comments sheets say, 'I wish I could buy more here,'" he explained. Customers have been telling us this for two or three years, Joel LaSalle said.
"This is like Lowe's or Home Depot for our genre," he said. "Now you can get a whole plethora of products and information on nature, relationships, music and all of those things that we specialize in."
Due to the success of his business, LaSalle said he regularly receives offers from potential investors to open similar Golden Braid/Oasis Café operations in neighboring states.
"People say, 'Would you be interested in putting one in Sedona, (Ariz.), San Francisco or Jackson Hole?'" he said.
He explained that they are not ready yet to make that kind of leap, though they are owners of a small restaurant company called the LaSalle Restaurant Group that operates Oasis, Faustina, also in Salt Lake City, as well as Carver's Steaks and Seafood, in Sandy.
At this point, the couple said they are optimistic about the path their flagship business is headed — 34 percent projected growth in 2012 — and are getting "organized" so that they are prepared for any potential new opportunities. Until then, they will focus on building what they have.
"This change has only taken place in the past 45 to 60 days," Joel said. "If the numbers prove out … and we're 26 or 27 percent up (thus far), then that is a pretty good indicator that what we're doing is being received pretty well."
Email:jlee@ksl.com
×
Photos
Related links
Related stories
Most recent Utah stories