This archived news story is available only for your personal, non-commercial use. Information in the story may be outdated or superseded by additional information. Reading or replaying the story in its archived form does not constitute a republication of the story.
PROVO -- While many people around the country are trying to squeeze in last-minute holiday plans, the Cougars have their plan set: squeeze in a few more wins before the conference games begin.
Coming off of a win on Tuesday, the Cougars are looking to fit in one more win tonight against the UC Santa Barbara Gauchos in the Marriott Center.
Heading from a game that included career highs for wing guard Brock Zylstra (26 points, 9 of 16 from the field and 4 of 10 from three) and wing guard Anson Winder (20 points, 7 of 8 overall), the Cougars might need to hold on to this high-scoring offensive strategy as they go up against the Gaucho's two leading points-per-game shooters — seniors Orlando Johnson 20 ppg and James Nunnally 16 ppg — who both average higher than BYU's leading points-per-game shooter, Noah Hartsock.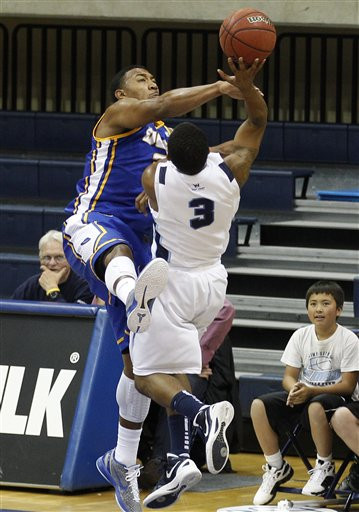 "Orlando Johnson will be as good as any player that plays in the Marriott Center including all of the Baylor guys," BYU head coach Dave Rose said in KSL radio's post-game coach's show. "This is a very good player. A player who will probably be a lottery pick — first round pick for sure."
Sometimes, however, outliers such as fifth and sixth points-per-game standing players, Zylstra (9.7) and Winder (5.7), can be like a firework diminishing as fast as it bursts.
Although the leading scorers of the game may fluctuate jerseys, Rose is grateful for the consistency and synergy infused by senior Noah Hartsock (16 points on Tuesday) to the other players.
"When he catches the ball in certain spots on the floor everybody wants him to shoot it — all the other four guys and all the guys on the bench, including the coaching staff," Rose said. "And that's when you know you got something good is where they're all saying 'Here, Noah, here's the ball for you in this spot. You're open now shoot it.' No one's surprised. The other two guys can go hard to the glass, the other two guys can get back in transition … You can get a lot of confidence from that."
Carlino's ability to make a coach's dream — of both a play-making and scoring point guard — a reality could also greatly play in the Cougars' ability to match the strong scoreboard presence of Orlando Johnson. Carlino recognizes that defending leading scorers is not always enough. Coming out of a double-double (10 points and 11 assists), Carlino is ready to play chef, giving opponents a taste of their own medicine through dishing the ball to the rim by himself and through Thursday's sharp shooters.
With Stephen Rogers leaving his neighborhood on the arc due to surgery and Damarcus Harrison possibly still out due to a tweaked ankle in Monday's practice, the spot for upper teens or even lower 20s total points against UC Santa Barbara is still waiting to be filled.
"What does an injury mean?" Rose asked. "It really means an opportunity for someone else."
×