This archived news story is available only for your personal, non-commercial use. Information in the story may be outdated or superseded by additional information. Reading or replaying the story in its archived form does not constitute a republication of the story.
OGDEN — The Runnin' Utes (3-8) will look for their third straight win when they visit Weber State (7-3) Thursday night.
The 40th meeting between the two schools tips off at 7 p.m. at Dee Events Center.
The Utes lead the all-time series 26-13, including last season's 90-75 win in the Huntsman Center. However, the Wildcats hold a 10-9 series advantage on their home floor. Utah has won nine of the last 10 match-ups, with its only loss coming during an 83-76 setback in Ogden in 2009.
The Wildcats are 5-0 at home this season, while the Utes are still looking for their first road victory. Utah's last win on the road came in a 62-60 upset at New Mexico on Feb. 19.
Senior point guard Josh Watkins leads the Utes in both scoring and assists with 16.7 points and 5.3 assists per game, and each good for second-best in the Pac-12. He trails only Oregon State guard Jared Cunningham (17 points) and Washington State guard Reggie Moore (5.5 assists). Watkins is coming off a career-high 26 points in the Utes' 72-67 victory over Portland Monday night.
Junior center Jason Washburn leads the team in rebounding with seven boards per game to go with his 11.5 points. He is hitting on 60.3 percent of his field goals, which is fourth-best in the Pac-12, and has managed double-digit scoring in eight of 11 games this season.
Utah head coach Larry Krystkowiak likes Washburn's progress.
"We want him to continue to demand the ball and keep working for it," he said of Washburn. "I think he's pursuing rebounds a lot better than he has in the past. He understands our schemes really well. He's kind of the quarterback, seeing the whole floor. He's usually anchoring the defense in the back. He does a good job of directing traffic."
Junior guard Cedric Martin, who is averaging 6.8 points per game, has hit 50 percent from beyond the arc in his last two outings and 39.5 percent on the season, which is good for 12th-best in the Pac-12. Martin has scored double digits in three straight games and four of the last five, including a career-high 19 points against Idaho State last week.
Krystkowiak is pleased with the progress of both Martin and junior forward Dijon Farr, both of whom transferred to Utah this season from junior college programs.
"It's a heck of a transition for them coming into a D-I program," Krystkowiak said. "They've been great. It's almost to be expected that they would have been a little slower, and usually right around Christmas the good junior college players start to catch on and figure it out, and (Martin and Farr) certainly both have."
"We knew they could score and we knew they could play defense," Watkins said of his two teammates. "It was just a matter of time they had to put the two together, and they've done an excellent job of doing that."
The Utes continue to steadily improve in many facets of the game, including turnovers, field-goal percentage, and field-goal percentage defense.
"I think we've simplified what we're doing," Krystkowiak said. "Guys aren't thinking as much as much as they were early on. And that's a lot because it's new everything: new teammates, new staff, new system, new terminology. And for guys to really play hard and to really make shots, I think most of the time, your mind has to be freed up, and our minds haven't been freed up. And I think that's what you're seeing now. We're able to play harder because we're not thinking as much, and I think the rim is a little bit bigger."
Weber State boasts the nation's leading scorer in junior guard Damian Lillard, who scores 25.7 points with 6.1 rebounds and 3.5 assists per game. Lillard is shooting 49 percent from the field, including 44.9 percent from downtown. He has drained 35 3-pointers on the season.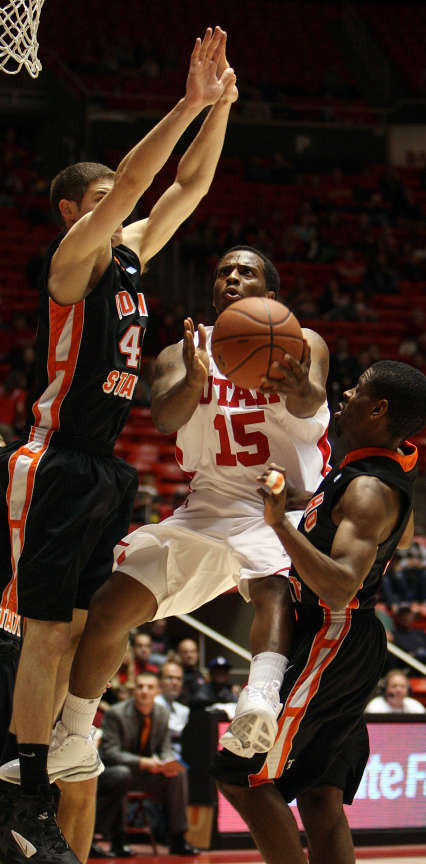 Krystkowiak expects about five different Utah players to guard Lillard over the course of the game.
"They're fifth in the country in points scored," Krystkowiak said. "They've got a lot of firepower. It starts with Lillard out front, but they've got a lot of other great players besides Damian as well. It's a definite high-paced game. We're going to have to focus on getting our rumps back on defensive transition."
"(We need to) limit his movements, limit his touches and just play defense," Watkins said. "That's all we can do. When you guard a good player, that's all you can do is play lock up, buckle down defense."
Junior Scott Bamforth is the team's second-leading scorer with 14.4 points per contest. Kyle Bullinger is the Wildcats' leading rebounder with nine boards per game, but he has not played in the last four games.
Weber State has been up and down so far this season with three losses coming by an average margin of 21.7 points. But the Wildcats have also won four games by double digits with an average margin of 34 points, including Monday's 106-57 win over NAIA Mayville State.
The Utes know they will have their hands full with the Big Sky-leading Wildcats.
"They're a real good team and we know this is going to be a real tough challenge," Watkins said. "But we feel that we can win this game. We just got to play 40 minutes of basketball — Utah basketball — and I'm sure the outcome can be good for us."
"We got to continue sticking to the game plan," Martin said. "Every time we stop listening to coaches, that's when we fall off. Every time we start listening to the coaches, that's when we start going on runs and everything starts coming together."
After the showdown with Weber State, Utah will have nine days off to prepare for its Pac-12 opener on Saturday, Dec. 31, at Colorado.
×
Related Links
Related Stories