This archived news story is available only for your personal, non-commercial use. Information in the story may be outdated or superseded by additional information. Reading or replaying the story in its archived form does not constitute a republication of the story.
LOGAN – The Utah State Aggies men's basketball has won three in a row and four out of its last five, and the Aggies' lone loss during that span came on the road at Wichita State.
Having won their first two games of the Athletes In Action Classic, the Aggies now take on the Kent State Golden Flashes Thursday at 8 p.m.
The Golden Flashes are currently 8-2 on the season and are coming off a loss to UT Arlington on a last-second 3- pointer.
Senior forward Justin Greene, who averages 11.4 points and 7.2 rebounds per game, leads Kent State. He is also an decent free-throw shooter at 69 percent.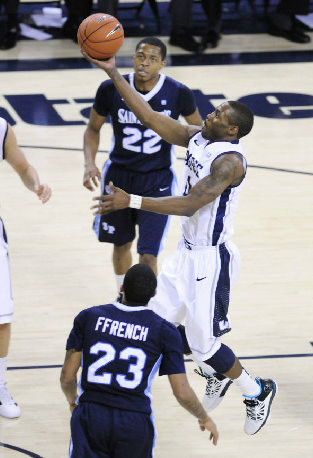 Helping Green lead the charge is a pair of guards: junior Randal Holt and senior Michael Porrini. Holt averages 11.0 points per game to go along with 1.2 steals, while Porrini paces the Golden Flashes with four assists aside from his 9.7 points per game.
Aggie senior guard Brockeith Pane has been the on-court leader all season long, but sophomore guard Preston Medlin is quickly making his mark. Medlin now leads the Aggies with 14.9 points per game and is tied with Pane with 3.3 assists. The sophomore is also shooting 48.6 percent from beyond the arc. He has also shown an impressive ability to take care of the ball with a 1.5 assist/turnover ratio.
College basketball is won with solid guard play and the Aggies have guards that are coming into their own. Between Pane, Medlin and the constantly improving play of sophomore Danny Berger, the Aggies have a dangerous array of talented guards.
Against Kent State, Utah State will need its guards to score and its forwards to defend the basket. The Golden Flashes are long and skilled on the front line and their guards are quick and strong to the hoop.
While winning a college basketball game is never easy, this game will be especially difficult due to the strain that has been put on the Aggies. This will be USU's third game in three days and the fourth in six days.
Justin McKissick is a KSL.com contributor originally from the San Francisco Bay Area. He is currently seeking a communications degree. Justin has been covering USU sports since 2011. Follow him on Twitter: @justin_sr.
×
Related Stories