This archived news story is available only for your personal, non-commercial use. Information in the story may be outdated or superseded by additional information. Reading or replaying the story in its archived form does not constitute a republication of the story.
LAPOINT, Uintah County — There was an audible gasp from the third graders at Lapoint Elementary School when their classroom door whipped open Tuesday afternoon.
A smattering of nervous laughter followed.
Roger Hullinger's entrances tend to have that effect around this time of year.
"Hey, I know you," one of the kids on the front row said.
"You do?" Hullinger replied, with a mock sneer that sent the boy to stammering.
"I'm the GRRRRINCH!" Hullinger announced, grinding the first to letters between his teeth.
Eleven months out of the year Hullinger is a well- mannered funeral director in Roosevelt, where he works in the family business. But come December, he morphs into his alter ego.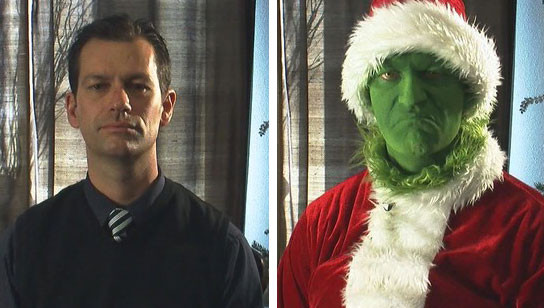 "I had a friend that, her husband was going to be The Grinch for the Enchanted Forest charity event and he couldn't do it," Hullinger said. "She quickly called me and I said, 'Sure, what the heck, I'll do it.' I didn't know what I was getting into."
What Hullinger was getting into was an iconic character introduced in 1957 by Dr. Theodor Geisel — the man known to the world as Dr. Seuss — in the classic children's book "How the Grinch Stole Christmas." A decade later, the book became a TV special voiced by Hollywood legend Boris Karloff that continues to air each Christmas.
Since his first performance seven years ago, Hullinger has continued to share his inner Grinch with the community. The friend who initially asked Hullinger to take on the role, Deanie Robertson, said she knew he was the right person for the job from the moment he first donned the green face paint.
"There were lots and lots of giggles and grins coming from the crowd of children and adults alike," Robertson said, recalling that first performance.
"They hadn't seen anything like it and he was a big hit!" she said. "I have never forgotten it, and I know that the community hasn't either."
Hullinger's talents earned him an immediate following. He has performed for school classes, church parties and community groups. This year he's been booked for more than a dozen events.
His favorite part of the performances?
"Scaring the kids when I walk in," Hullinger said with a laugh, adding that most children assume the "special guest" who's coming to visit is Santa Claus.
Hullinger's costume and makeup have evolved over time. The makeup is applied by airbrush now, and green furry pants have replaced the light green hospital scrubs he used to wear.
Hullinger still hands out green onions instead of candy canes, and he still loves Christmas, despite his grinch-y persona.
"I take it on for fun, for something different from the usual," he said.
Email:gliesik@ksl.com
×
Photos