This archived news story is available only for your personal, non-commercial use. Information in the story may be outdated or superseded by additional information. Reading or replaying the story in its archived form does not constitute a republication of the story.
CLEARFIELD -- Students at Clearfield High School raised nearly $12,000 last week for cancer research, just one month after raising $11,000 for a teacher affected by cancer.
The school raised the money during its traditional Falcons are Fabulous week, a yearly fundraiser held in December that in 2003 grew out of the school's annual sub-for-santa effort.
The school has raised at least $10,000 every year since the fundraiser was organized, usually for a member of the community in need. The students chose to donate to the Huntsman Cancer Institute this year because of the amount of students at the school who have been affected by cancer, according to student council member Jenna Hunsaker.
"We chose Huntsman because a lot of kids at our school have recently gone through cancer or their parents are," she said. "Usually we raise money for an individual or family, but a lot of people here are affected by cancer, including one of our teachers. We wanted to do something that could really influence a lot of people."
Despite having its population cut nearly in half when Syracuse High School opened in 2007, the school has consistently made its goal of raising $10,000 in about a week. This year, the 1,400 students presented a check made out for more than $11,800 to Brooke Hathaway, a Huntsman Cancer Institute representative.
Slideshow: highlights from Falcons are Fabulous
"On behalf of cancer patients, thank you so much for your incredible culture of philanthropy here in Falcon-land," Hathaway said at the closing assembly. "We will put these dollars right to work on the lifesaving research going on at the cancer institute."
The assembly concluded a week of fundraising efforts that included a community carnival and rewards for reaching specific dollar amounts. Students had raised $8,600, $1,500 short of their goal. They made up the difference by auctioning off the chance to shave the male student- council members' heads, which raised more than $1,100, and by auctioning a quilt for $300 that included blocks dedicated to members of the community affected by cancer.
The quilt was later donated to the school for display.
The students were able to surpass their goal due to "one of Clearfield High's most treasured traditions," the Miracle Minute. For one minute, student council members ran throughout the auditorium, collecting spare change and last-minute donations in plastic cups. The minute netted more than $1,300 in donations.
"Clearfield students are always very generous," said LeNina Wimmer, student council adviser. "I'm amazed that a community that is supposedly 'poorer' than surrounding schools raises so much."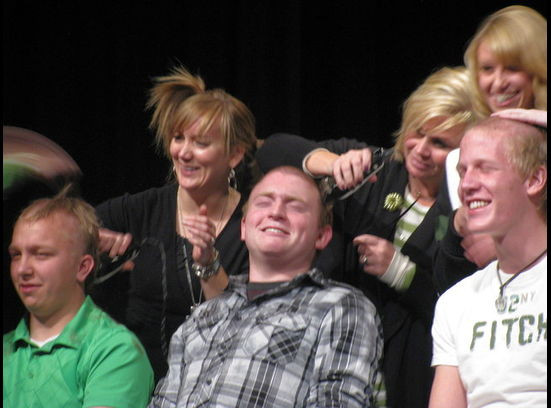 The amount was impressive so soon after the school's fundraiser last month: a spaghetti dinner that raised more than $11,000 for a teacher battling his fourth round of cancer.
"The dinner was in November, so for students to give a lot to that and then still be able to give a lot to Falcons are Fabulous is really cool," Hunsaker said. "We live in a really giving community."
Cancer awareness has been the year-long focus of the school, according to Wimmer. Students organized a Relay for Life in the summer and collected Yoplait yogurt lids to raise money for the cause. Additionally, Clearfield's last home football game of the season was a "pink-out" game, to which football players, cheerleaders and students wore pink to spread breast cancer awareness.
"It was just for awareness at that point -- we raised a few hundred dollars," Wimmer said. "It has turned into so much more, though. It's a great time of year. I think it is because our students can empathize with loss and struggle and so they want to give."
The students' gift was appreciated by Hathaway, who emphasized that the institute has no overhead, so 100 percent of the donation will go to cancer research. The current focus of the institute is on individualizing cancer treatment based on the genetics of the patient.
"I am really blown away by what they've done," she said. "They didn't have to do any of this. I think that is really touching, the kind of message I can take back to the staff at the institute, as well as the cancer patients and their families."
"This donation will go to funding cancer research to prolong lives and save lives."
Email: sgrimes@ksl.com
×
Photos
Related Stories