This archived news story is available only for your personal, non-commercial use. Information in the story may be outdated or superseded by additional information. Reading or replaying the story in its archived form does not constitute a republication of the story.
SALT LAKE CITY - With the Jazz season only days away the schedule and roster has taken shape. The first full season without Hall of Fame coach Jerry Sloan and All-star point guard Deron Williams will bring a lot of questions. The team has depth, youth and experience. If the talent comes together and the minutes can be spread this could be a great team. If new coach Tyrone Corbin can't get his players on the same page the Jazz could end up in the lottery again.
This is going to be a look at all the different positions, the changes that Corbin will bring and a quick prediction for the season with a look at what the Jazz should be able to do this season.
Point Guards
The point guard position is mostly as a facilitator. John Stockton and Williams were at the top of the list in assists while in Utah. This group controls the offense and distributes the ball. The Jazz will go as far as the point guards can take them.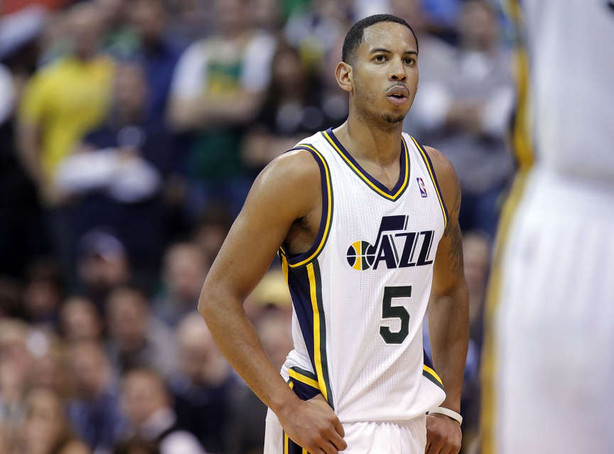 Devin Harris is a top-10 point guard in points, but his skill-set isn't perfect for the pick and roll system of the Jazz. They will attack a little more than usual, but his career high in assists is only 7.6 per game and he averages 5 per game over his career. For comparison Williams' lowest total is 4.5 in his rookie year and 9.3 in any season where he started more than 50 games. Harris is a capable player and a leader of the team. Earl Watsonhas been around for a long time. His resigning gives the Jazz flexibility to sit Harris and not have a big drop off. His skills are more around distributing the ball, which will give the big men a better shot at putting up big numbers.
Jamaal Tinsley will add depth as a third point guard, when they use three. Tinsley is another veteran presence who can contribute and distribute the ball.
Wing Players
The shooting guard and the small forward are interchangeable in this system so we will look at both of the wing positions in one segment. They will be used in corners to stretch the court so the big men can work down low. The best example of a Jazz system wing player is current assistant coach Jeff Hornacek. He was a sharp shooter who contributed at the line. He was also a very gritty underrated defender.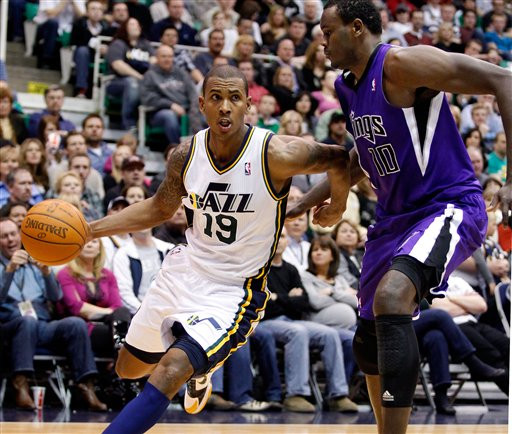 Raja Bell is the veteran of this group. He is in his second stint with the Jazz and was brought in to bring defense and a sharp-shooter. Last year he struggled with both. Last season he posted his lowest 3-point percentage since his sophomore year. He will bring a veteran savvy and scrap on defense. He might be best known for his playoff defense on Kobe Bryant a few years ago that included a pro-wrestling style clothesline. He can be a little dirty and scrappy, but he will get under players skins and can teach some young players how to play. He will play more as a shooting guard. Alec Burks is a rookie with upside. Upside here means he is long, athletic and a little raw as a player, but said he wants to contribute his rookie year in order to make it successful. He is more of a slasher than a pure shooter right now, but in the Jazz charity game and the scrimmage he showed that he can shoot the ball from outside. Corbing said that they were expecting him to contribute with shooting. In an interview he has said that he has been used as at point in certain line-ups. In the scrimmage he was defending Bell and he used a lot of techniques the veteran employed, which included some bear hugs and a lot of contact.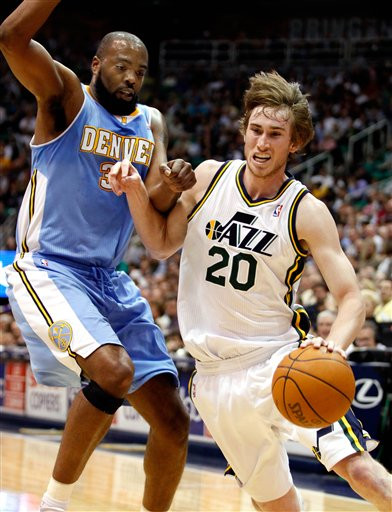 Gordon Hayward started slow last year, but started 17 games by the end of the season and hit 47 percent of his 3-pointers. His athleticism is underrated, he can play with anyone, see the final game last season versus Kobe. This year he said that he is looking to be consistent for this year to be successful. Josh Howard was recently signed. He is coming off an ACL injury but everyone involved with the situation has said that he is healthy. If so he will bring a defensive presence to go along with a career average of 6 rebounds per game. He can also provide on the offensive side. He averages 15 points per game through his career, but won't stretch defenses that much with a career 33 percent 3- point percentage. One of his major issues will be durability, he has only played more than 70 games twice in his career. Corbin said that he will be a natural three where others, Hayward, Miles, Millsap and Favors aren't.
C.J. Miles is entering his seventh year with the Jazz, despite only being 24. He spent most of his career coming off the bench as a sort of instant offense player, but doesn't have great percentages to show for it. He is a career 33 percent 3-point shooter. He does have the ability to attack the basket. He has performed well in the preseason and shown that he can spot up. He had the game- high in the Jazz scrimmage with 18 points including three of five on 3-pointers.
The Bigs
Any Jazz fan will know that the system has been built for the power forward to lead the team in offense. Karl Malone and Carlos Boozer show what the prototype for the position can be. Malone used the pick and roll to become the second highest scorer in the NBA. The ability to pop a shot from 15-feet is an important part, but driving to the basket is what the position is made of. This year the center and the power forward will switch off, there are few true centers or power forwards on the team. They will all play multiple positions and add different elements.
Jeremy Evans is in his second year and was an exciting player for the Jazz. He needs to add some bulk to be a full-time player and won't play a ton this season, but will add excitement whenever games get out of hand and will add a few highlights with some alley-oops. He is still a work in process. Corbin said he will play a little small forward.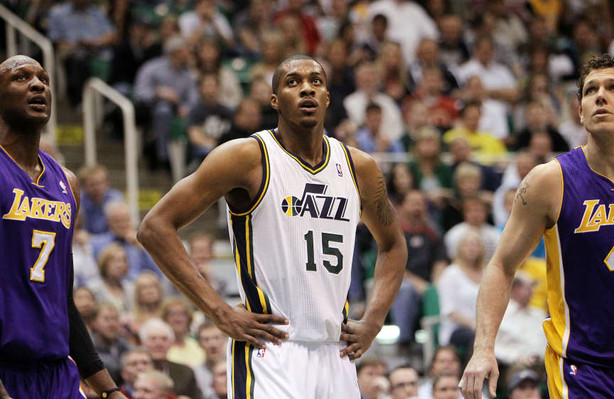 Derrick Favors is explosive, big and exciting. He is also only in his second year. He was brought to Utah in the Williams trade and was the third-overall pick in last year's draft. He is still very raw as a player, he's only 20, but he has made strides in the preseason to compete for a starting spot including tying for the team lead in the scrimmage with 10 points. Enes Kanter is the third-overall pick this year and will come in to season with high expectations from the fans. He didn't play last season at Kentucky due to professional issues with a team in Turkey. He has a lot of skills, is a big body and will work hard. His issues will be getting into the game this season. He is a work in process. Jazz fans will need to be patient with him. He said that Okur and Jefferson have been helping him out to learn the position and the NBA game.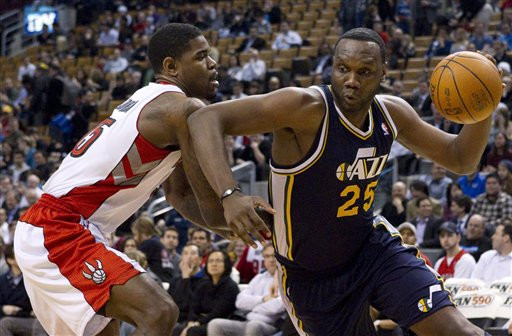 Al Jefferson is the biggest body on the Jazz, slightly shorter than Okur, at 6-10, but has around 30 pounds on the Turk, and this year he has come in to camp in great shape, according to himself and Corbin. He is an offensive minded player and works best close to the hoop attacking the basket. He averaged just under a double- double in points and rebounds last season, 18.6 points and 9.7 rebounds. Paul Millsap is undersized and scrappy, but he works harder than most players. Last season was his first as a full time starter and he produced career-highs in minutes, 34.3, points, 17.3, steals, 1.4 and his second highest in rebounds, 7.7, per game. He has improved his outside game, with 39 percent from 3-point range. Corbin said he will get some work at the small forward position as he did a little last season.
Mehmet Okur isn't done yet. He is now 32 and missed most of last season coming off a torn Achilles the season before. His game has never been dictated off athleticism. His game will still be hitting the outside shot. His ability to stretch the low post will open up players down low.
What will the roster look like
There were 14 players named in the last segment. Left out of the list above was Paul Carter, Trey Gilder, Keith McLeod and Scottie Reynolds. One could make the roster, but there is a very small chance that any of them will see any playing time for the Jazz this season.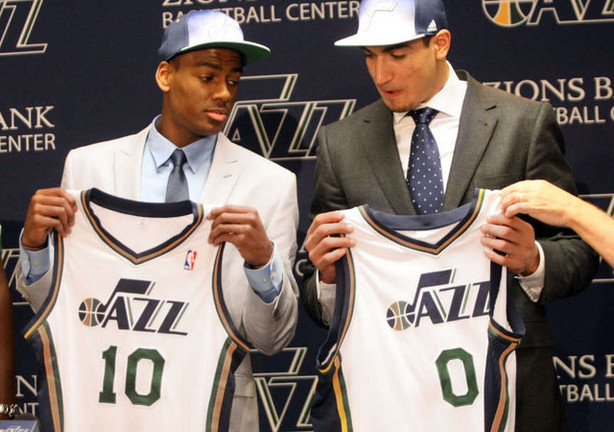 To trim down to the active roster spots there needs to be an order to the roster. There are the premier players, the important role players, the young players and the "would like minutes" players. Just as a note, none of these players are untouchable and could be moved up or down this list.
The premier players on this team are Harris, Jefferson and Millsap. If these three players are great the Jazz can beat anyone, if they are off any given day then it might be over. Favors and Hayward don't make this list yet. They could by the end of the year, but they aren't relied upon yet.
The important role players are Hayward, Favors, Okur, Bell, Miles and Watson. Their season averages will be low, but they could have game highs in any category each week. These players will all play.
The young players are Burks and Kanter. Two lottery picks need to play to see what they can do. Burks will get time with less competition at the swing position. Kanter is the third pick that fans are excited to see. Both will make the active roster at the start of the season for that.
The "would like minutes" players are Tinsley, Howard and Evans. Howard isn't in game shape yet, he has said that he will be soon and Corbin said that he is going to have to earn playing time. Corbin said that he likes the comfort of having three point guards on the roster. That would mean Tinsley could go right away. Evans is the last man out either way even though Corbin has mentioned him playing small forward specifically.
Rotations
There is basically one player that will remain as the starter in their position the whole season, Harris. Corbin has said that every position is still being battle for. The first preseason opening starters were Harris, Bell, Miles, Jefferson and Okur. This may change once Millsap gets healthy.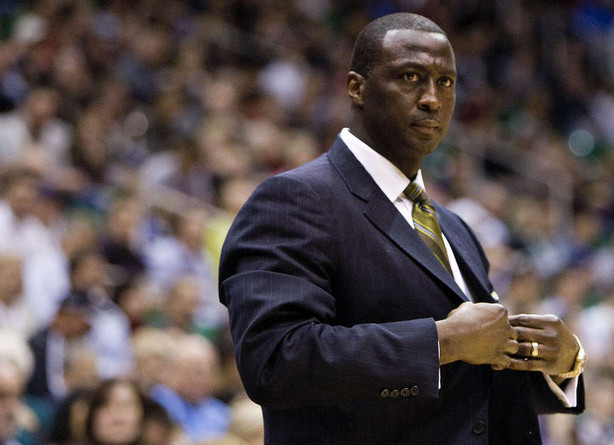 Coaching changes
Corbin's biggest change will come on the defensive side of the court. Brian T. Smith tweeted about it on Dec. 13 as the first major coaching change for Corbin. Basically, they will push offensive players toward the baseline instead of down the middle as Sloan did for years. It will also feature more help defense. They will collapse down low and leave some more open three-pointers.
The other change is just a slight tweak to the offense.
"A little change, but nothing crazy," Corbin said. "But there will be some more movement."
The pick-and-roll is still around, but they will use the teams strengths a bit more and the pick-and-roll won't be the only offense that the Jazz will use.
#poll
Possible Moves
Yes, there are a lot of moves that could be made and Jazz fans will speculate that a few players should be moved to let younger players play. The problem is what do the Jazz need and could get. The names that will be brought up will be Millsap and Jefferson. Both have big contracts and both have young high picks behind them, but what do the Jazz get back for them?
Names like Danny Granger have been pushed around, but that would just limit Hayward and Burks development. To get rid of any player the Jazz would have to get a bona fide superstar. The only position that the Jazz could get a vast improvement over the next few years would be at the point guard, but who could they get, maybe Rajon Rondo if they throw a lot at the Celtics.
This was just to show how hard it would be to make a move. A trade means the Jazz need to improve immediately. No draft picks, no potential, just better players. A deep bench is a blessing and luxury not a curse.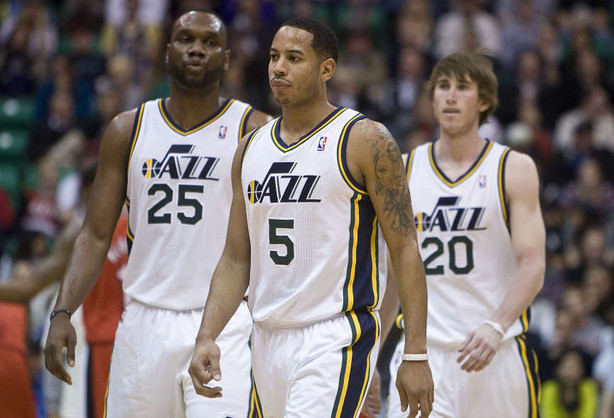 Season Prediction
66 games in a shortened season. The Jazz play some teams more than others and there is a weird feel to the schedule. 33 is .500 and last season the Grizzlies made playoffs with a .561 record. That translates into 37 wins. The East had the Pacers get in with a sub-.500 record, but that won't happen this year, at least in the West.
36-30
A quick look over the schedule has about 30 "easy" wins. They are poor East teams and rebuilding West teams. There are about 25 losses. Road games against good teams and back-to-backs with great teams. 30-25 leaves 11 games that will decide the season. Those 11 games are games like Denver at home or Philadelphia and Charlotte in the middle of a road stretch. Most are winnable if they focus. They should go 6-5 in those games which would put them at 36- 30. That is right at the mark of last year for the playoffs. Anything less than the playoffs is a failure for the Jazz, but with 36 wins they will at least have a shot for the playoffs.
Email: jmoore@ksl.com
×
Related Stories