This archived news story is available only for your personal, non-commercial use. Information in the story may be outdated or superseded by additional information. Reading or replaying the story in its archived form does not constitute a republication of the story.
BOISE — Utah State's 24-23 loss to Ohio in the Famous Idaho Potato Bowl Saturday seemed like Aggie football's version of Frankenstein: made of parts from all their other games this season.
For the 10th time this year, a game was decided by a touchdown or less.
"We had some good luck there for five weeks," USU head football coach Gary Andersen said. "I don't know if we were pressing it, but what we did do is learn a lot from these wins and losses."
The only Bobcat lead came on the extra-point after sophomore quarterback Tyler Tettleton's game-winning touchdown scramble with 13 seconds left, which was eerily similar to the manner in which the Aggies lost to BYU 27- 24 Sept. 30. Only this time it wasn't a backup quarterback who beat them.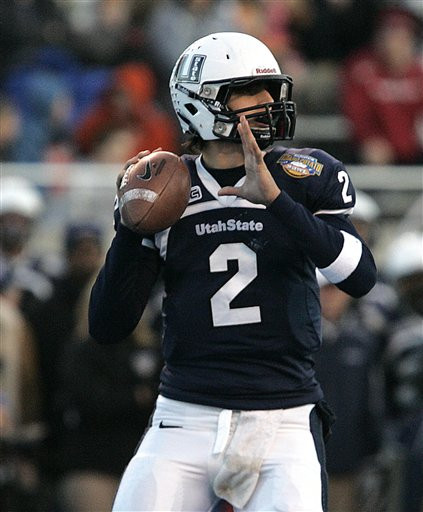 Aggie junior quarterback Adam Kennedy left the game with an injury late in the third quarter and quarterback Chuckie Keeton entered the game. Kennedy originally replaced Keeton as the starter when the freshman was injured just before halftime of the USU 35-31 victory over Hawaii on Nov. 6.
Keeton was under center with a lead when the last Aggie drive ended in the third quarter, just like back-to-back losses to Fresno State and Louisiana Tech.
Senior Stanley Morrison threw a pass from the wide out spot to sophomore Travis Van Leeuwen that almost went for a touchdown, much like the wide receiver pass to junior running back Robert Turbin in the 21-17 win over Nevada on Nov. 26.
Senior running back Michael Smith had a touchdown run of 63 yards, similar to his 77-yard scamper in the win San Jose State Nov. 12.
"We practice that all the time. Coach (Ilaisa) Tuiaki says just finish the play, run as hard as you can to the end zone," Smith said. "That's what I did."
Speaking of the San Jose State game, that contest was also decided by one point, 33-34, as was the loss to Colorado State, 35-34 in overtime.
Kennedy threw a touchdown pass to tight end Tarren Lloyd and has thrown at least one touchdown pass in every game he started for the Aggies this season.
Tavin Stucki is a sophomore journalism student at Utah State University. He is the sports editor and football beat writer for the Utah Statesman, the Aggie campus newspaper. Twitter: @stuckiaggies
×
Related Stories