This archived news story is available only for your personal, non-commercial use. Information in the story may be outdated or superseded by additional information. Reading or replaying the story in its archived form does not constitute a republication of the story.
LOGAN — Utah State University Director of Athletics Scott Barnes announced Thursday that football coach Gary Andersen has signed a contract extension to remain at USU through 2017. It is an additional year to the extension that Andersen signed in September 2010.
"Gary has built a foundation that gives our football program an opportunity to sustain success. Our student- athletes are achieving in the classroom, and earning conference and national academic honors," Barnes said.
"On the football field, they're representing our university community very well. It takes time to build a football program and after three years Gary's leadership has put us ahead of schedule in many aspects."
Barnes said that Andersen's new deal can pay him up to $565,000 annually with incentives.
"We are delighted that he has committed to Utah State long term. Gary has tremendous passion for this place and cares deeply for our student-athletes," Barnes said.
In just his third season, Andersen has guided USU to its first bowl appearance since 1997, leading the Aggies to a 7-5 mark in 2011 and a bid in the Famous Idaho Potato Bowl on Saturday in Boise, Idaho.
Only John Ralston and Charlie Weatherbie took Utah State teams to a bowl game in fewer years than Andersen did, as Ralston took the Aggies to the 1960 Sun Bowl and Weatherbie took the 1993 Aggies to the Las Vegas Bowl, both doing so in their second year.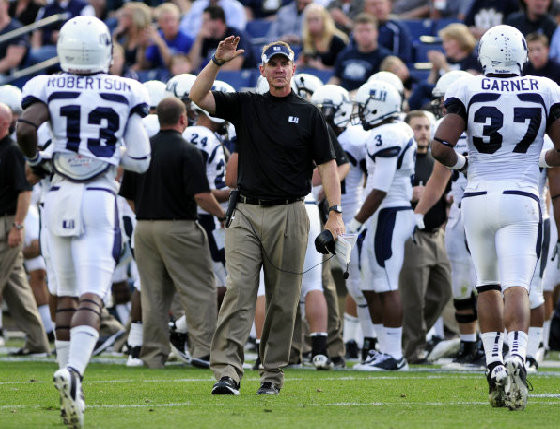 "First of all, it is an honor to get an extension and a new six-year contract. As a football coach, I have always wanted to have some stability for myself and my family," Andersen said. "The commitment from Utah State University is outstanding. My commitment to this university, this community and Aggie Nation, is very strong and very important to myself and to my family. I think that in this case, both parties are showing a commitment to all Aggies, past, present and future.
Andersen joins John L. Smith, who took the 1997 Aggies to the same bowl as USU is playing in, then known as the Humanitarian Bowl, as Aggie coaches who led USU to a bowl game in their third season.
"It is a very blessed day for myself, for my family and our football staff. We are very excited about the opportunity to play in the Famous Idaho Potato Bowl on Saturday and excited about the future overall," Andersen said. "This allows us to continue the growth that we have started in the Utah State football program and again, I thank everyone involved for their commitment to the program. I am honored and humbled to be the head football coach of the Utah State Aggies for many years to come."
Last month, Utah State was one of 29 teams recognized by the American Football Coaches Association for Academic Achievement. Additionally, Utah State has a combined average 77 percent graduation success rate for football student-athletes, encompassing it's most recent four graduating classes ending in 2010.
This coincides with the same time that USU has been in the WAC after joining prior to the 2005 season. Utah State's 77 percent is the highest among the eight WAC schools, as well as the highest of the three Football Bowl Subdivision schools in the state of Utah, bettering that of BYU (57 percent) and Utah (62 percent).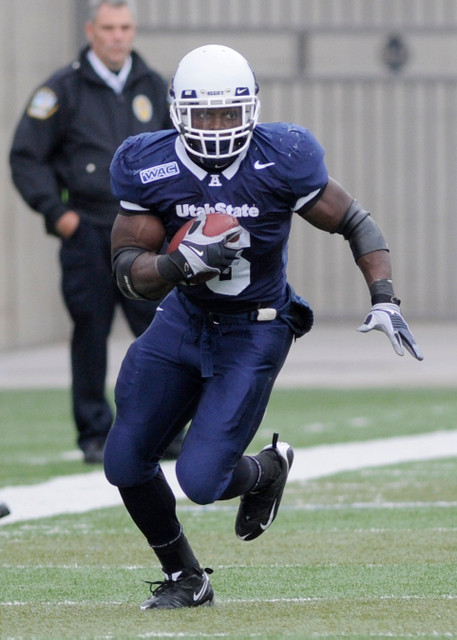 Under Andersen, USU earned 18 academic all-Western Athletic Conference honors in 2010, its most in the Aggies' seven years in the league. On the field, Utah State has six players on the all-WAC first and second- teams this season, including Robert Turbin earning the WAC Offensive Player of the Year award.
Both the three first-team all-WAC selections and the six overall honorees is the most all-WAC selections for USU in its seven years in the league and is Utah State's most overall all-conference players recognized since 2003 when the Aggies had nine in the Big West.
The Aggies' three-win turnaround from four wins in 2010 to seven wins in 2011 is among the top 15 in the Football Bowl Subdivision for the 2011 season. Overall, Utah State's three-win turnaround is the biggest two-year increase since 1977-78, going from 4-7 in 1977 to 7-4 in 1978. It is just the 15th win turnaround of at least three wins in the program's history.
With five WAC wins in 2011, Andersen led USU to its best WAC record at 5-2 in the Aggies' seven years in the league. USU's second-place finish is also the top WAC finish and is the Aggies' highest conference placing since 2000 when they were second in the Big West Conference. USU's three-win WAC turnaround under Andersen from two league wins in 2010 to five conference victories in 2011 is tied for the second-biggest conference win turnaround in the USU's history, behind the record of four win turnaround from 1916 (0-3) to 1917 (4-0), and matching 1945 (1-3) to 1946 (4-1-1).
The Famous Idaho Potato Bowl will be held on Saturday, Dec. 17, 2011, at 3:30 p.m. MST at Bronco Stadium in Boise, Idaho. The bowl will feature the Ohio Bobcats (9-4) of the Mid-American Conference and the Aggies.
Utah State is the closest WAC school to the potato-growing region of eastern Idaho, and Ohio is the nation's second- largest state consumer of Idaho potatoes according to the Idaho Potato Commission.
The Famous Idaho Potato Bowl is the second game of the entire bowl calendar and the only one in its time slot. The Bowl will be telecast nationally on ESPN and broadcast on ESPN Radio. Five of the previous seven games have been decided on the last drive, with an average score of 38-25 over the past 14 Bowls.
A few $30 tickets in the curved areas of Bronco Stadium remain, for purchase in person or over the phone. There are also various $50 tickets on the east side are still available, for purchase in person, over the phone or online. Also, there are also roughly 50 student tickets remaining at a cost of $18 with student ID, for purchase in person only.
For more Aggie Football Famous Idaho Potato Bowl ticket information, fans can contact the USU Ticket Office at 1- 888-USTATE-1 (1-888-878-2831) or 435-797-0305, in person at the USU Ticket Office inside the Dee Glen Smith Spectrum.
Fans can follow the Aggie football program at twitter.com/USUFootball or on the USU football blog at usufootball.wordpress.com. Aggie fans can also follow the Utah State athletic program at twitter.com/USUAthletics or on Facebook at Utah State University Athletics.
Doug Hoffman is the assistant athletic director for Utah State University.
×