Estimated read time: 3-4 minutes
This archived news story is available only for your personal, non-commercial use. Information in the story may be outdated or superseded by additional information. Reading or replaying the story in its archived form does not constitute a republication of the story.
SALT LAKE CITY — A fifth-grade boy shuffled into line with the rest of his class — his new snow boots still tied together by the manufacturer's elastic.
In front and behind him were other boys and girls, arms loaded with winter jackets, toys and books furnished by benevolent strangers.
Volunteers from Utah Central Credit Union milled about the gymnasium at Lincoln Elementary Wednesday, doling out presents they collected in anticipation of this yearly tradition when customers, employees and community members pitch in to bring Christmas to an entire school.
"I've been waiting and waiting. Now that I got it, I'm so excited," said Cherish Randall, an 11-year-old who received just what she wanted — the second and third books of the Hunger Games series.
The sixth-grader's teacher knew she loved to read and bought her the first book a few months ago. Since then, Cherish has had her name on a waiting list at the school library for the others, but the anticipation of what her favorite characters were up to has been driving her crazy.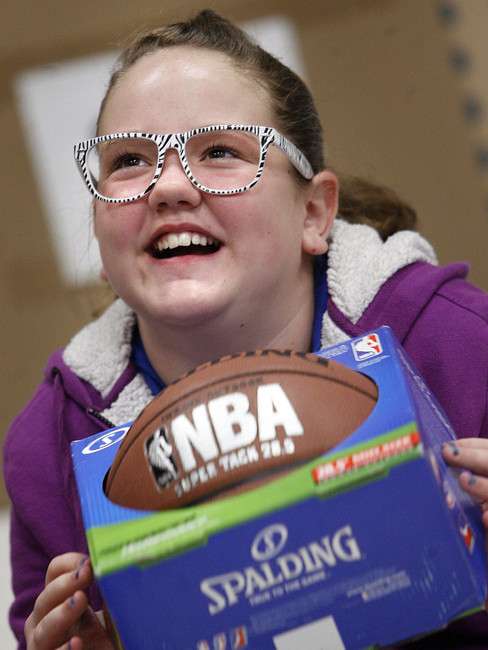 "I just like the adventure," she beamed, adding that she would delve into the hardcovers "as soon as possible."
Moving scenes unfolded across the gym as volunteers picked up wrapping paper and dodged remote-controlled cars and launching rockets. Ninety-five percent of the school's 600 students live below the poverty level. The school is home to a large refugee population, dozens of languages and lots of turnover, said Principal Christine Pittam. Many likely wouldn't get presents this year, she said, as the students feel the impact of their parents' unemployment or unfamiliarity with the traditions and customs of this new place.
"I just don't think people realize that there is such a need and diversity right in Salt Lake," said Sara Parker with Utah Central Credit Union, which has organized the effort for the past 15 years.
The presents the children receive aren't handed out at random; they were curated and hand-picked by people who listened and cared.
Earlier in the year, children created an ornament with their name and a short wish list composed of one item they want and one item they need. Some kids ask for toys and clothes, but there are always a few each year who ask for food, pencils or other basics.
Customers or community members at the credit union choose an ornament and spend $35 minimum per child to fulfill those wishes. Most are much more generous, Parker said, making for an annual donation to the school's children topping well more than $21,000. Once purchased, the gifts go back to the credit union, where employees wrap each one and deliver them to the school's children.
Jessiah Thern, 11, tried his hardest to wait for his classmates to receive their presents before unwrapping the gifts stacked in front of him, but he couldn't help but bounce the orb covered in green paper he just knew was the basketball he asked for.
Jade Ficklin hurriedly pulled a football from its packaging and cradled it in her arms.
Related:
"I don't care what kind of football it is as long as it's a football," the 11-year-old said of the cushy Nerf. She liked the gloves and beanie she got as well, but those were her needs, and the football was her favorite want.
"You may see kids who won't open their presents because they want to go home and share that with their families," Parker said.
Trina James, who knits, clutched four coveted skeins of brilliantly-colored yarn to her chest then pulled them to her cheek.
Boys laughed as they played with electronic helicopters, reveling in the fact they didn't have to wait until after the holidays before showing their friends their prizes.
The kids were shuttled in and out of the gym throughout the day, a few classes at a time. They shouted "thank you" and headed back to their classrooms where they would get back to the day's regular schedule. Math for some, lunch for others.
But for a few moments, Parker hoped they were able to make everything special and right for them.
"This is Christmas," she said.
Email:mfarmer@ksl.com
×
Photos
Related stories