This archived news story is available only for your personal, non-commercial use. Information in the story may be outdated or superseded by additional information. Reading or replaying the story in its archived form does not constitute a republication of the story.
SALT LAKE CITY -- What ended in a 19-point win for BYU began with a crawling point progression – both rival teams seem to be competing more with the basket (getting the ball in) than with any defender.
Many consider games against rivals to be rough waters. However with Brigham Young University missing eight of it first nine shots and the University of Utah having an 18.2 field goal percentage in the first half there were only occasional splashes in an otherwise eerily still waters.
The Cougars have made their mission for quick aggressive starts extremely clear – through action and also in press conferences – the last two games. The rival Utes came in well aware of the Cougar's goal.
Despite the U being one of the worst defensive teams in the nation, BYU forward Noah Hartsock explains that the rivalry defense was able to slow down the Cougars in the beginning.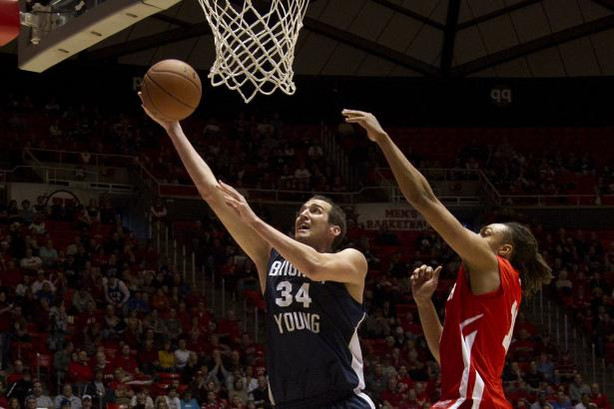 "That first half, credit to them, they really played great defense," Hartsock said. "They really limited our post catches and what we did down there. So we just adjusted it (in the second half) and tried to work on getting jump shots and open shots. Getting in the post, drawing the double-team and then kicking out."
Contrary to many of the fans watching the game, BYU head coach Dave Rose expected adrenaline to consume the game early on.
"I think the game in the first half was exactly what we expected it to be, really physical," Rose said. "That's how (really physical) it was tonight but we were having a really hard time scoring, both teams. … They did a great job of controlling the pace in the first half and I thought in the second half we were able to get some shots in transition and we were able to get the pace more like we wanted it."
Ending the half up eight points, BYU never struggled to hold a lead, but rather to be a stronger leader of the game. Their improved leadership skills from the first to second half is visible as a team – 25.3 percentage increase in field goals – and player by player – such as Charles Abouo going from 0-0 in the field to 4-6.
Though it was strange to see one of the Cougar's top three leading scorers not even attempt a shot in the first half, Abouo explains that the depth of the team extends past him.
"With our team we have a lot of options out there," Abouo said. "So sometimes you might not get as many shots, but we have guys that are capable of hitting them. As long as we play hard and run the floor you end up getting shots. In the second half we did a better job of getting consecutive stops. Getting our transition, sharing the shots and we seemed to get going a lot better offensively."
Strongly leading the team with 19 points and four blocks captain Noah Hartsock, similar to Abouo, gives credit for BYU's win to the many team leaders.
"I think there are a lot of great players on our team and good leaders," Hartsock said. "Some might be more silent like Charles (Abouo) ... He goes hard everyday and he brings that. I try to be more vocal .. on the court to get our team rolling. We just got great team leaders, they just show it in different ways."
The Cougars ability to draw on seasoned leaders such as Abouo and Hartsock in the second half and their gained pace control led to their much-desired win against the Utes.
"This game is a lot different," Rose said. "You play for more than just one win. You play for a game that everybody talks about for one year."
×
Related Stories