This archived news story is available only for your personal, non-commercial use. Information in the story may be outdated or superseded by additional information. Reading or replaying the story in its archived form does not constitute a republication of the story.
SALT LAKE CITY — Paula McKay marvels at the strength of her infant daughter, Ashlyn, who was diagnosed with neuroblastoma just shy of her 2-week birthday.
"I've learned so much from her. She's so strong and brave for how tiny she is and how much she's had to go through in her little life," McKay said.
Ashlyn is undergoing round two of four chemotherapy cycles she needs in an effort to shrink a tumor that has spread from her spine to liver and adrenal glands.
Physicians say infants can rally from the debilitating effects of chemotherapy. The rural Nevada community where the McKays live is rallying behind Ashlyn and her parents, providing moral and financial support.
McKay knew something was wrong with her newborn baby when her legs weren't functioning properly.
"Her legs were lifeless. They were nothing," McKay recalled just days after Ashlyn was born on Oct. 26.
What is neuroblastoma?

Neuroblastoma is a cancerous tumor that usually infects children and infants. It usually originates in the part of the nervous system responsible for basic life functions like breathing and heart beating, but can spread to other parts of the body. Symptoms:

The first symptoms are usually fever, a general sick feeling (malaise), and pain. There may also be loss of appetite, weight loss, and diarrhea.Other symptoms depend on the site of the tumor
Bone pain or tenderness (if the cancer spreads to the bones)
Difficulty breathing or a chronic cough (if the cancer spreads to the chest)
Enlarged abdomen (from a large tumor or excess fluid)
Flushed, red skin
Pale skin and bluish color around the eyes
Profuse sweating
Rapid pulse (tachycardia)
Brain and nervous system problems may include:
Inability to empty the bladder
Loss of movement (paralysis) of the hips, legs, or feet (lower extremities)
Problems with balance
Uncontrolled eye movements or leg and feet movements (called opsoclonus-myoconus syndrome, or "dancing eyes and dancing feet")
Source: U.S. national Library of Medicine
McKay and her husband, Bardell, took Ashlyn to a friend in their small town of McGill, Nev. He told the couple they needed to go to Primary Children's Medical Center in Salt Lake City immediately.
The couple made the four-hour drive to the hospital where Ashlyn was diagnosed with neuroblastoma — a rare cancer that affects only 800 children a year nationwide, said Dr. Mark Fluchel, a pediatric oncologist at Primary Children's Medical Center.
"When you compare it to other diseases, it's quite rare," Fluchel said. "Having said that, it is actually the most common non-brain, solid tumor in children."
In Ashlyn's case, the solid tumor is wrapped around her spine.
"It's been hard to see everything they do," Paula McKay said. "Even giving the chemo, it's emotionally draining. I have to leave the room. I can't watch."
"Turns out, babies and children are even more resilient than an adult," said Fluchel. "You'd be surprised how quickly they can bounce back."
Paula refuses to leave the hospital without Ashlyn. Despite the four other children she has at home, she stays by her daughter's hospital crib.
"The thought of leaving her and her waking up and not being here, I feel guilty. I just want her to know that I'm here with her the whole time," she said through tears.
In the meantime, her husband is taking care of the couple's four other children at home.
"I don't think they fully comprehend what's going on with their little sister," Paula said.
Between tears, she admits she doesn't really, either.
she says the doctors, nurses and staff at Primary Children's have been so good to her family, and so has the tiny community of McGill. The McKays are not covered by insurance and are struggling to pay for medical costs plus everyday expenses.
"I spent $300 just in gas last week going back and forth from Tooele," Paula said of the place where she and Ashlyn stay when the baby is not required to stay overnight in the hospital.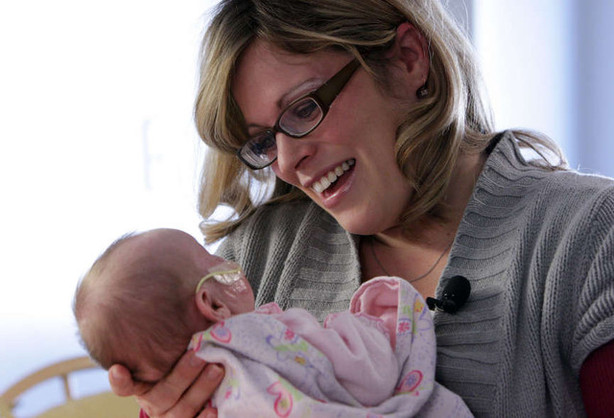 Friends in Nevada are holding fundraising events in McGill for the family. Friends in Utah are setting up donation jars at local businesses. They have also set up an account in Ashlyn McKay's name at Wells Fargo Banks.
"They're great people, awesome, awesome," said Mary Perez, a longtime family friend who is leading the fundraising effort for the McKays. "They're ranchers and it's a pretty big family of ranchers in McGill."
Despite needing help with mounting medical expenses, it is clear Paula is uncomfortable asking strangers for help when there are others at Primary Children's who also need financial support.
"Why is my daughter any more important than these children who are struggling with cancer?" she asked.
She urges those who can to donate to Primary Children's Medical Center, a hospital that has made her feel comfortable in such an uncomfortable situation.
"They've been wonderful explaining things to us and helping us get through. They're so concerned about how I feel and what they can do for me, making sure I understand what's going on," Paula said.
"There are a lot of people who have come to our needs and send their love and prayers and support. I never knew so many people would fight for my little girl," she said.
And no one is fighting harder than baby Ashlyn's mom.
"I have a vision of her running and playing outside with her siblings," she said. "I have faith that it's going to turn out good."
Email:lprichard@ksl.com
×
Photos
Related Links
Related Stories