This archived news story is available only for your personal, non-commercial use. Information in the story may be outdated or superseded by additional information. Reading or replaying the story in its archived form does not constitute a republication of the story.
LOGAN — The Utah State Aggies men's basketball team is on a losing streak. USU has lost two in a row and three of its last five. In the games they have won, the Aggies have treaded with their heads just above water. They now look to a very winnable game at home against the visiting Utah Valley Wolverines Tuesday.
The Aggies look to pack the Dee Glen Smith Spectrum and begin another home win-streak. Visiting Denver broke Utah State's previous 33-game home win streak on November 30th.
The loss of senior forward Brady Jardine has hurt the Aggies and Jardine's injury may be worse then initially thought:
"The injury is certainly worse than we thought," said head coach Stew Morrill, "once it was retested and everything. He's out for an extended period and possibly the season."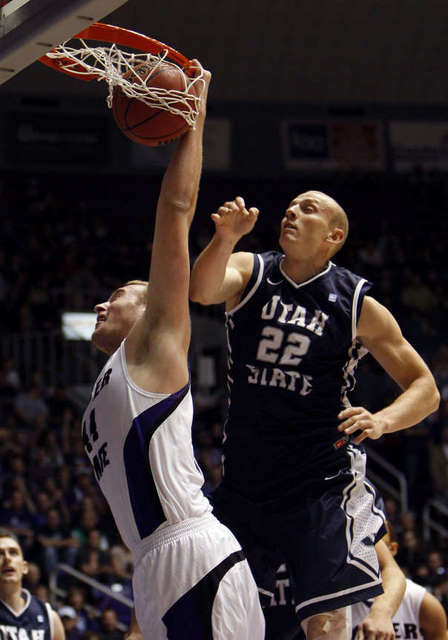 With Jardine out for an unknown period of time, that puts extra pressure on senior guard Brockeith Pane.
"We've got to get Brockieth playing like he can play," Morrill explained. "Obviously, when you don't have a lot of experience you need to have an all- league guard play like an all-league guard and he wants to worse than anything. He has got to let the game come to him a little bit."
The Aggies realize that heading into the UVU game they will need to find a way to integrate their younger, less experienced players into the mix. Morrill spoke specifically about freshman center Jordan Stone:
"Well, he got a chance to play a lot of minutes. He's going to get more chances … but he is a freshman and he makes freshman errors out there."
One thing that the Aggies will need to improve on is their long-range shooting. Utah State is shooting just 37.5 percent from beyond the arc and against the Wolverines they will rely on the trey.
As Morrill told reporters, UVU clogs up the lanes and makes cutting to the basket very difficult. Morrill gave UVU head coach Dick Hunsaker credit, saying that his teams have always been good defensively.
It is important that USU fans renew their faith in the Aggies and do what they do best: throwing off the opponents groove and getting inside their heads.
This game against Utah Valley could be a good way for the Aggies to get their heads on straight and find a way to get back into Aggie basketball before a more difficult part of the schedule begins.
Justin McKissick is a KSL.com contributor originally from the San Francisco Bay Area. He is currently seeking a Communications degree. Justin has been covering USU sports since 2011. Follow him on Twitter: @justin_sr.
×
Related Stories