Estimated read time: 6-7 minutes
This archived news story is available only for your personal, non-commercial use. Information in the story may be outdated or superseded by additional information. Reading or replaying the story in its archived form does not constitute a republication of the story.
SALT LAKE CITY -- Utah's license plate boasts the quote "Greatest Snow on Earth," and many outdoor winter enthusiasts agree.
While the snow is not the driest nor the deepest, Utah's topography and location provide a uniquely consistent and abundant blend of snow. The trend is to have high density snow under low density powder to create an environment perfect for that "floating" feeling for which many ski and snowboard enthusiast yearn.
Once the snow reaches the description of "packed powder" it is delightfully carveable. In the spring when the temperatures rise during the day and fall below freezing at night the snow turns to "corn." Yes, Utah really does have the greatest snow on Earth. But who has the greatest snow in Utah?
Brighton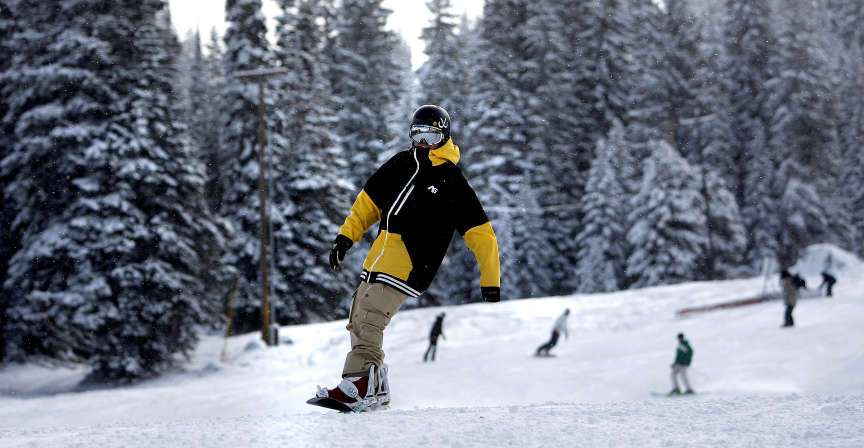 When Wasatch Mountain Club formed in 1912 it thought that Brighton at the top of Big Cottonwood Canyon had the greatest snow when it opened a tow rope on its slopes in 1936. After 75 years it is still affordable, has a cozy atmosphere, friendly people, great access and no crowds.
Alta
The Salt Lake City Winter Sports Association thought that Alta, at the top of Little Cottonwood Canyon, had the greatest snow when it built Utah's first chairlift in 1938. This "Skier's Mountain" boasts classic powder and challenging terrain as well as excellent beginner and intermediate skiing.
Snow Basin
Ogden residents would not be far behind in finding the greatest snow. World Record ski jumper Alf Engen looked to Snow Basin Ski Park for the best snow where he built a ski tow in 1939 after which it opened as Snowbasin in 1941. Yet after hosting the 2002 Winter Olympics, Snowbasin remains a locals resort.
Sundance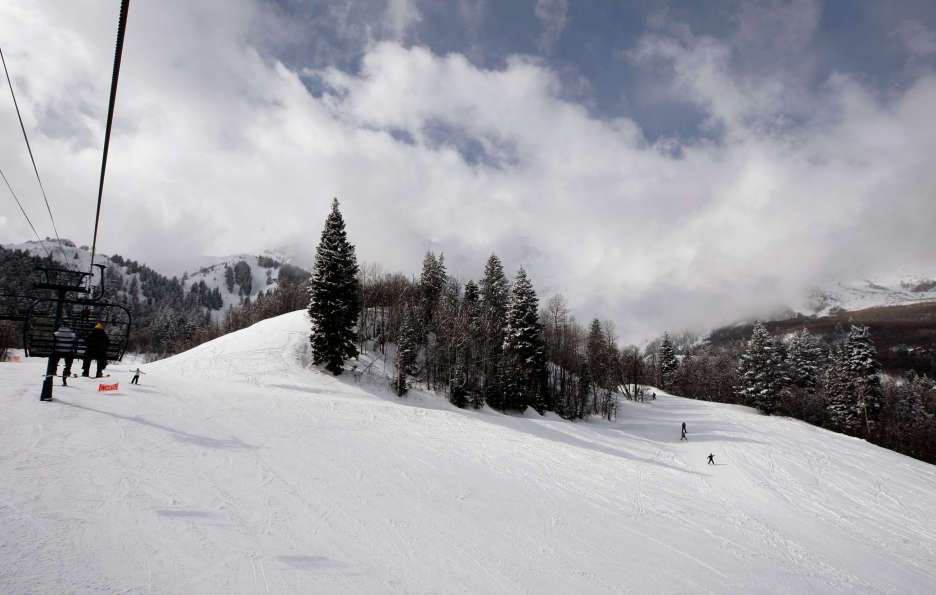 Provo residents were next to find the greatest snow in 1944 with Ray and Paul Stewart opening Timp Haven in Provo Canyon. In 1960, chairlifts were added. The resort purchased by Robert Redford became known as Sundance after he starred in "Butch Cassidy and Sundance Kid" in 1969. With Mount Timpanogos as a back drop the resort seeks to maintain a balance of art, nature and community.
Deer Valley Resort
Otto Carpenter and Bob Burns thought that the Park City area had the greatest snow when they opened Snow Park in 1946 on the present location of Deer Valley Resort. Deer Valley now sets the standard for grooming, dining and lodging and has been voted No. 1 for the last five years by Ski Magazine's readers.
Others thought they had the greatest snow and skied on places such as Ecker Hill near Park City; Becker Hill by Ogden; Little Mountain at the top of Emigration Canyon; Gorgoza in Parley's Canyon and Sinks in Logan Canyon but were unable to keep the title.
#poll
Beaver Mountain
Beaver Mountain Ski Area was opened in 1949 in Logan Canyon by the Seeholzer family on a location they found while looking for a fun recreational place to spend their winters. It remains the oldest continuously family owned ski resort in the United States and relies 100 percent on Mother Nature for the greatest snow. A new Little Beaver triple chair was added this year.
Solitude
A decade later Solitude in Big Cottonwood Canyon looked to the greatest snow opening in 1958. The family friendly resort developed by Moab uranium tycoon Robert M. Barrett offers what its name states: solitude.
Powder Mountain
Powder Mountain east of Eden, Utah, opened in 1959 on the Cobabe family's winter sheep range. The quiet resort tops the ratings for value and snow quality (no snowmaking) and offers a bounty of snowcat and shuttle served backcountry options. It is clearly the locals' private playground.
Brian Head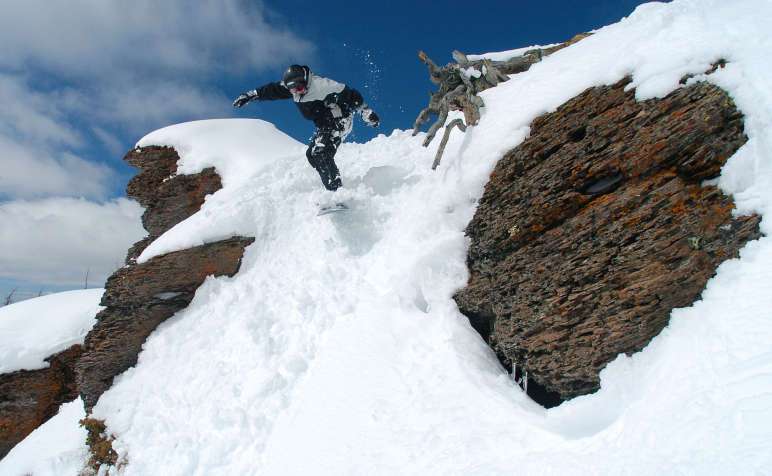 The search for the greatest snow in Utah prompted Brian Head Resort originally Monument Peak near Cedar City, Utah, to open in 1964 giving residents of southern Utah a place to play. They also offer night skiing/boarding and tubing with a full serviced base lodge.
Park City Mountain Resort
In 1963, Treasure Mountain Resort later named Park City Mountain Resort opened and is top rated by Ski Magazine as a family destination offering not only skiing but lodging, shopping and nightlife as well.
Canyons
Park City West opened in 1968 changing to Park West, Wolf Mountain, The Canyons and now Canyons. They offer excellent deals to local students. The resort's evolution is constant including lift served housing, heli-skiing through Wasatch Powderbird Guides and other ways to intersect the back country.
Wolf Mountain at Wolf Creek
Nordic Valley Ski Area opened in 1969 in the upper Ogden Valley hoping to find the greatest snow. It was later named Wolf Mountain at Wolf Creek Utah. It is a relatively small mountain with inexpensive ticket prices, excellent grooming and is good for beginners and night skiing as the whole mountain is lighted. There is snowmaking on most runs.
Snowbird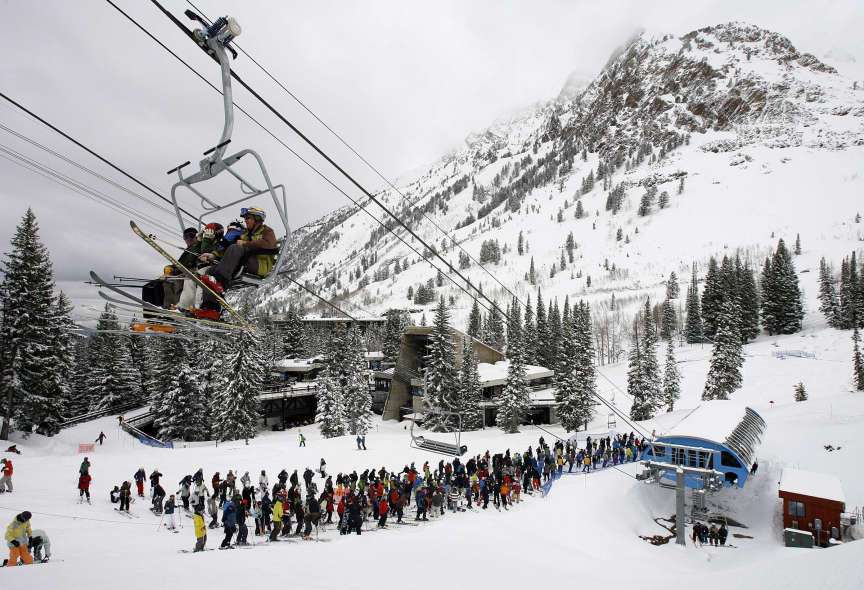 Snowbird in Little Cottonwood Canyon opened in 1971 after Ted Johnson, the manager of the Alta Lodge, explored the area looking for the greatest snow. The resort has long, challenging steep runs and offers heli-skiing through Wasatch Powderbird Guides. So many good skiers/snowboarders ride here that skiers have to be first when the gate drops if they want untracked powder.
Eagle Point
The latest to join the quest for the greatest snow is Eagle Point near Beaver, Utah. Opening for the 2010-11 season the resort gives southern Utah a second option for winter sport. They boast a family friendly atmosphere with freestyle and back country terrain.
Many winter sportsmen agree that the greatest snow is found in the back country and it is quite possible that they are right. Snow untouched by anyone else is certainly what prompted the beginning of Utah's 14 resorts.
In 2010, Ski Magazine rated the top 10 resorts in the nation, seven where in Utah. Topping the list was Alta at No. 1 followed by Snowbird, Powder Mountain, Brighton and Solitude. Deer Valley held seventh place and Snowbasin eighth. Five of these resorts average over 500 inches of snowfall each year including Alta, Brighton, Powder Mountain, Snowbird and Solitude. None of Utah's resorts average less than 300 inches of snowfall.
So there are the facts, now for my truth. Within an hour and a half of my house I can reach eight of Utah's resorts. It's great to wake up and choose where I will ski that day based on who received the most snow the night before. Skiing is a one day vacation from everyday life; a boost for mental, physical, and social well being. It spans the ages and includes all skill levels. It's just being there that matters.
As I stand at the top of a long glade of trees a path opens before me. Large snowflakes fall threatening to encumber my view. One turn, then two and I'm free embraced by invigoration, solitude and more open turns to go. I my opinion, the greatest snow in Utah is found under my skis.
It's the one you're on today.
Deborah Garrett is a writer, family historian, outdoor enthusiast and most of all mom from Utah.
×
Photos
Related links