Estimated read time: 8-9 minutes
This archived news story is available only for your personal, non-commercial use. Information in the story may be outdated or superseded by additional information. Reading or replaying the story in its archived form does not constitute a republication of the story.
SALT LAKE CITY -- Timothy Richard and James Taft are two of the most productive college players in their respective sports. They are of course better known as Tebow and Jimmer, but what's in a name? Of course at this point you can do the "Jimmer" then "Tebow" to celebrate. You can enter "Tebow Time" from "Jimmer Range." They are both respected and maybe even worshipped at their colleges, Florida and BYU respectively.
Jimmer is now a rookie with the NBA lockout lifted and Tebow is the talk of the NFL. Now both are being counted on to get people in the seats and perform, despite a large popular opinion that they can't at the next level. Here is a look at the similarities between the two phenomenon.
Stats and awards: Tebow was a product of Urban Meyer's system and it produced numbers that could boggle the mind. He broke most records that could be broken in the SEC. Tebow holds the record for Total offense in a season (4,181 yards), touchdowns in a career (124), touchdowns in a season (55), touchdowns in a game (7), career rushing touchdowns (49), season rushing touchdowns (23) and career passing efficiency (170.19). Tebow was the first sophomore to win the Heisman Trophy in 2008. He also won the Maxwell award twice, for best offensive player. He was also the 2007 ESPY award winner for Best Male College Athlete, just to name a few awards.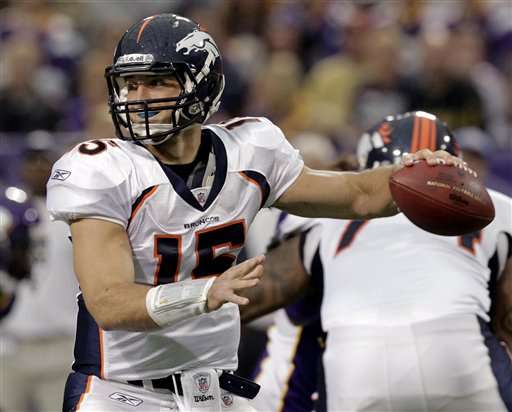 Jimmer set the college basketball world ablaze by having the ball in his hands at all times. He played for most of all of the games and got to do whatever he wanted to with the ball. He is the all-time leading scorer in the Mountain West (2,599 points). He led the Mountain West in scoring in his junior and senior years. He won the Naismith Award his senior year along with the AP, NABC, Rupp, Robertson, TSN and Wooden Player of the Year awards. He was a First Team All-American his senior year. He was the 2011 ESPY winner for Best Male College Athlete of the Year.
Religion: Tebow, a devout Baptist, was featured in an anti-abortion commercial that was set to appear during the Super Bowl. He now has an NCAA rule semi-named after him "The Tebow Rule" was created so college athletes couldn't wear eye-black with messages on them after Tebow wore Bible passages through his career at Florida. He famously went to the Philippines to help with, among other things, children circumcisions. His religion is consistently being pushed and is used by critics and supporters.
Jimmer went to the very religious BYU. He didn't go on a mission for the Church of Jesus Christ of Latter-day Saints, but he is very open about his faith, as is Tebow. Fredette's LDS religion was very publicized during his senior year due to his teammate Brandon Davies' suspension for violating the school's honor code, which most of America learned about quickly and was debated about for days if not weeks. Fredtte is clean-cut and while being at BYU with his also Mormon girlfriend/fiancé, is saving himself for marriage, like Tebow.
College "worship:" Tebow made his Rockne speech. After a loss to Mississippi he fought tears and promised that no one would play harder, push a team farther and a team play harder than his Gators. This is now a plaque in the Florida football facility. He also has a statue in the front of "The Swamp." He is a living legend at Florida.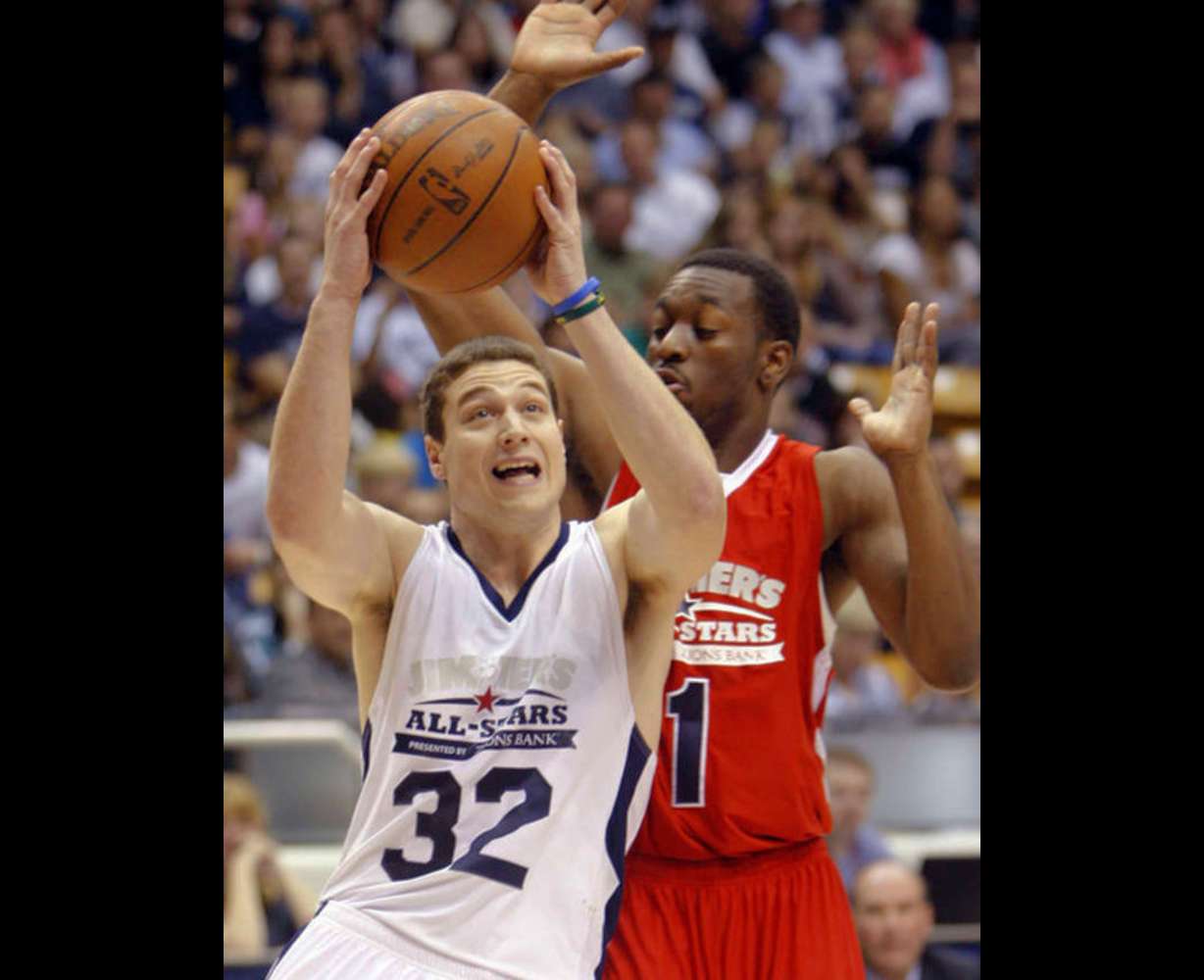 Jimmer worship or "Jimmermania" got so intense that a student at BYU, Michelle Peralta, accused members of the LDS church that followed him of idol worship. She might have been right. "The Jimmer" was revered at BYU. His worship inspired the Facebook group "Yes Michelle Peralta, we worship Jimmer Fredette" and forced her to shut her Facebook down due to an excess of postings.
Pro limitations: Most football fans assume that a quarterback needs to be able to throw the ball. That is Tebow's only weakness, he has a hard time throwing. There is no big secret that he doesn't have a quick release, great accuracy or even a decent throwing motion. Regardless of his skills anywhere else detractors will always have the fact that right now he can't throw.
Jimmer is 6-foot 2-inches tall and has a perfect frame to play point guard. Of course he never played great defense or decent defense in college and was a shoot-first player. The point guard position is mostly about distributing and Jimmmer hasn't shown that he can do that. If he was 6-feet 4-inches he could be a shooting guard with no issues, but he is short for the two-guard and hasn't yet proven he is a good enough passer to be a one.
"It": Question: What is "it"?
Answer: What they have.
Tebow has a will that levels any playing field. His teams at Florida were talented, but he controlled the pace. As long as No. 15 had a chance to score the game seemed to always go to the Gators. Even now in the pro's the Broncos are getting worse at offense yet have gone 6-1 since he became starter (7-5 overall). No it doesn't make sense. It just happens, and Tebow owns it. Even last week's win against the Vikings Tebow and the Broncos came from behind. He did have his best offensive production of the season.
Jimmer is as cool as they come. He never won a national championship, but he controlled every game he was in. The signature shot of Jimmer's "it" was in his junior year against Florida for BYU's first tournament win in over a decade. In overtime he hits his runner, gets fouled, then with the camera in his face smiles and waves like it's just another day at the park. He is cool and calm and BYU always had a chance to come back if he was in the game.
Phenomenon: "Tebowing" started less than two months ago. It was a show of his faith dropping to a knee, lifting the right hand around the eye and bowing. Now it is done everywhere. There is even a website dedicated to doing it around the world.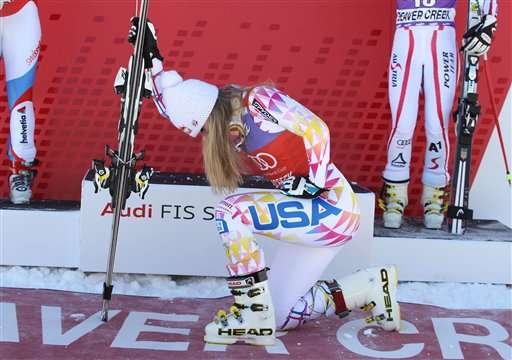 The Jimmer isn't the phenomenon alone, but there is Jimmering done by slow white men that think they can just throw the ball up from anywhere on the court and when one goes in out of 50 they just Jimmered. There is a song and video dedicated to him.
Manipulation of time and space There are 56 minutes that the other team can win, and then there is "Tebow Time." It isn't the fourth quarter, but the final four minutes belong to him. He isn't perfect, but if the Gators or the Broncos were and are within striking distance everyone on the other team seems to slow down a little and his team just gets better. No, it still doesn't make sense, but it improbably happens over and over again.
Jimmer is in range when he steps off the bus. "Jimmer Range" became an actual phrase used by everyone. The three-point line seemed like a layup. He started getting checked before half court because he was "in range" as soon as he stepped across the line.
Even their analysis is almost the same, see if you can pick who is who with distinguishing names and positions removed:
1. "_________________ is still the most hotly debated name in the draft. Despite an amazing season at __________ and excellent athletic testing numbers at the combine, no one is certain where he'll go in the draft." (via ESPN)
2. "There has been a fair amount of debate about whether is ready to be a starting _______________, or can develop into an effective starter." (via Bleacher Report)
3. "By now, you're a _________________ or you're not." (via sportsblog.com)
4. "Nice, white, religious, likeable, safe, big following, kind of exciting but not superstar quality." (Colin Cowherd via CougarBoard.com)
5. "What type of transition will he have to make in the _____________? Will he be a starter in the _______________? What's his ceiling?"(via draftexpress.com)
There is five, there are dozens more. Here is the key: 1. Jimmer, BYU. 2. Tebow, QB. 3. Point guard, (Jimmer) 4. Trick question, Cowherd comparing Jimmer to Tebow. 5. NBA, (Jimmer).
Both will be scrutinized, mocked and questioned. The lockout is over for both and soon they will both be able to prove if they are worth the talk. Tebow is 6-1 and the Broncos are rolling. If Jimmer gets to control the ball and gets into rhythm he could help the Kings make some money.
Will they be able to maintain the success they saw in college? Only time will tell.
Tebow Time that is.
×
Related stories